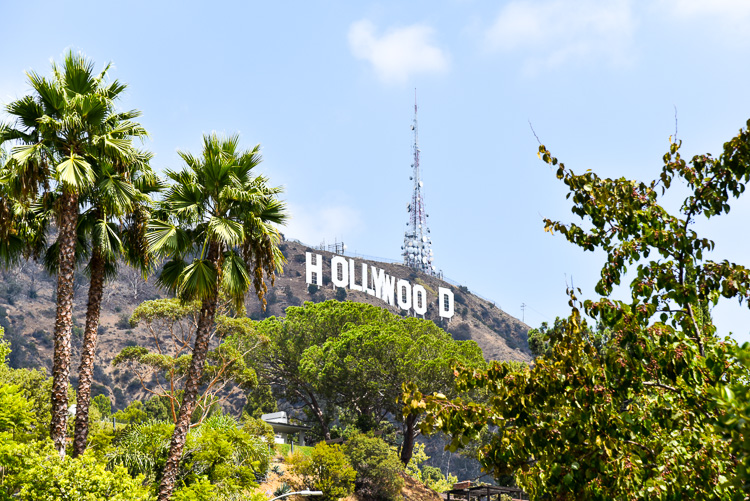 Repartons en Californie pour poursuivre le récit de mes 3 jours à Los Angeles.  Je vous avais partagé mon premier article LA avec notamment une journée à Venice Beach et Santa Monica ici.  Cette fois, je vous emmène du côté de Pasadena, Hollywood et du Griffith Observatory.
—
Let's go back to California today and I would like to tell you about another part of my 3 days in Los Angeles.  I shared with you a few weeks back my first day in L.A. in this article about Venice Beach and Santa Monica.  In this blogpost, I am bringing you with me to Pasadena, Hollywood and the Griffith Observatory.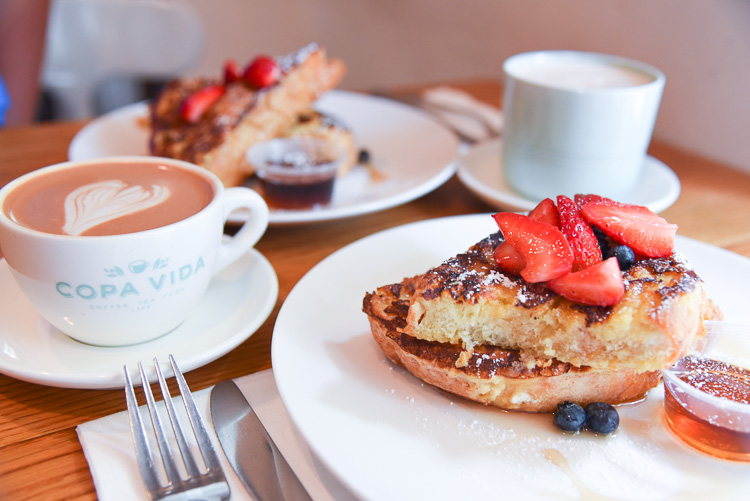 Avant de commencer la journée, rien de plus agréable que de savourer un bon petit-déjeuner.  Puisque c'était pour les vacances, aucune retenue calorique n'était nécessaire.  C'est bien connu qu'en vacances les calories ne comptent pas, non?  Bref, direction la ville charmante de Pasadena.  Chez Copa Vida, que je recommande vivement, nous avons craqué pour les pains perdus au sirop d'érable accompagnés d'un chocolat chaud délicieux (pour moi seulement).  C'était une tuerie ce petit-déj!
—
First things first on this second day: breakfast!  There is nothing better than a yummy breakfast to start the day.  And because this was a vacation and everybody knows that calories don't count on holiday, it was a nice feast.  We went to Copa Vida in Pasadena.  I highly recommend it!  We opted for the delicious (and gorgeous) French Toasts as well as a hot chocolate for me.  Everything was perfect: food, staff, setting.  We then took a digestive walk in charming Pasadena before heading back.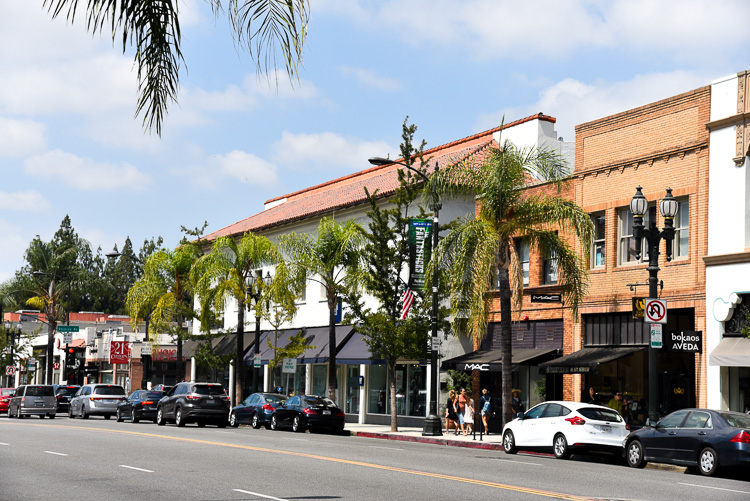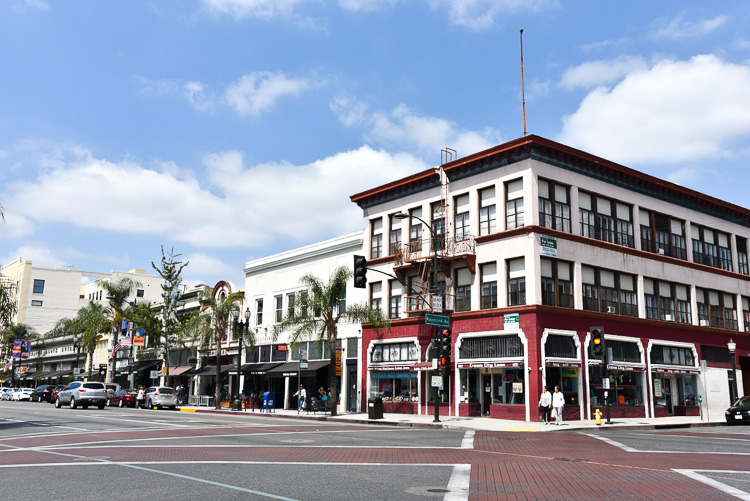 C'était la première fois à Los Angeles pour mon frère, il était donc impossible de ne pas s'arrêter par Hollywood et Sunset Boulevards.  Ce quartier, c'est un peu le Times Square de New York ou les Champs Elysées de Paris.  Admirer les étoiles sur le fameux Walk of Fame, le Chinese Theater et la silhouette des mains des acteurs gravées dans le ciment…  Une visite bien touristique où même Charlie Chaplin était de la partie sirotant son café au Starbucks du coin.  C'est qu'on en croise du beau monde à Hollywood!
—
It was my brother's first time in Los Angeles, therefore we stopped by Hollywood Boulevard.  This part of town is similar to the Times Square in New York, or the Champs Elysées in Paris.  Stepping on the Walk of Fame, stopping by the Chinese Theater and seeing the silhouette of the actor's hands engraved…  This is so touristy and you don't really want to spend a lot of time here.  But hey, I ran into Charlie Chaplin sipping coffee at Starbucks.  Where else than Hollywood would that be possible?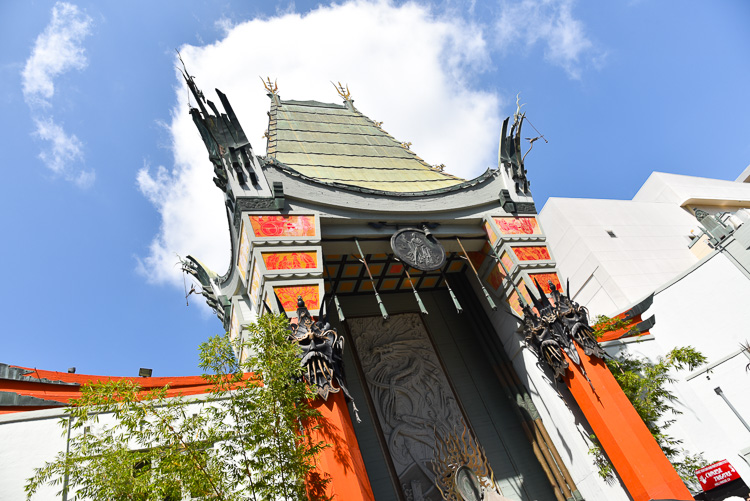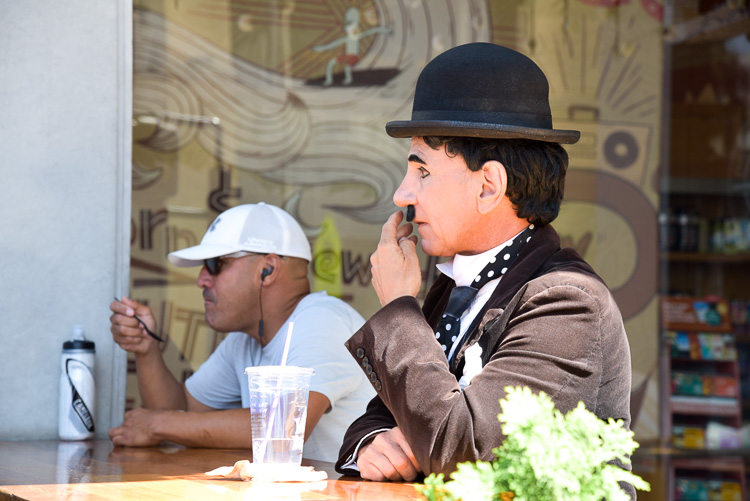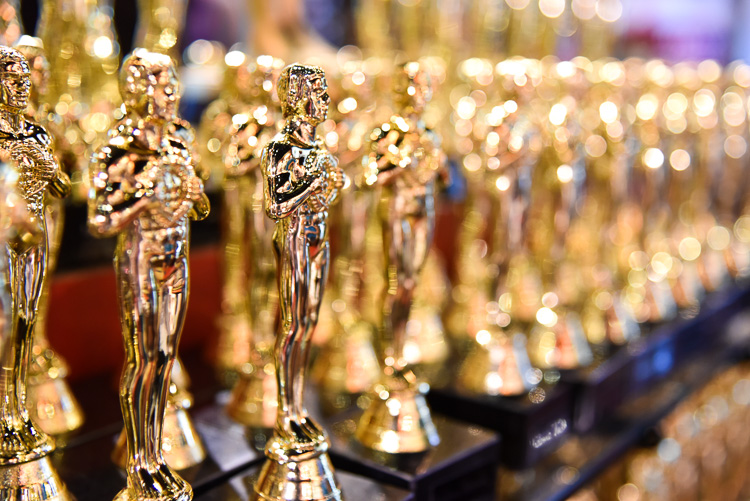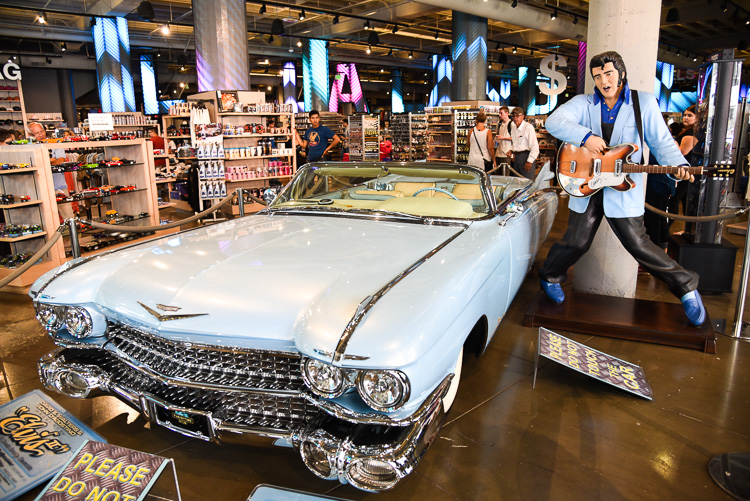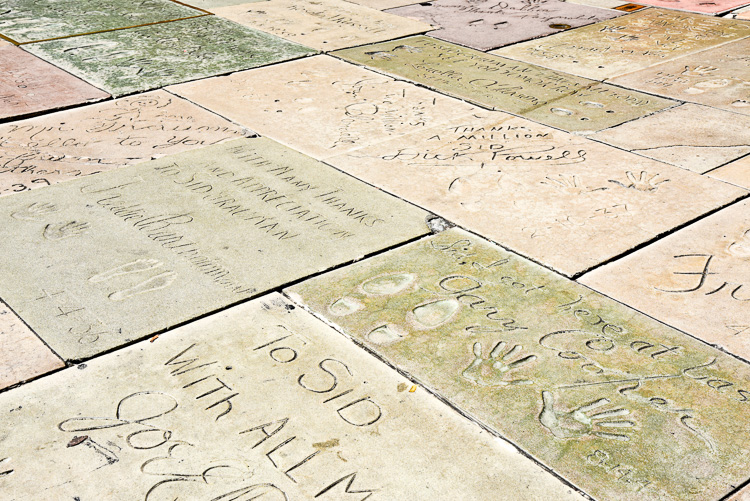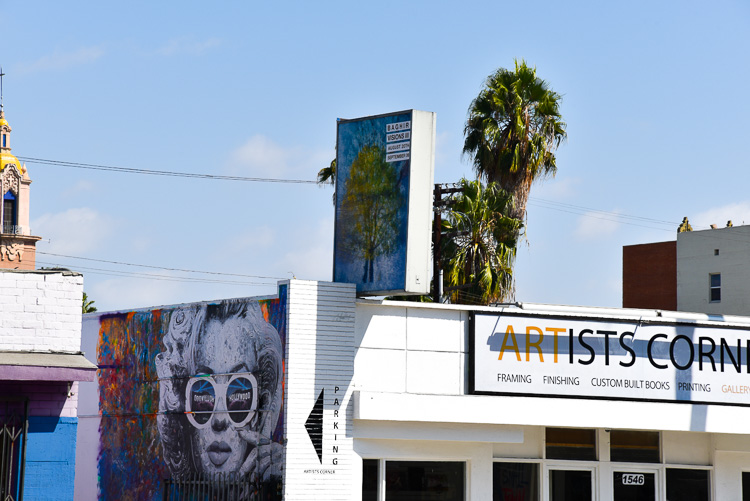 Retour à la voiture, la Mustang décapotable a vraiment été un des points forts de la réussite de ce road trip californien.  Il était temps d'aller admirer le fameux Hollywood Sign de plus près.  Divers points de vue sont possibles, notamment depuis Beachwood Canyon ou Lake Hollywood Park.  La route est super agréable, bien qu'attention à ne pas se garer n'importe où ni dans n'importe quel sens.  La police veille et les amendes sont chères à L.A.  Bon à savoir: il n'est pas possible d'approcher le signe de très près et il n'est pas éclairé la nuit donc oubliez vos photos de nuit.
—
Back to the car.  I have to say that that convertible Mustang has been part of the success of this California road trip.  We loved it!  And it was even more perfect to drive it up to the Hollywood Sign.  You can see the sign from many viewpoints, like Beachwood Canyon and Lake Hollywood Park.  The drive is so enjoyable, but be careful when stopping for pictures and parking.  The police goes back and forth and tickets are pretty expensive in L.A.  It's also nice to know that you won't be able to go straight to the letters (protective site – don't even try to jump the fence).  Also, the sign is not lit at night so no need to drive up for photos.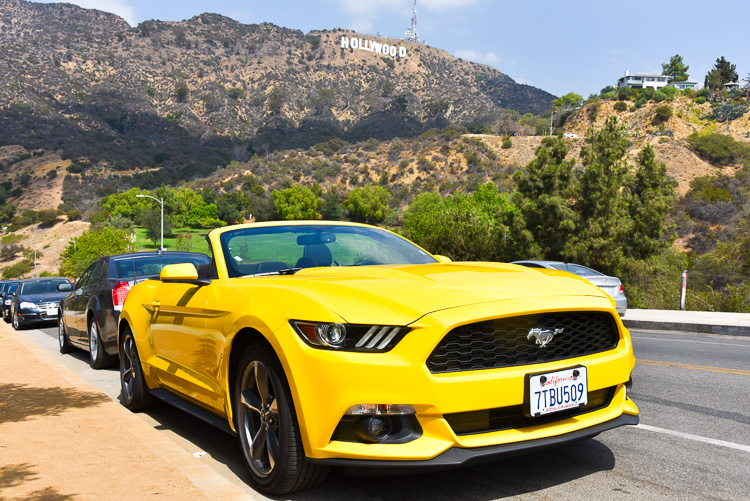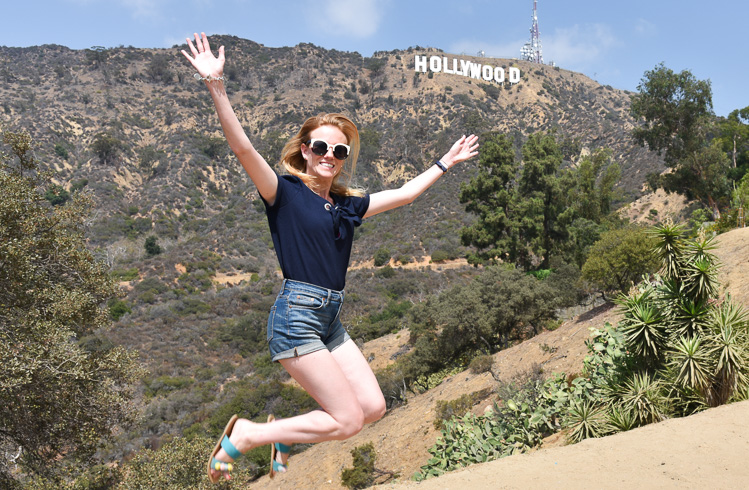 Un autre endroit pour voir le Hollywood Sign et avoir une vue de Los Angeles, c'est au Griffith Observatory.  Le Griffith Park est le plus grand parc municipal de Los Angeles.  L'observatoire est incroyable pour admirer les étoiles.  L'endroit est aussi idéal pour se relaxer un peu après une journée de visite.  C'est également au Griffith Observatory que nous avons choisi de regarder le coucher du soleil.
—
Another great viewpoint of the Hollywood Sign and Los Angeles is Griffith Observatory.  The Griffith Park is the biggest of the city.  The observatory is great to look at the stars and learn more about them.  This place is also ideal to relax and unwind after a busy day of visits.  It is perfect as well at sunset.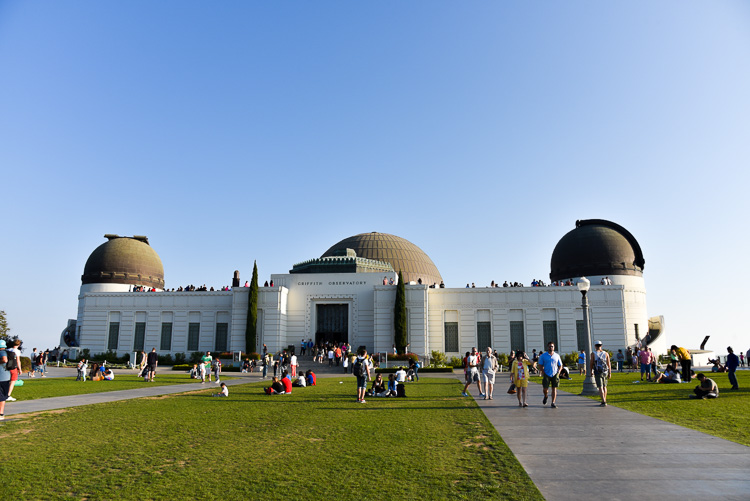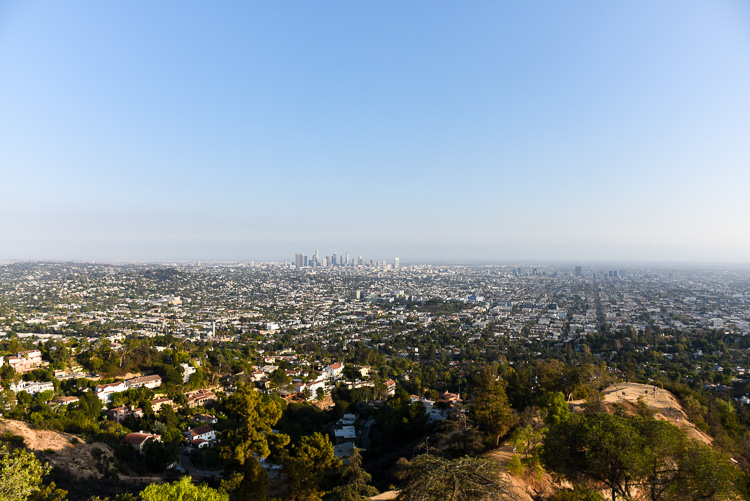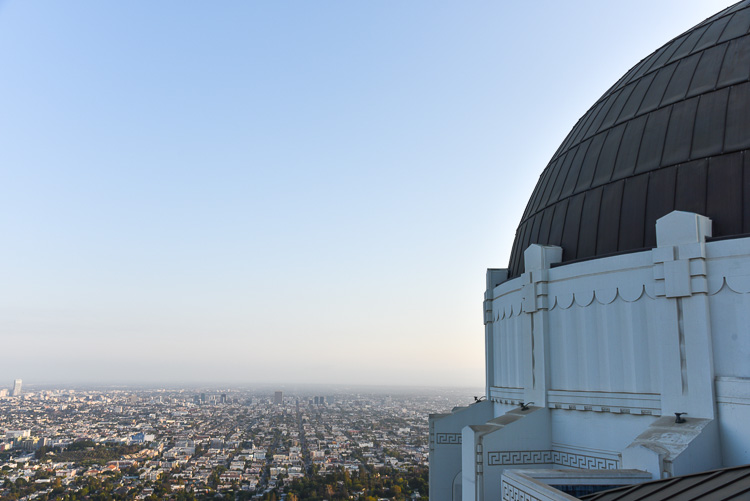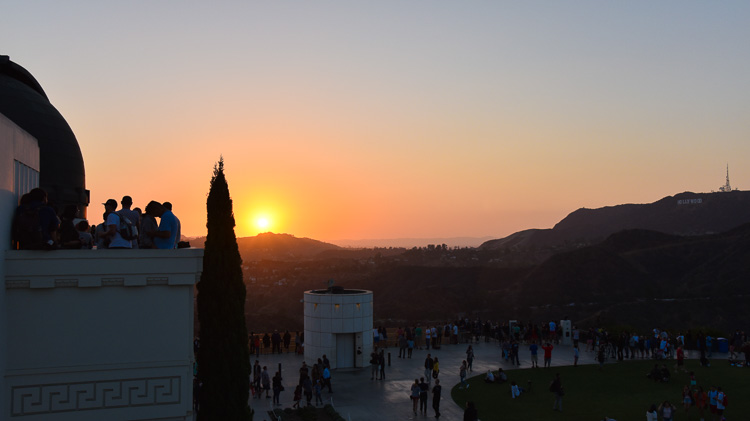 Voilà pour le récapitulatif de notre deuxième journée à Los Angeles.  Si vous l'avez loupé, le premier article se trouve ici.
Avez-vous déjà été à Los Angeles?  Ou alors c'est sur votre liste de voyage?  Quel est votre endroit favori de L.A?
—
That's it for day 2 in Los Angeles.  If you missed the first article, you can find it here.
Have you been to Los Angeles?  Or is it on your travel bucket list?  What is your favorite part of L.A?
xx Jennie
—