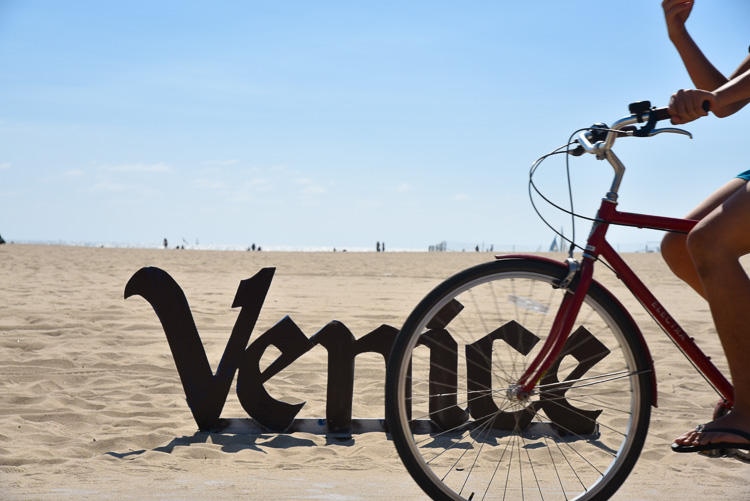 Aujourd'hui on repart en Californie pour vous raconter mes 3 jours à Los Angeles.  J'ai tellement de photos que je vais vous montrer la visite de LA en 3 articles sur le blog.  Pour commencer, j'avais envie de vous montrer Venice Beach, les canaux de Venice et la plage de Santa Monica.
Ce n'était pas ma première fois à Los Angeles, mon dernier voyage remontait à Juillet 2015.  Plutôt récent donc, mais avec notre road trip de septembre entre frère et soeur (San Francisco ici, Yosemite ici), c'était l'occasion parfaite pour y retourner.  J'ai aussi beaucoup plus apprécié L.A. lors de cette visite.
—
Let's go back to California today to share with you my 3 days in Los Angeles.  I have so many pictures that I thought I would break it down in 3 articles on the blog.  Let's start this photo trip by my visit to Venice Beach, Venice Canals and Santa Monica pier.
It was not my first time in Los Angeles.  I was there during the Summer 2015 as well.  But as we were doing our brother and sister road trip in California last September (San Francisco here + Yosemite here), it was the perfect occasion to stop by LA again.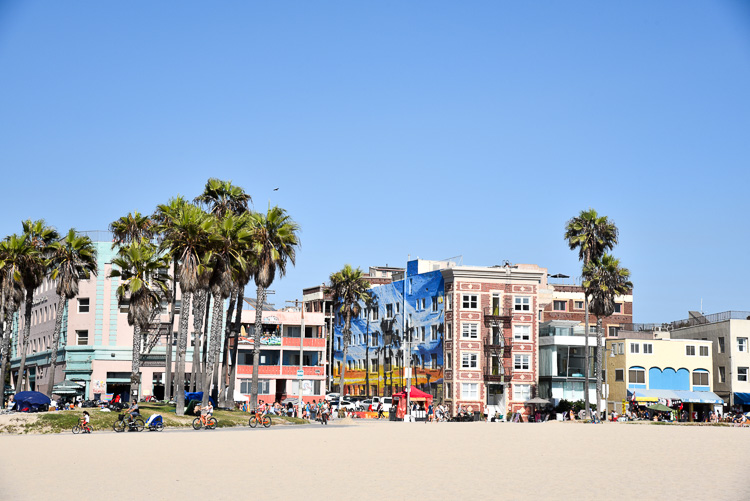 J'adore me promener sur la plage de Venice Beach. La plage est belle et gigantesque.  Il suffit de d'aventurer quelques minutes sur la digue pour ressentir l'animation singulière et un peu folle (parfois horrifique) qu'il y règne.  Pour les amateurs de gros muscles, Muscle Beach est pour vous et vous pourrez admirer ces big muscles en pleine action.  Il ne faut pas être un connaisseur en matière de Skate Boarding pour en apprécier les figures époustouflantes des skaters.  Vous l'aurez compris mais plutôt que de m'aventurer sur la digue, je préfère m'éloigner au bord de l'eau.
—
I love Venice Beach more for its beach and canals than the boardwalk.  The beach is gorgeous and gigantic to enjoy some rest.  It is a little bit of a freak show on the boardwalk which makes the visit there very interesting.  If you are into big muscles, Muscle Beach is for you (they are not the friendliest when it comes to tourist taking pictures so try it at your own risk).  You don't have to be into skateboarding either to enjoy the skate boarders practicing.  They are pretty amazing.  As you may have understood, I'd rather spend my time at Venice Beach closer to the water than on the promenade.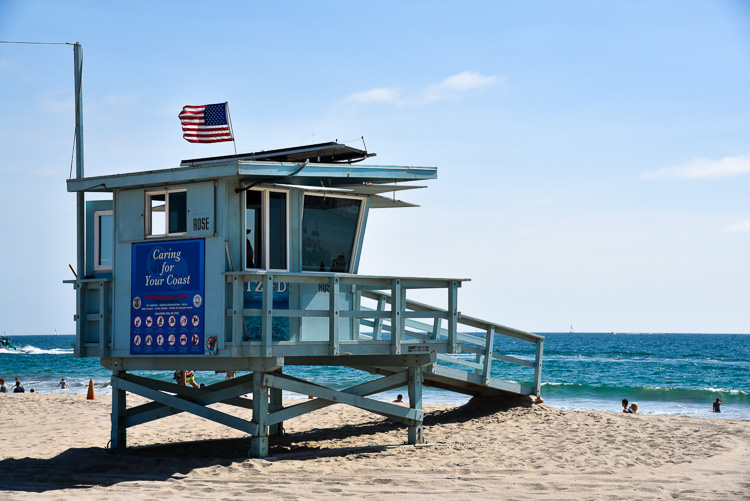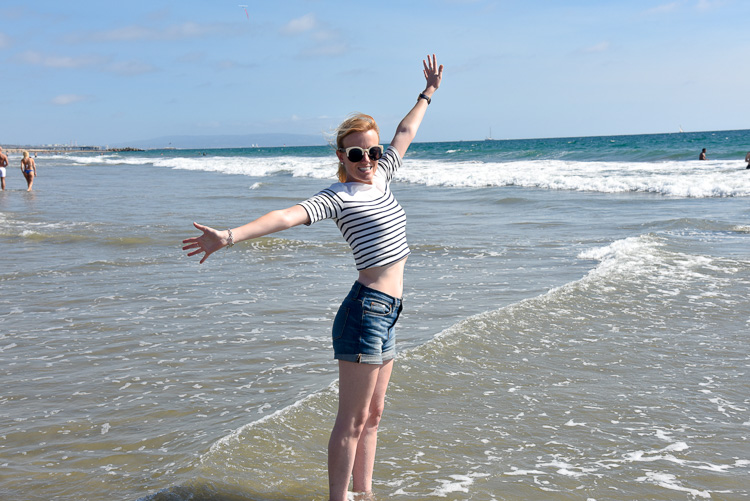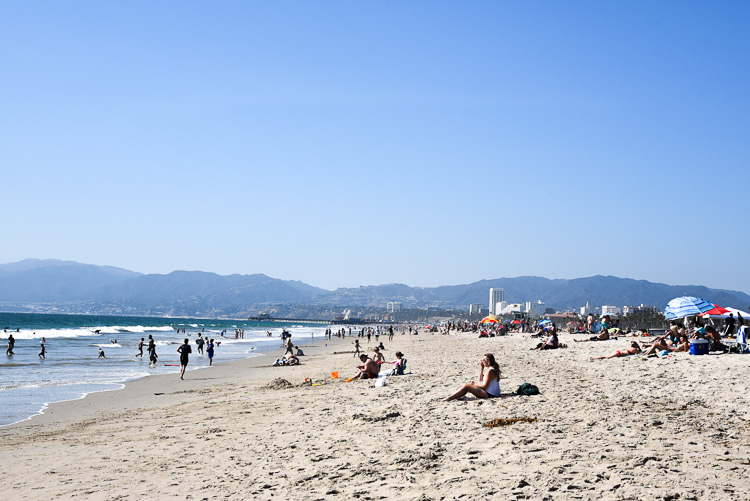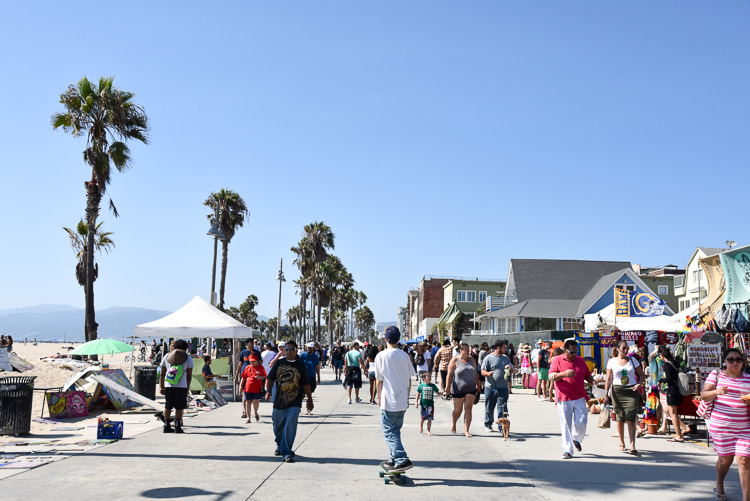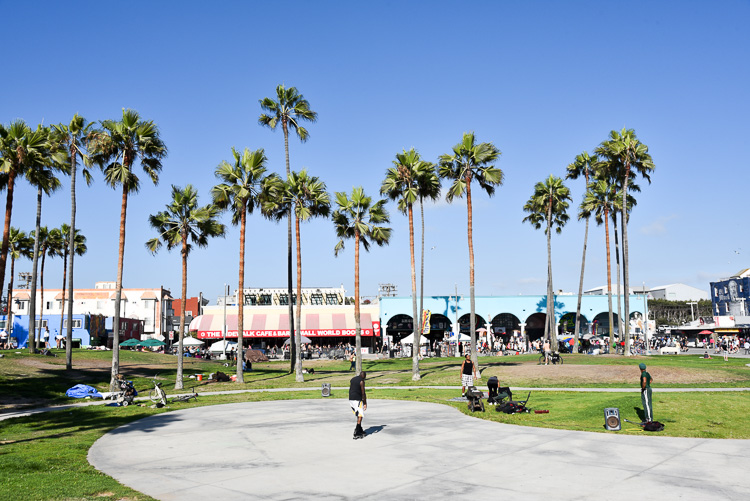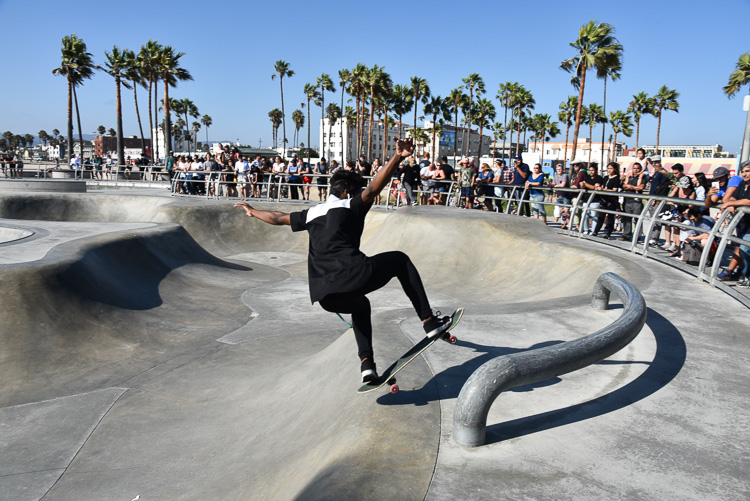 Une bonne adresse pour le brunch à Venice Beach est le Sunny Spot.  Nous nous sommes arrêtés pour des pancakes et des tacos accompagnés du traditionnel Mimosa (champagne/jus d'orange).  Le week-end, l'endroit est très fréquenté et nous avons apprécié bruncher dans leur jardin.  Un stop assez sympa avant de prendre la direction de la plage.
En étant à Venice Beach, impossible de ne pas s'arrêter devant la maison de Hank Moody.  Les fans de Californication comprendront.
—
A great address to brunch in Venice Beach is the  Sunny Spot.  We stopped by for pancakes and tacos with some Mimosas.  They serve bottomless brunch, which is awesome.  It gets crowded on the weekend but we really enjoyed eating in their little garden.  It is a nice stop before wandering on the beach.
And being in Venice Beach, it was a must to pass by Hank Moody's house.  Fans of  Californication will understand.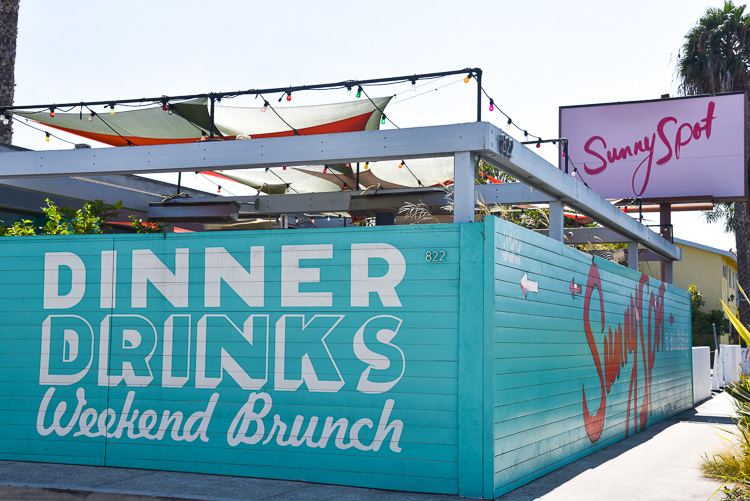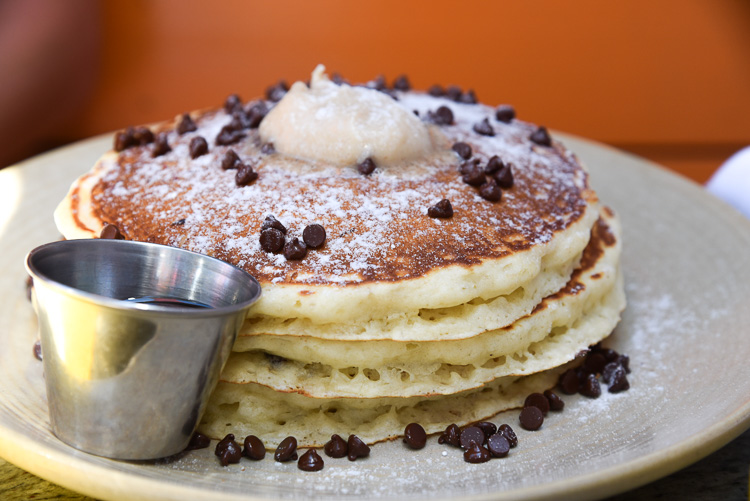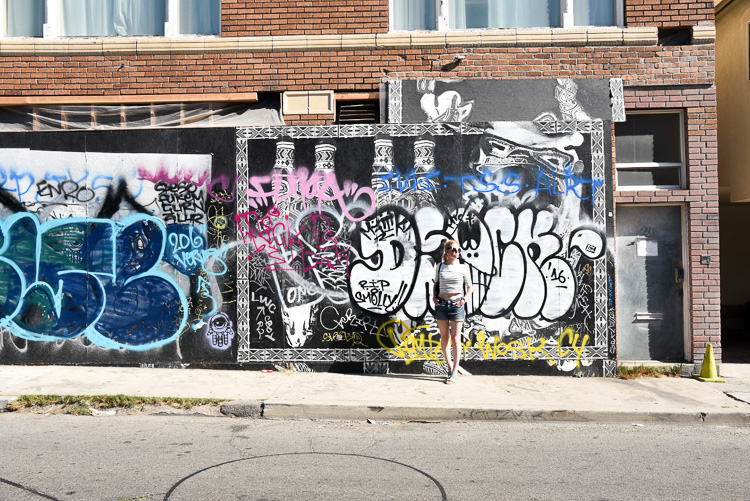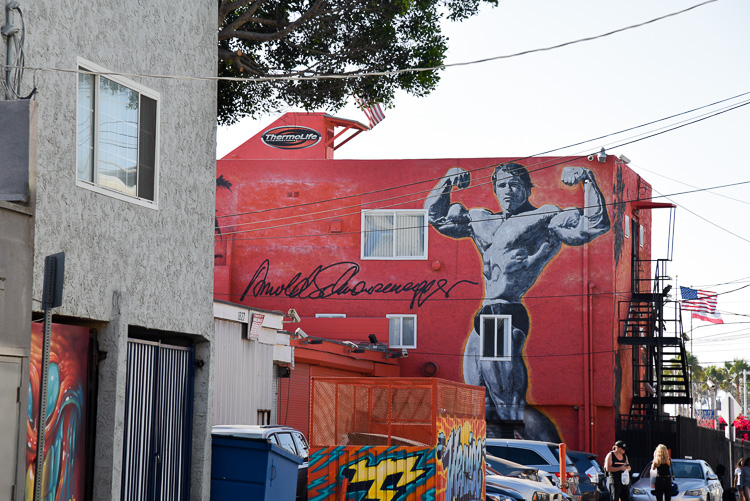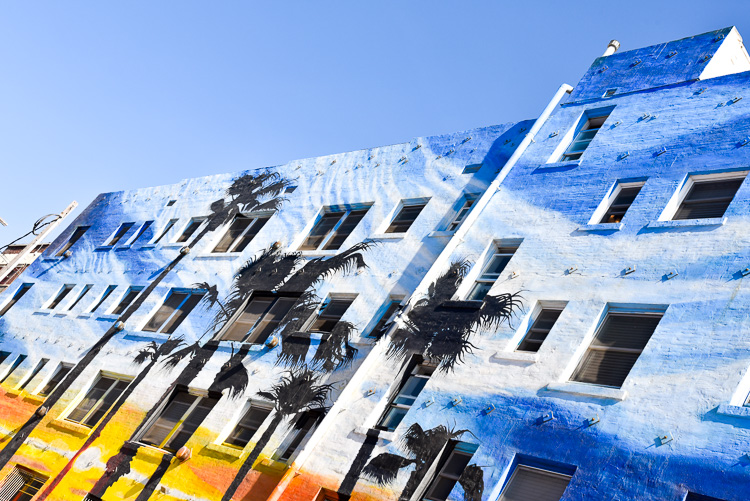 Les canaux de Venice est un autre endroit où j'adore vagabonder.  Les maisons aux bords de l'eau sont charmantes et le calme est très agréable.  Traverser les jolis ponts pour se rendre d'une berge à l'autre est magnifique.  Je conseille absolument de s'y arrêter pour admirer les jolies maisons.
—
Venice Canals is a place I love to wander while in Venice, California.  The houses by the water are beautiful and it is such a peaceful location.  I could see myself living there in another life.  Crossing the charming bridges to go from one side to the other makes it even more special and you feel like on a movie set.  I really recommend stopping by to enjoy this pretty neighborhood.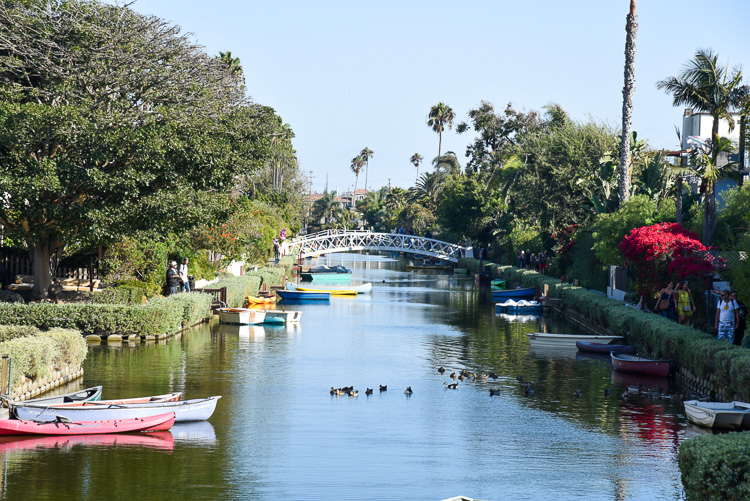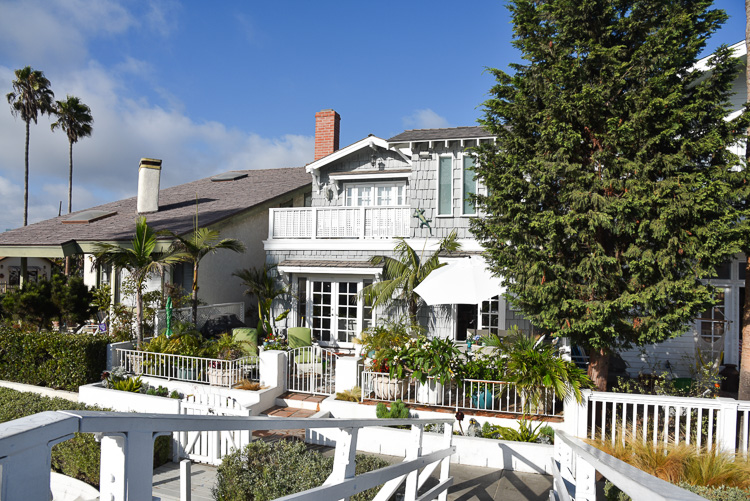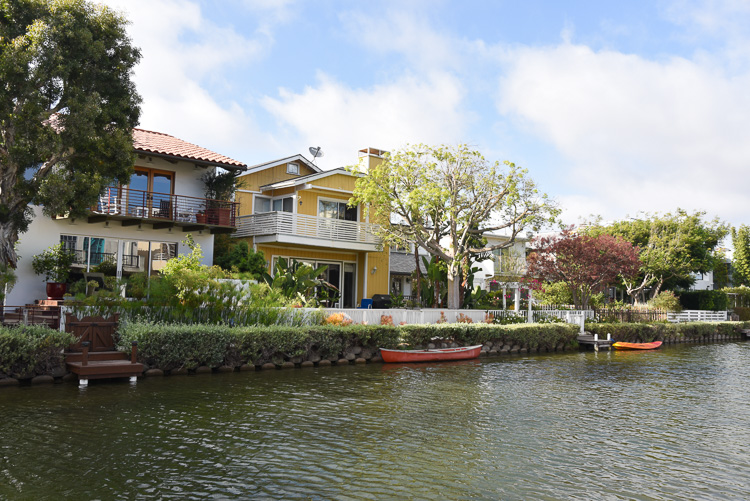 Après cette journée sous le soleil de Venice Beach, nous avons repris la voiture en direction de Santa Monica pour y admirer le coucher du soleil.  Tout comme Venice, la plage y est très large et agréable.  Beaucoup plus que la célèbre jetée de Santa Monica qui pour le coup est très encombrée.  Cependant, si vous êtes à fond sur l'appli des PokémonGo, la jetée vous plaira, le nombre de personnes aux yeux rivés sur leur téléphone est impressionnant. 🙂  Si vous devez également faire votre shopping, Santa Monica Promenade est connue pour sa rue remplie d'enseignes.
—
And after a day spent in Venice Beach, we rode the car to Santa Monica to watch the sunset on the beach.  The pier of Santa Monica is really famous but is not that great to visit.  It is really crowded and touristy.  Although, I remember being pushed a lot by tourist playing the PokemonGo game this Summer.  For that reason,  it looked like an amazing spot. 😉  Santa Monica is also known for its promenade full of stores, so if you have some shopping to do, it is a stop to consider.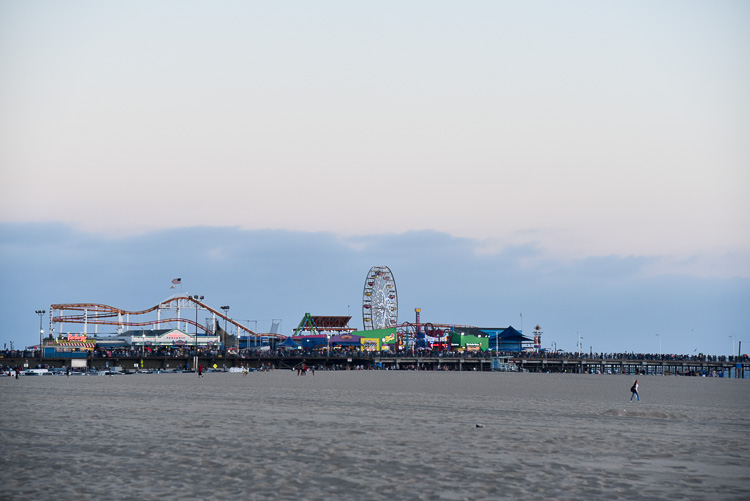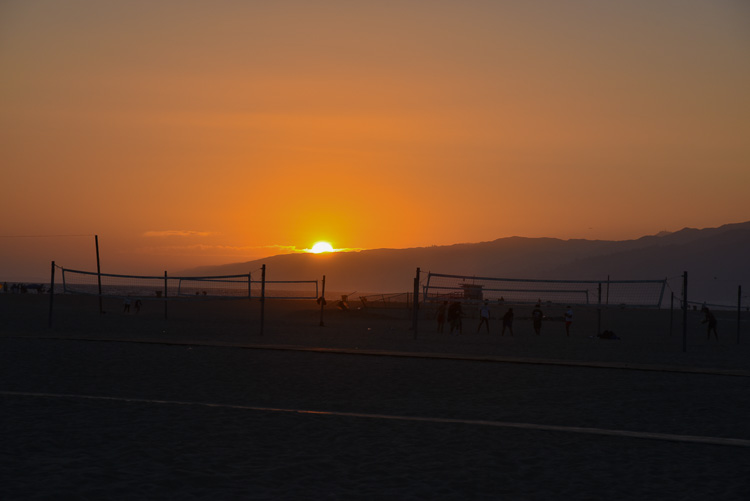 Voilà pour cette première journée, première article sur ma visite de Los Angeles.  J'espère que ces photos vous auront plu.  Elles me rappellent en tout cas de jolis souvenirs de cet été avec mon frère.
Que pensez-vous de Venice Beach?  Y êtes-vous déjà allé? Dites-moi tout en commentaire sous l'article.
—
That's it for my first day / article about my visit of Los Angeles.  I hope you enjoyed it.  Looking at these photos reminds me of the beautiful moments spent with my brother over the Summer.
What do you think about Venice Beach?  Have you been?  Tell me everything in the comment section below.
xx Jennie
—