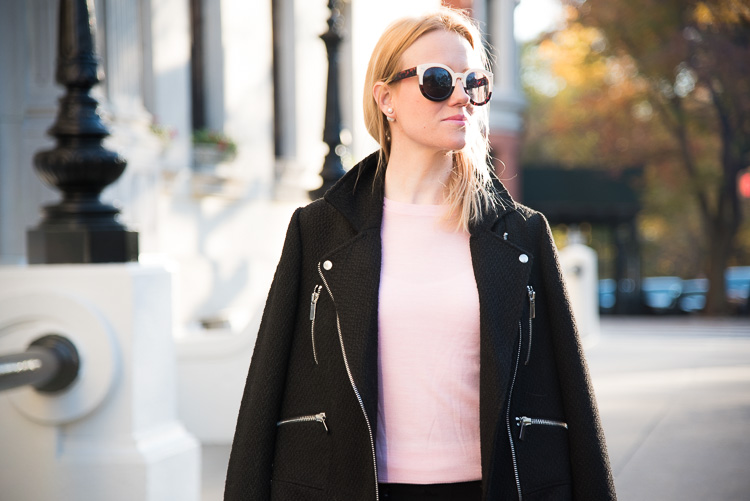 Comment égayer un mois de Novembre et sa baisse de températures?  En voyant la vie en rose bien sûr, ou plutôt avec une petite touch of pink.  Même si l'automne à New York a été clément et magnifique, l'été semble déjà bien loin.  La semaine prochaine, place à Thanksgiving, puis aux festivités de Noël.  Mais où est donc passée 2016?
—
How to brighten November and handle the drop of temperatures?  Simply by seeing life in pink, or adding a touch of pink into your look.  Even though we can't complain about this Fall in New York, Summer time seems so far away already.  Next week is Thanksgiving then we will officially kick off the Holiday season festivities.  What have happened to 2016?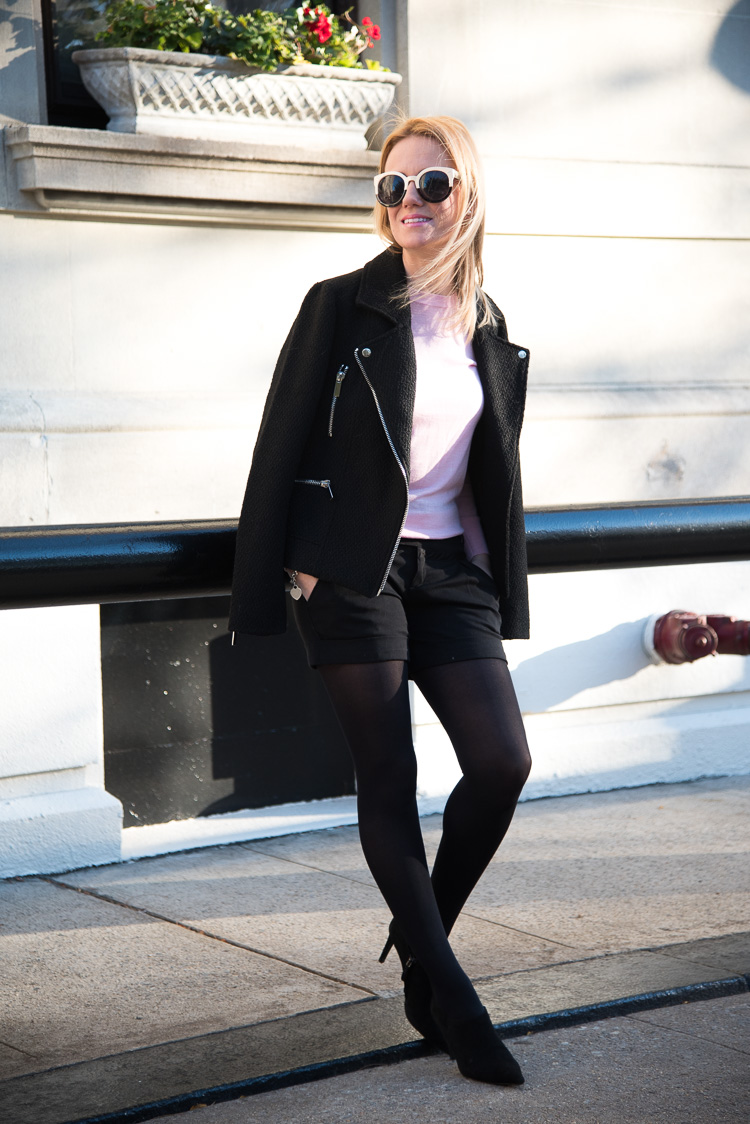 Je porte souvent du noir, genre chaque jour et lors de chaque évènement.  C'est ma couleur de prédilection pour être chic sans mettre trop d'effort dans le look.  Mais je ne pousse pas non plus le vice à ne porter que du noir.  J'aime l'illuminer par des rayures ou des pastels.  Cette fois en l'occurence, c'était une combinaison du noir et du rose.  J'ai acheté ce pull rose chez Banana Republic et je le trouve parfait pour la transition de l'automne.  En mérinos et de matière fine, c'est une bonne alternative avant de passer aux gros pulls d'hiver (que j'adore).  Plutôt que de le porter avec un jean ou une jupe, j'ai eu envie de ressortir mon short d'hiver (que j'ai depuis plusieurs saisons).  La veste est de chez Tobi.com et j'adore les fermetures éclairs pour apporter le détail un peu rock mais sage à cette tenue.
Qu'en pensez-vous?  Avec quelle couleur aimez-vous casser un look trop sombre?
—
I wear black a lot, like every day and every time I have an event to go to.  It is my color of choice no matter what.  Especially when I have to rush out of the door and can't give to much thought into my look.  However, I always try not wear a total black outfit.  I like to brighten it with stripes or pastel colors.  This time, I chose a pink sweater from Banana Republic.  It is a perfect fit for Fall with its Merino thin fabric.  Light enough to wear on warm Fall days, it is a great transition fabric before moving on to chunky Winter sweaters.  Instead of pairing this pink sweater with jeans, I selected old shorts that I have been wearing for a few seasons now.  The jacket is from Tobi.com and I love how the zippers add some details to this look.
What do you think?  What are you favorite colors to pair with black?
xx Jennie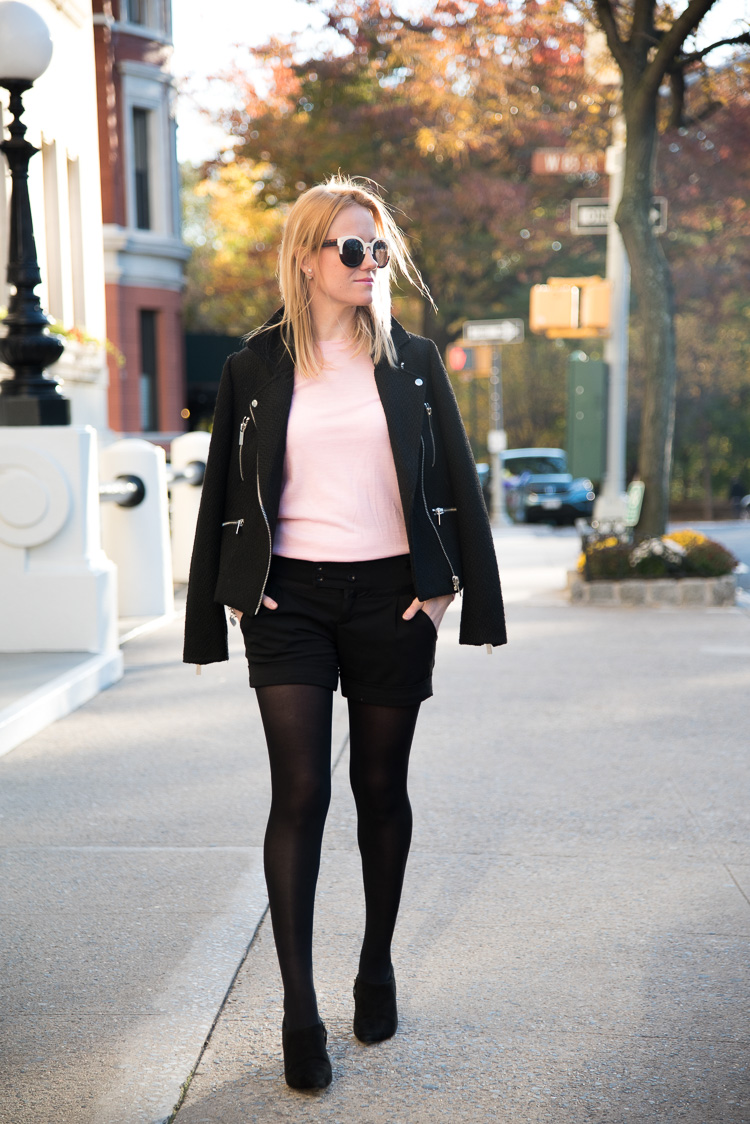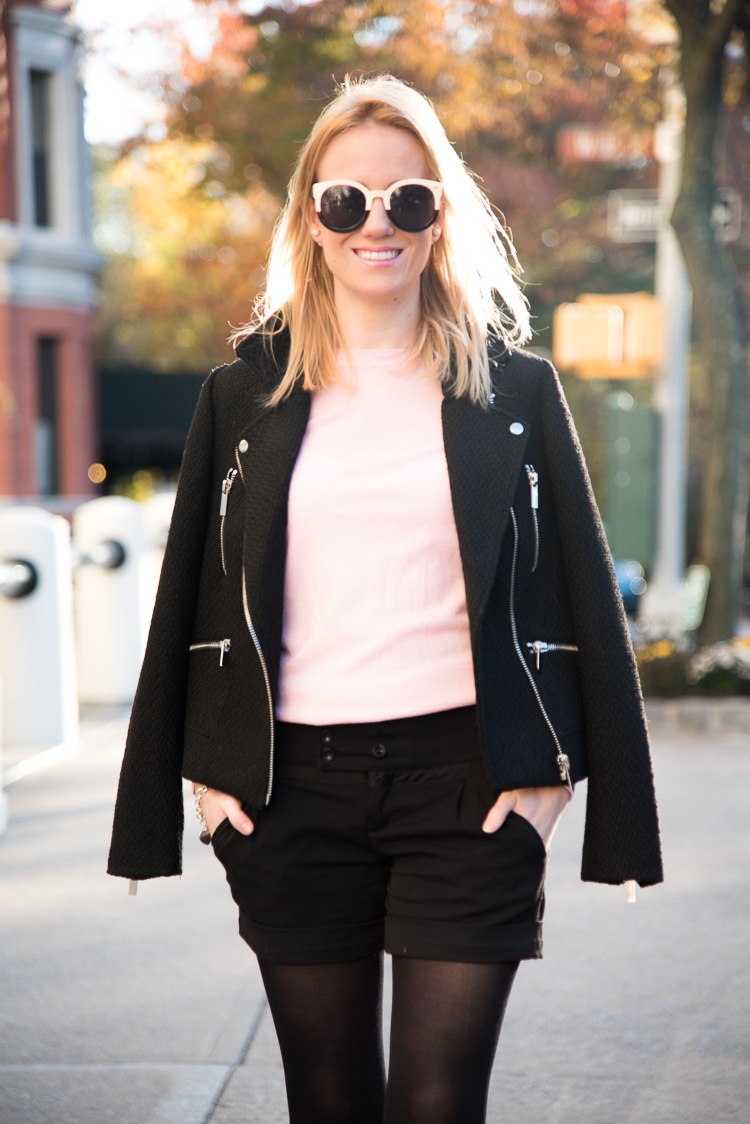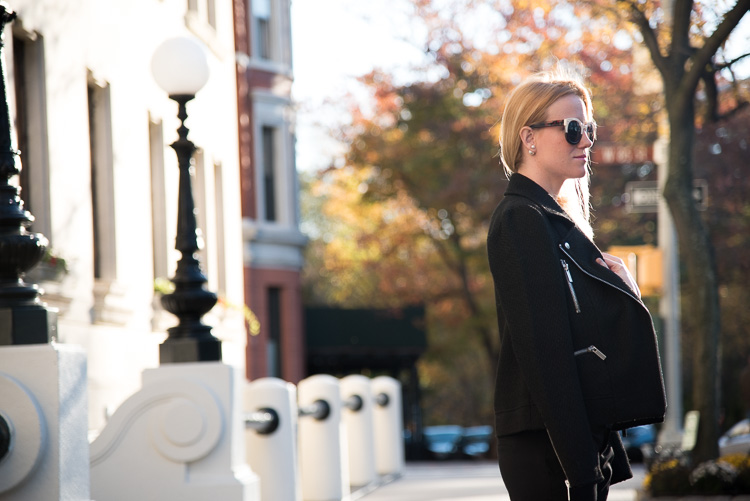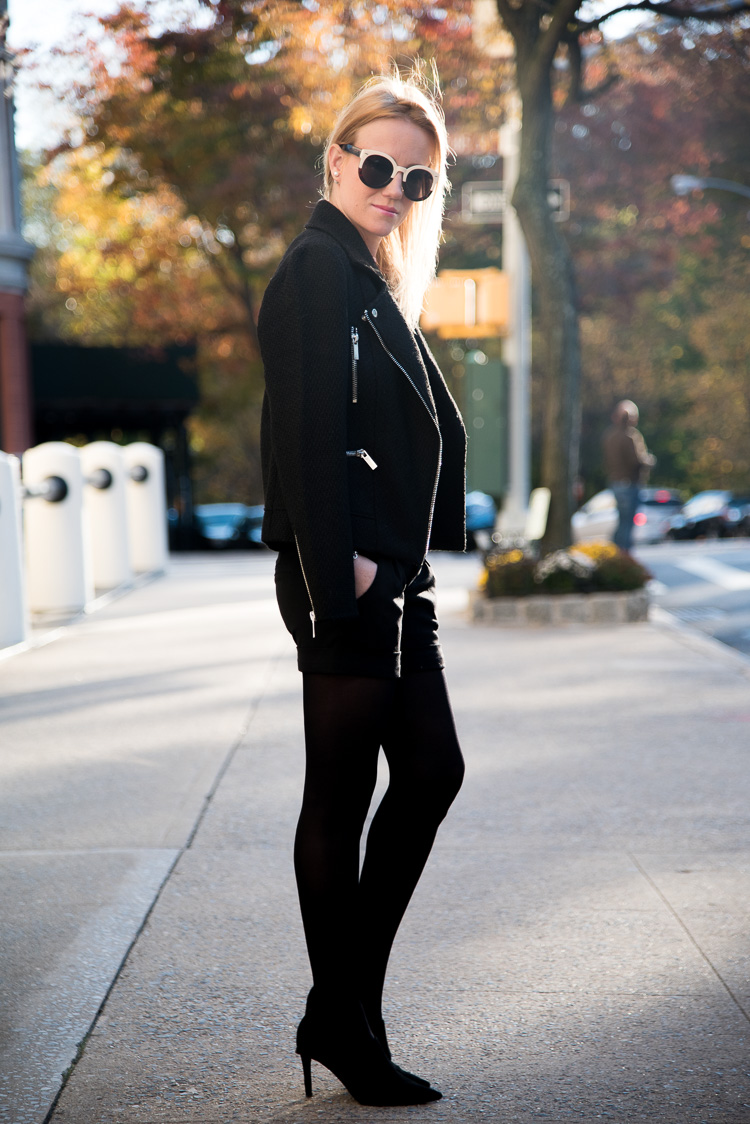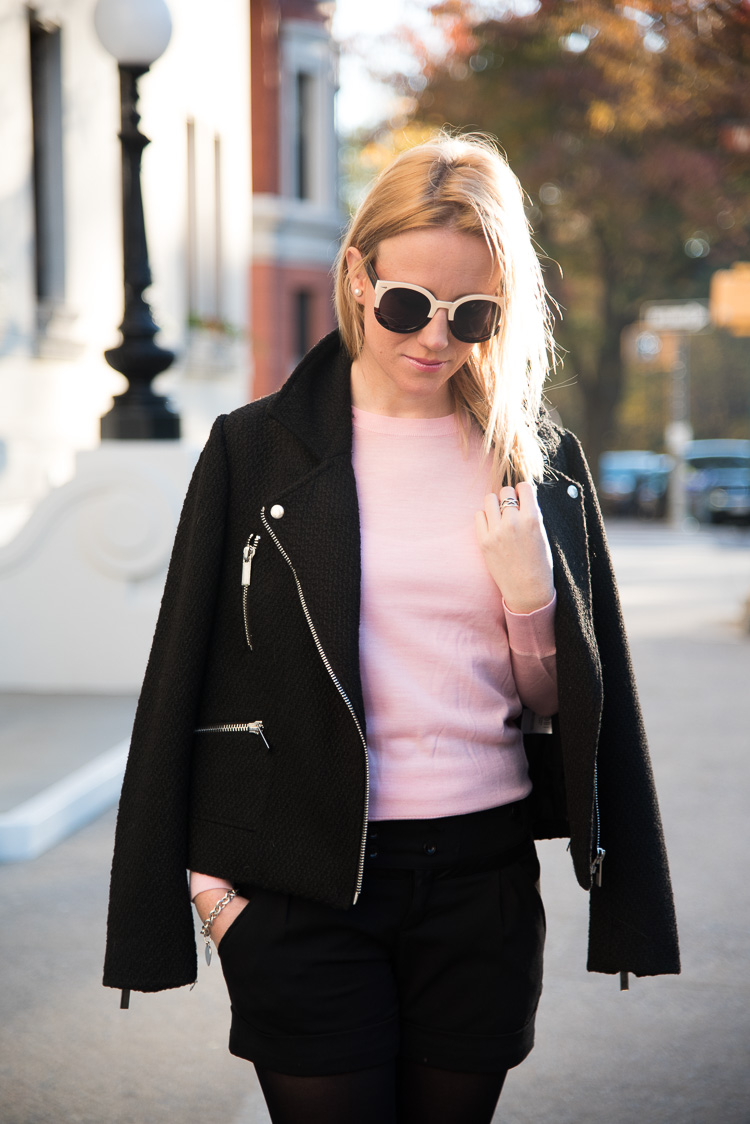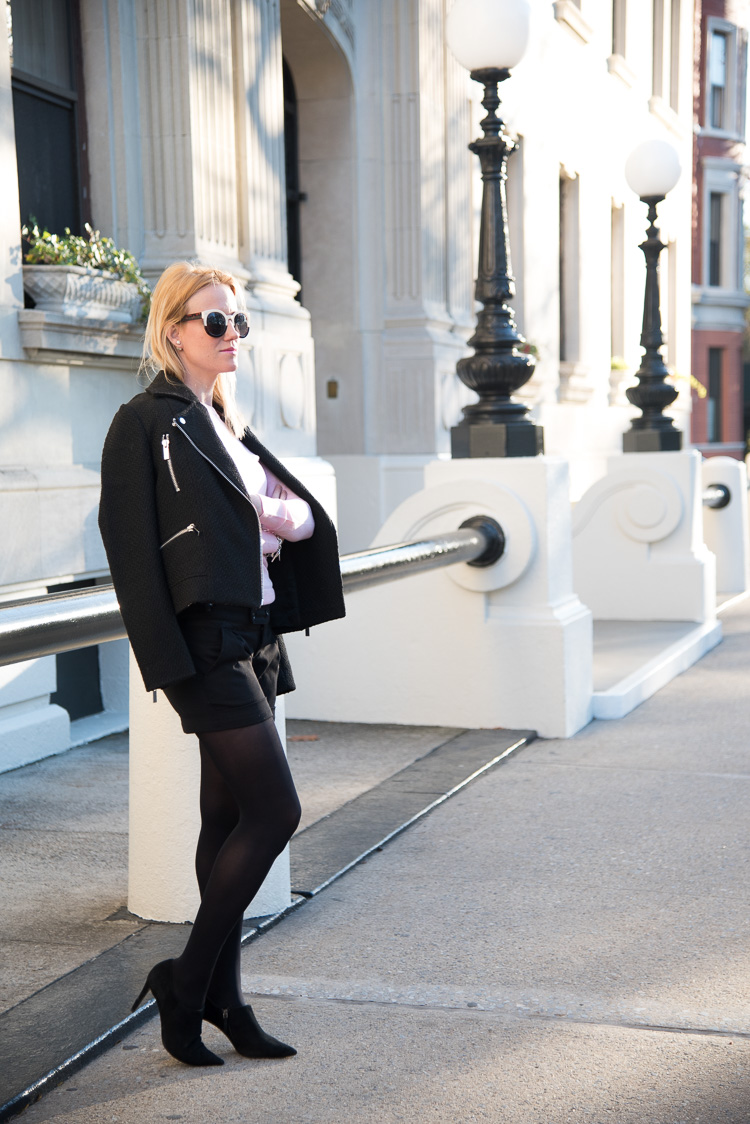 Pink Sweater: Banana Republic / Jacket: Tobi.com (on sale $55 $138, also love this one)/ Shorts: Zara, old (similar here, here) / Ankle boots: Zara, old (similar) / Sunglasses: Urban Outfitters / Lipstick: Maybelline
Other Pink sweaters that I love for less than $100:
Other Black Fall jackets that I love:
Other Black Winter shorts that I love:
—