La fête de l'Indépendance des Etats-Unis approche et j'ai besoin de votre aide pour me décider sur quel dessert réaliser. Le "Fourth of July", c'est juste super big ici! Pour la première fois, ce 4 juillet, je le passe en famille et j'aimerai m'occuper du dessert. Après multiples recherches sur le web, les blogs culinaires et surtout Pinterest, voici ma sélection de 10 desserts américains qui seraient délicieux et simples à réaliser. Et comme bleu-blanc-rouge ne sont pas seulement les couleurs de la France, et que les américains ne célèbrent jamais les fêtes à moitié, je me dois d'honorer les couleurs du drapeau. Lequel de ces desserts préférez-vous?
—
Independence day is coming guys. And in a good way, I mean a sweet way. This year for the first time, I am spending it with family and I am looking for yummy Fourth of July dessert recipes. As I love to take care of the dessert, I would like to try one of these out below. Of course, it has to be Red, White & Blue. I have been looking around for Fourth of July recipes online, mostly on food blogs and Pinterest. Below is a selection of 10 Fourth of July dessert recipes that I think would be delicious. Which one should I try? What are your plans for the Fourth?
1. Red, White & Blue Fruit Pizza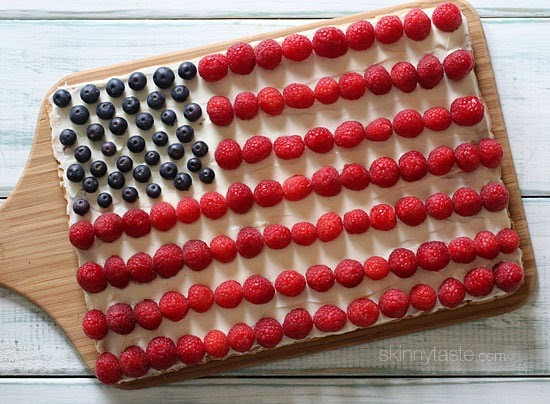 S'il vous tente d'essayer une pizza sucrée, cette recette de Skinny Taste est simple à réaliser. La base est un fond de cookie au chocolat blanc avec un glaçage au cream cheese (le remplacer par une crème chantilly pourrait être aussi savoureux) et des framboises et myrtilles pour recréer le drapeau américain. Retrouvez la photo/recette ici.
If you are looking to try the sweet pizza, this simple recipe is from the awesome website Skinny Taste. A white chocolate cookie as a base with a cream cheese icing (I could easily replace that with whipped cream…), as well as raspberries and blueberries to reproduce the American Flag. Find the image / entire recipe here.
2. Red, White & Blue Firework Cookies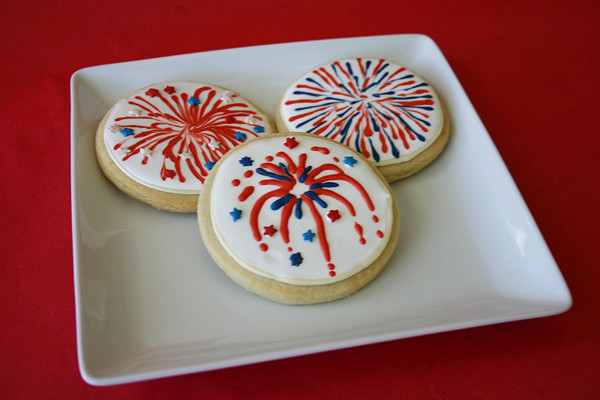 Avec une simple recette de biscuits au sucre (ma préférée ici), le plus fastidieux reste le design sur le glaçage. Image et recette depuis le site Bee in Our Bonnet. Parfait pour accompagner le café ou un thé glacé.
Take your favorite sugar cookie recipe (mine is this one here) and just add the coloring design on the icing. I got the idea and steps from the site Bee in Our Bonnet. Perfect recipe to pair with coffee or iced tea.
3. Red, White & Blue Pretzels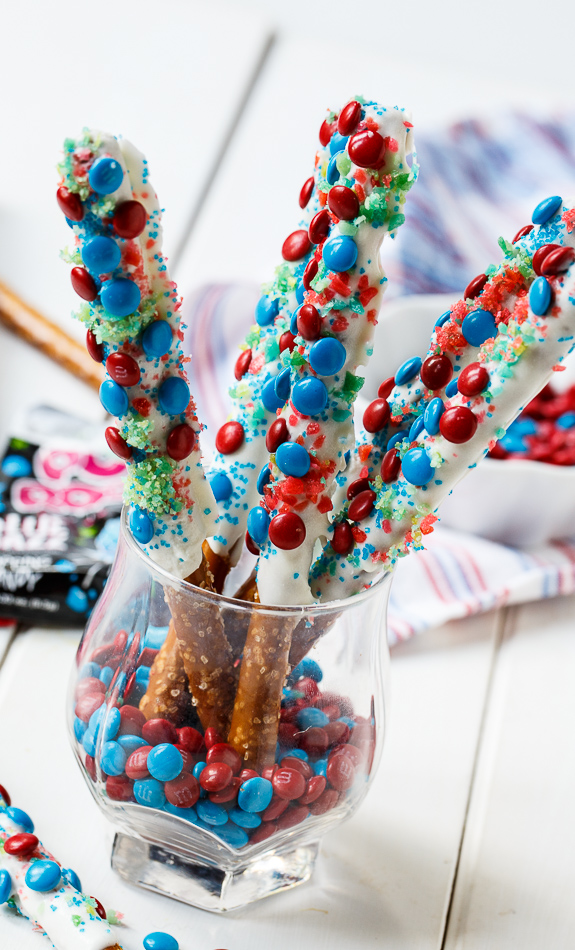 Rien de plus simple et rapide à réaliser avec un glaçage décoratif bleu-blanc-rouge sur des pretzels. Les américains raffolent du mélange sucré salé et je dois avouer que j'y prends goût également. La recette est sur le site Spicy Southern Kitchen.
Nothing more simple, yet adorable, than dipping some pretzels in red, white and blue icing. Easy enough to reproduce and would look great on the table. Image and recipe from Spicy Southern Kitchen.
4. Red, White & Blue Kabobs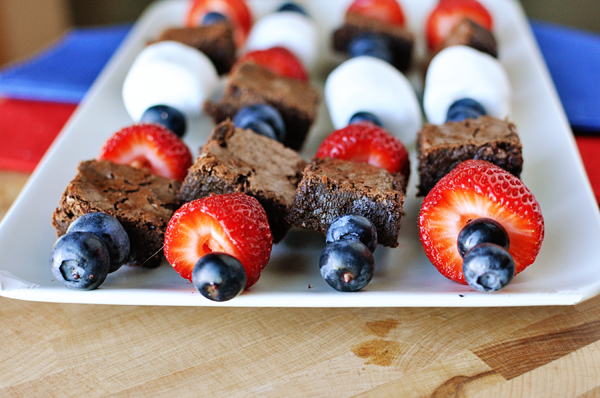 Des petites brochettes fruits et brownies pour se sentir un peu moins coupable sur le craquage du dessert. La recette de Mels Kitchen Cafe ici.
Pairing brownies with fruits to feel less guilty in indulging. That works too with this recipe / photo from Mels Kitchen Cafe.
5. Red, White & Blue Pancakes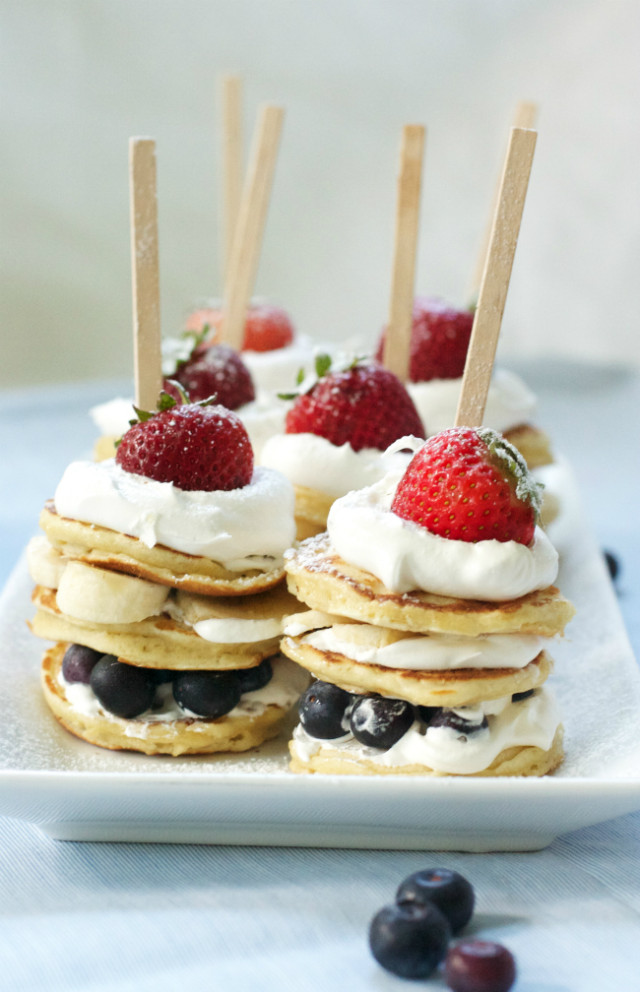 On commence l'euphorie sucrée du 4 juillet avec de simple pancakes fraises et myrtilles dès le petit-déjeuner. Pourquoi attendre après tout? Photo et recette du site Modern Parents Messy Kids ici.
While wait for dessert when you can have red, white and blue pancakes for breakfast? Image and idea from Modern Parents Messy Kids.
6. Red, White & Blue Trifle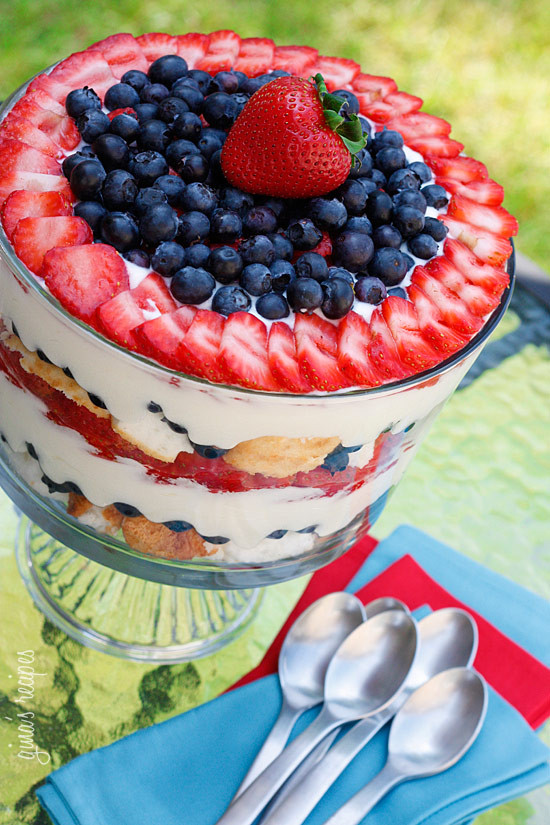 Des couches de bleu-blanc-rouge pour un dessert haut en couleurs trouvé sur le site de Skinny Taste.
Layering seems the perfect idea to impress the crowd and this trifle could do the job. Photo and recipe from  Skinny Taste.
7. Red, White & Blue Coconut Popsicles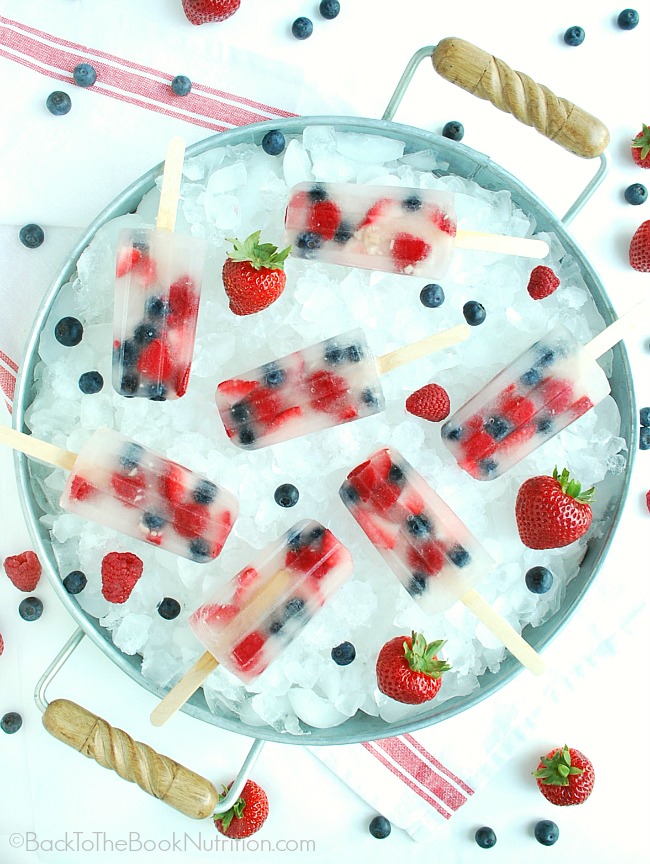 Une recette des plus basiques à réaliser et idéale pour se rafraichir avec les glaces à l'eau de coco et aux fruits. Image et recette sur le site de Back to the Book Nutrition.
It's going to be hot this weekend and I love the idea of a popsicle. These can't be easier to make. All you need is some coconut water, fruits and a freezer. Photo and recipe from Back to the Book Nutrition website.
8. Red, White & Blue Ice Cream Cones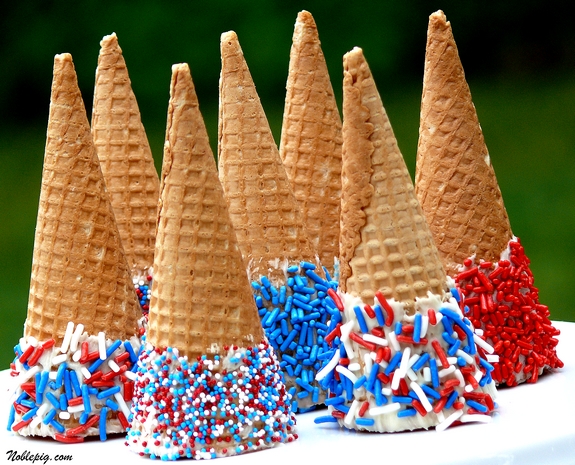 Une autre idée pour se rafraichir avec des cônes de glace personnalisés bleu-blanc-rouge. Et pour faire tenir la déco? Tout simplement un glaçage au chocolat blanc. Image et recette sur Noble Pig.
Another idea to match your ice cream with the Fourth of July with decorating the cones. And what a great idea than making these sprinkles stick than with white chocolate icing? Image / recipe from Noble Pig.
9. Red, White & Blue Strawberry bites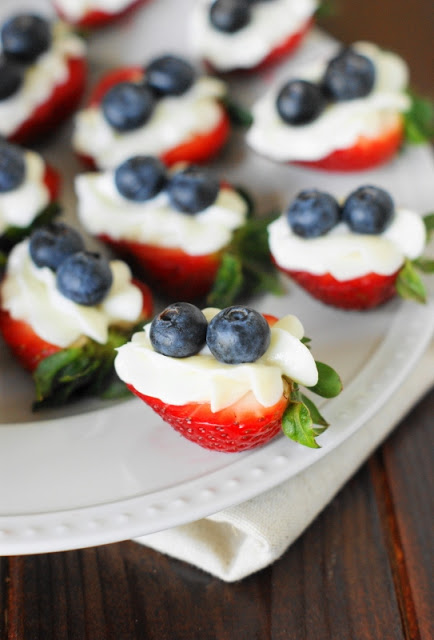 Garder la ligne le 4 juillet en limitant les calories avec des fraises fraîches, un soupçon de glaçage et deux myrtilles pour la décoration. Image et explication sur The Kitchen Is My Playground.
If you are looking to indulge without increasing the calories. All you need is fresh strawberries, a tiny drop of whipped cream and blueberries. There is no reason to restrain. Image and recipe fromThe Kitchen Is My Playground.
10. Red, White & Blue Marshmallow Wands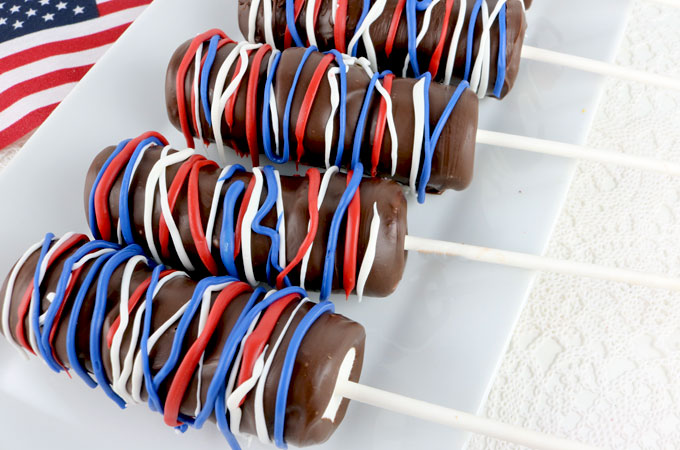 Une fête ne serait pas américaine sans chamallows – ici qu'on trempe dans du chocolat au lait et qu'on décore pour un esprit Independence Day. Image et recette aussi sur The Kitchen Is My Playground.
The american people surely know how to honor a party and that would not be one without marshmallows. Dipped in some milk chocolate and decorated in red-white-blue seem like the perfect combination. Image and recipe from The Kitchen Is My Playground.