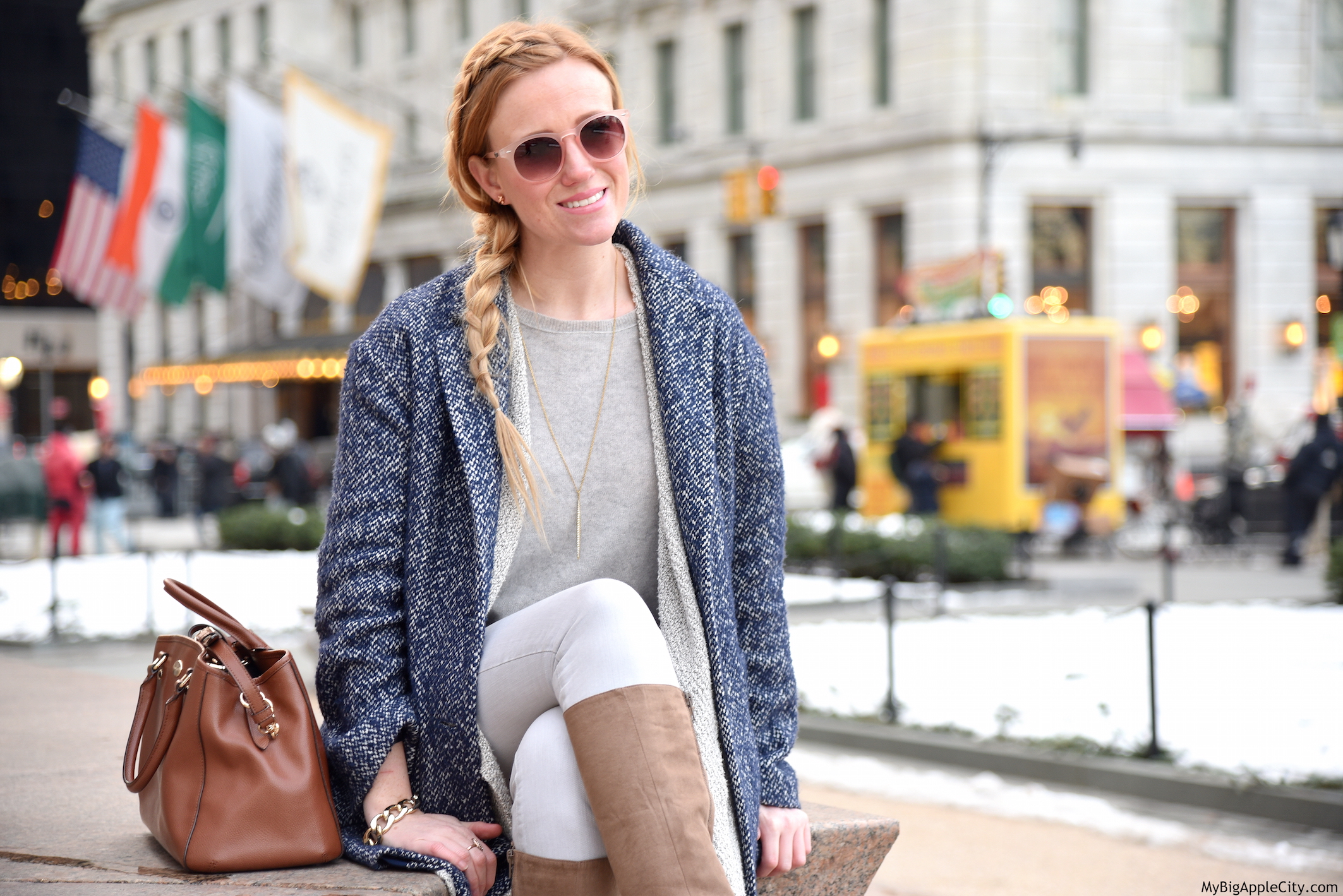 L'hiver est déjà terminé. Une phrase que je ne me suis jamais entendue dire, surtout depuis mon expatriation à New York. Cette année, l'hiver new-yorkais a été l'un des plus doux et des plus rapides et le printemps nous pointe le bout du nez. Mon look d'automne vous a beaucoup plus et je me suis dit que j'allais réitérer avec un look d'hiver. Le gris est je pense la couleur que je porte le plus avec le noir. Pas très original, non? L'hiver s'est montré comfortable et les vêtements de ma garde robe également. Ou alors, c'est l'âge qui veut ça?
—
It seems like Winter is already over in New York. Already? It is probably the first time I say since I moved to NYC. This year, Winter was soft and short and it feels like Spring is already around the corner. How gorgeous was last week's weather? As you seem to have enjoyed my Fall look, I thought I would show you on of my favorite Winter outfits as well. I believe grey is the color I wear the most with black on a day-to-day basic. How boring is that? Winter was such as a comfortable delight in the city, and so were my clothes. Or maybe am I just getting old?
Je suis accroc aux cardigans longs un peu amples qui vont avec tout ensemble. Tellement agréable à porter. Celui-là, je l'ai trouvé chez Aritzia (un de mes magasins préférés) et ce manteau bombé au style Boyfriend m'a trouvé pendant les soldes chez Zara, tout comme le jeans. Associé avec mes bottes vintage en daim couleur peau, ce look aux couleurs neutres est sans rappeler mon look shooté sous la neige ici.
Un look parfait pour mes weekends dans Central Park avant de payer une visite au Plaza Hotel et aux quelques magasins de la 5ième avenue sans oublier une pause café dans le coffee shop de Monsieur Ralph Lauren.
Et vous, quelles ont été vos pièces préférées de l'hiver?
xx Jennie
—
I became addicted to long boxy cardigans which you can wear with any outfit. It is so easy to wear.  found this one at Aritzia (another one of my favorite shopping boutiques). I stumbled upon this blue Boyfriend coat on sale at Zara, as well as for this pair of jeans. Paired with my vintage suede camel boots, this neutral look reminds me of another one I shot under the falling snow here.
For me, this is the perfect weekend outfit to look well put together and relaxed. Very appropriate for a walk in Central Park, a shopping session on Fifth, a visit at the Plaza Hotel as well as an enjoyable break at Ralph's Coffee Shop.
What were your favorite pieces of clothing this Winter? 
xx Jennie