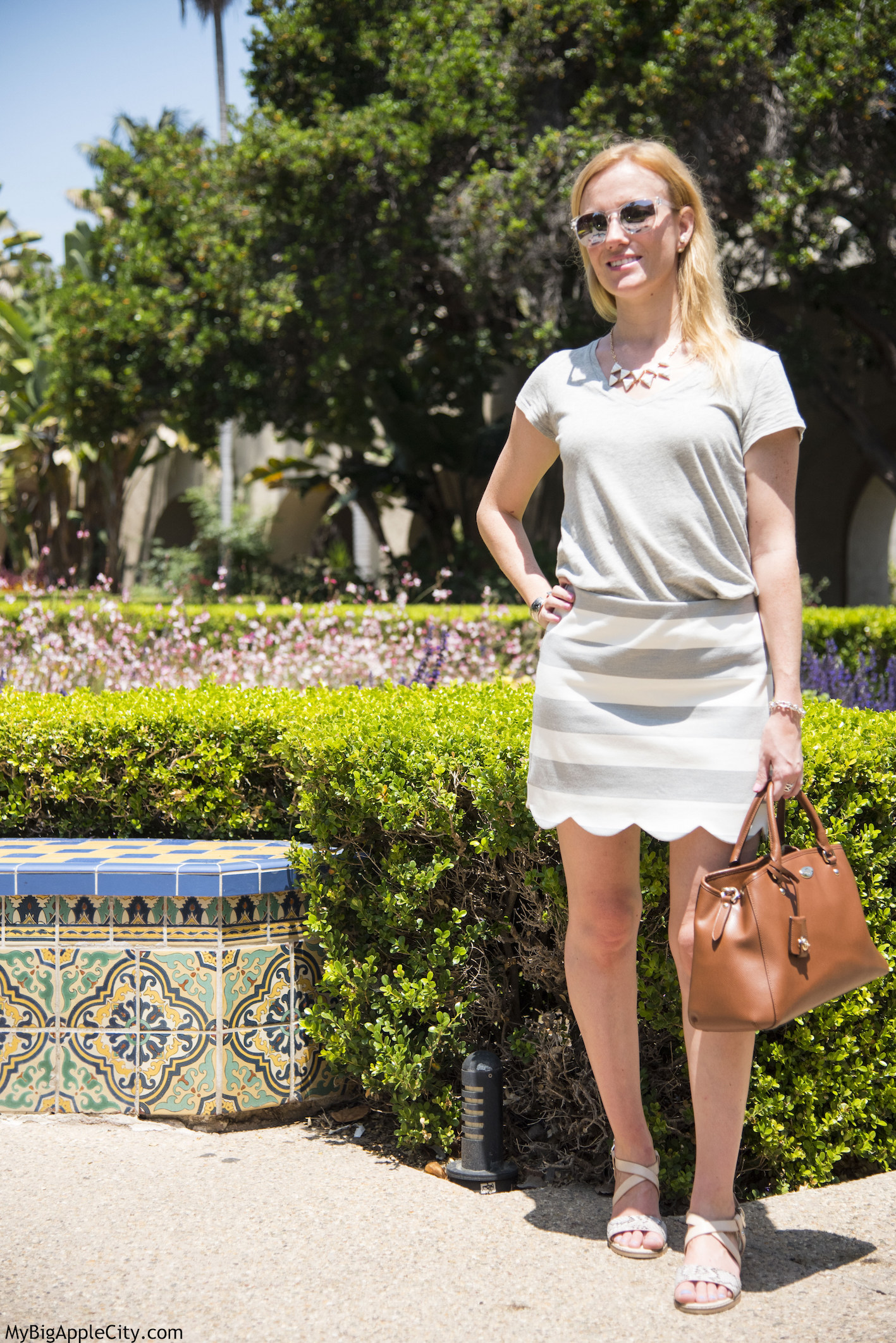 Mon challenge mode cet été est de me mettre sérieusement au port de la jupe. Je suis plutôt jean pour le comfort et robe pour la simplicité (tu l'enfiles et hop c'est fini). A chaque fois que j'achète une jupe, j'ai le même problème : ne jamais trouver le top parfait pour compléter mon look. C'est d'un compliqué et la jupe termine bien souvent au fond du placard à tenir compagnie aux autres. C'est tout un club des jupes oubliées dans ma garde robe. Mon penchant pour un style minimaliste me conduit toujours à acheter des jupes unies – alors la chasse aux petits hauts originals et à la coupe adéquate font monter la prise de tête. La jupe unie, la voilà l'erreur! Et si j'inversais? Cela semble si bête et pourtant ça m'en a pris un temps de réflexion… Une jupe à motifs règle tout de suite le problème et se porte facilement avec mes hauts les plus basiques. Victoire!
J'ai récemment tenté l'expérience avec ce look assez réussi ici, et aujourd'hui je vous montre la tenue pour ma visite de Balboa Park à San Diego. Avec ses nombreux jardins fleuris, c'est la location idéale pour un petit shooting photo. J'ai trouvé cette jupe chez Topshop avant mon départ et j'ai tout de suite été conquise par sa forme originale. Elle existe en plusieurs couleurs mais les rayures, c'est un peu mon dada… Juste un tee-shirt ou débardeur uni suffisent pour compléter ce look. Bref, un look simple et élégant, parfait pour une journée de visite avant de retrouver la plage.
Vous aimez? Vous aussi avez une prise de tête mode? Dites moi tout.
—
This Summer, my Fashion challenge is to wear more skirts. I am more willing to wear jeans for their comfort and dresses for their simplicity. I have the same issue every time I buy a skirt, I never find the perfect top to complete my look. It always is so complicated and the new skirt finds its permanent place in my closet. It is like the club of forgotten skirts in my wardrobe. My style is primarily minimalist so I am always dragged to buy plain skirts, which starts the hunt (and the headache) to find the perfect printed top with the right cut. And you know what? I believe always picking a plain skirt is my big mistake. While with a printed skirt, all I need is a simple basic top to complete my look. It seems so simple, however it took me a certain amount of time to figure this out. Victory!
Recently I tried this experiment with this look here. Today, I would like to show you another outfit I wore to visit Balboa Park in San Diego. All its marvelous gardens make it the perfect location to snap some pictures. I found this skirt at Topshop before I left New York. I was instantly attracted to its original cut. It is available in various colors, but I am always up for stripes. I completed this look with a basic tee and strapped sandals. Very easy breezy for an elegant yet simple look, which was perfect for a day of discoveries before heading to the beach.
Do you like it? Do you have some sort of Fashion challenge as well? Let me know.
xx Jennie
Skirt in stripes: Topshop (black version here, or in white here / Tee: Joe Fresh /
Sunglasses: & Other Stories / Necklace: Rocksbox.com (use the code 'bigapplecityxoxo' to get 1 month free) /
Sandals: Topshop / Bag: Coach (similar here)