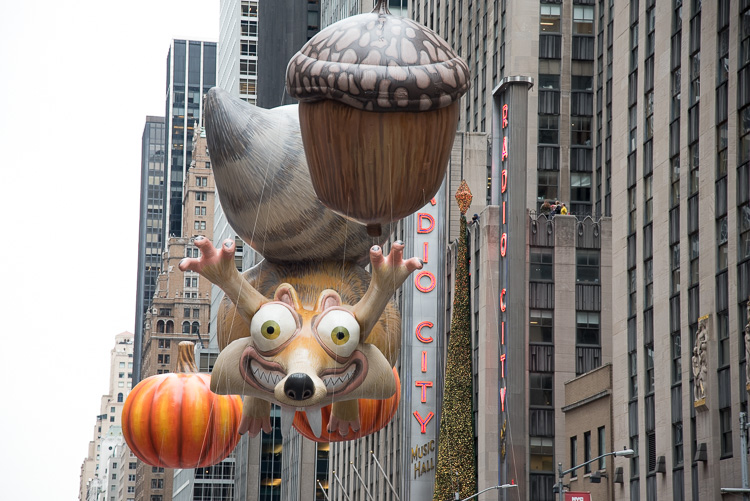 Je vous l'avais annoncé sur les réseaux sociaux: cette année, je voulais me rendre à la Parade de Thanksgiving de New York.  En 6 ans à NYC, c'était une première pour moi.  Je vous ai fait vivre cette expérience en direct sur Snapchat et InstaStory et je sais que beaucoup d'entre vous attendent cet article.  Alors à votre demande, voici mon expérience de la Macy's Parade accompagnée d'une vingtaine de photos.
—
I spread the news on social media: this year, I was going to photograph the Thanskgiving Parade in New York.  After 6 years of living in NYC, it was time for me to experience it.  Even though I shared it with you Live on Snapchat and Instastory, I know a lot of you were waiting for this article.  So here it is, a selection of my favorite pictures of the Macy's Thanksgiving Parade.  Enjoy!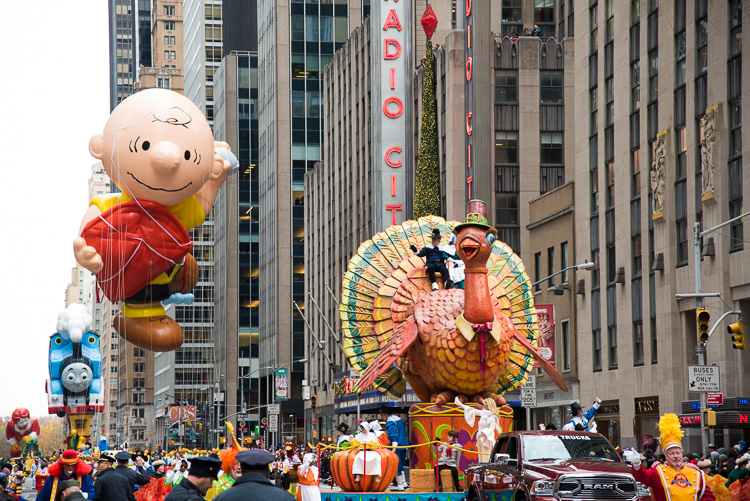 Le réveil a été difficile vers 5h30 du matin en ce jour férié.  Même si la parade commençait près de chez moi dans l'Upper West Side, je voulais la photographier en plein coeur de New York, lors de son passage sur la 6ième avenue près du Rockefeller Center.  A mon arrivée vers 7h00 (soit 2h avant le démarrage de la parade), la foule était déjà au rendez-vous et les places devant les barrières étaient déjà toutes sollicitées.  J'ai cependant eu la chance de copiner avec un inspecteur de police qui m'a donné accès à une section réservée et encore vide sur la 49ième rue.  C'est ça le Thanksgiving Spirit (le charme français a certainement aidé aussi).
Vers 9h30, les premiers chars et ballons faisaient leur apparition sur la 6ième avanue et le spectacle pouvait commencer.  L'ambiance était joyeuse et le public comme les participants se lançaient des "Happy Thanksgiving" à tout va.  Le défilé a duré près de 2 heures entre les passages de ballons immenses, chars décorés, danseurs, fanfares…  Quand on sait que les ballons géants coûtent entre $30 000 et $100 000 pièce, encore une fois les américains ont mis le paquet pour en mettre plein la vue au public.
—
Waking up at 5.30AM was pretty painful but worth it.  Even though the Macy's Parade was started near my apartment on the Upper West Side, I wanted to watch it in the heart of New York.  I went down 6th avenue by the Rockefeller Center.  My goal was to photograph the big balloons with the NYC buildings in the background.  I arrived around 7AM, 2 hours before the start of the parade.  There were already a lot of people waiting and no available spots were left in the front.  However, I was lucky to find a police inspector kind enough to let me access a reserved area on 49th street that was still empty.  Maybe I can thank my French charm as well.  Ha!  Now that's what I call the Thanksgiving Spirit!
Around 9.30AM, the parade was visible on 6th avenue and the show was finally starting.  The atmosphere was joyful and very friendly.  There is something very warm about celebrating the Holidays in the U.S.  Everyone seems to come together and enjoy each other's company.  The crowd was happily cheering 'Happy Thanksgiving'.  The parade lasted almost 2 hours with plenty of ballons, marching bands, decorated cars, dancers and singers…  I read somewhere that a giant balloon costs between $30,000 up to $100,000.  It is such a crazy amount of money but we have to agree that it does the job pretty well.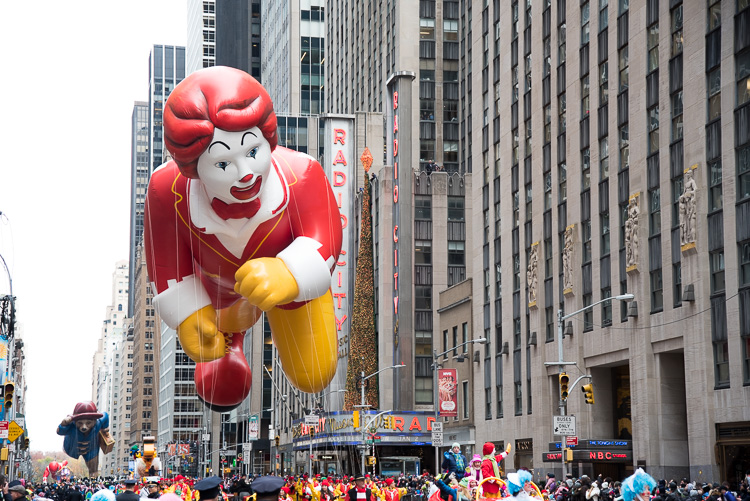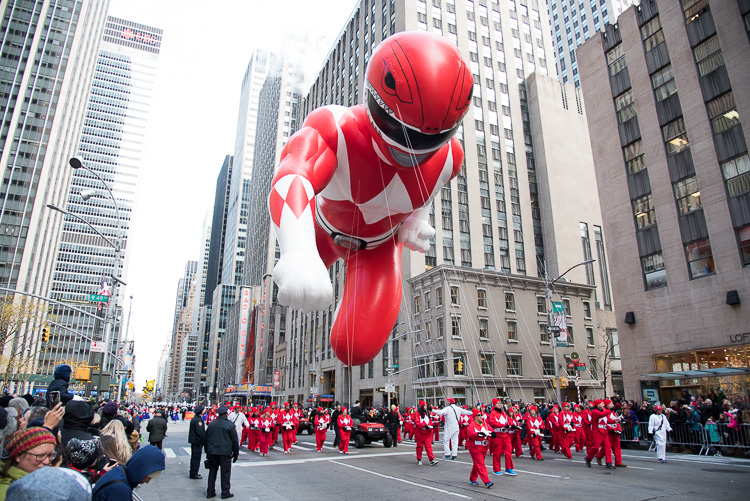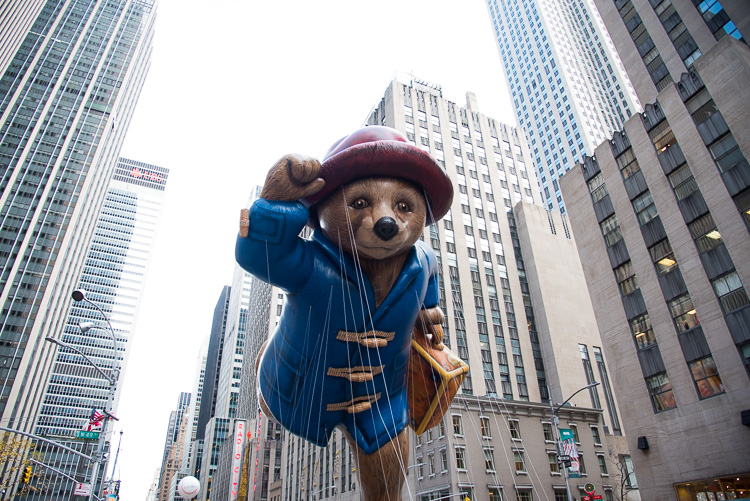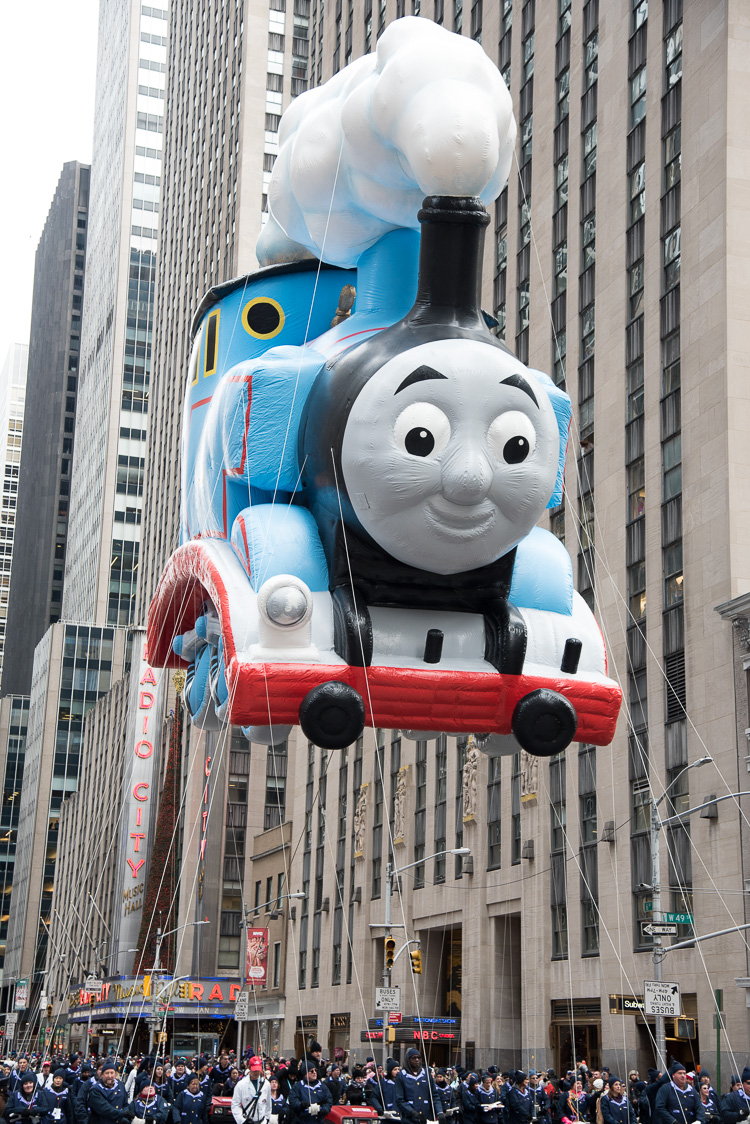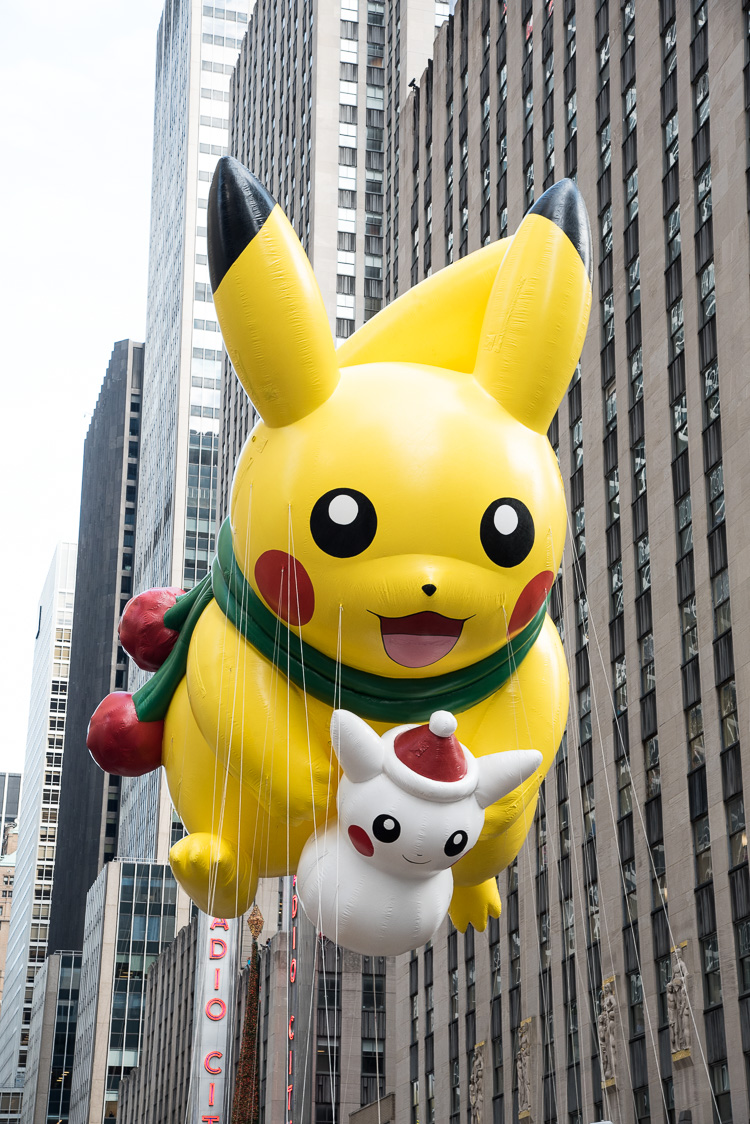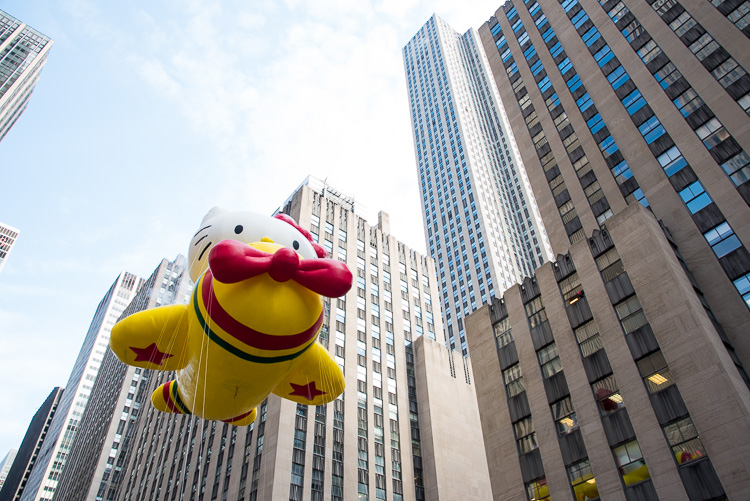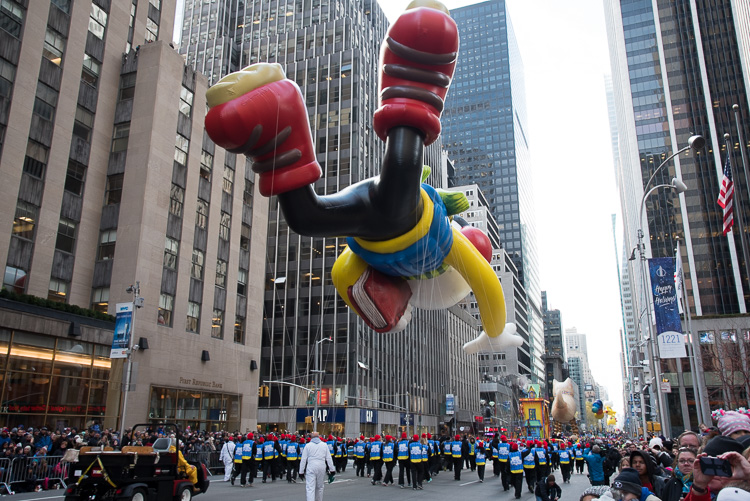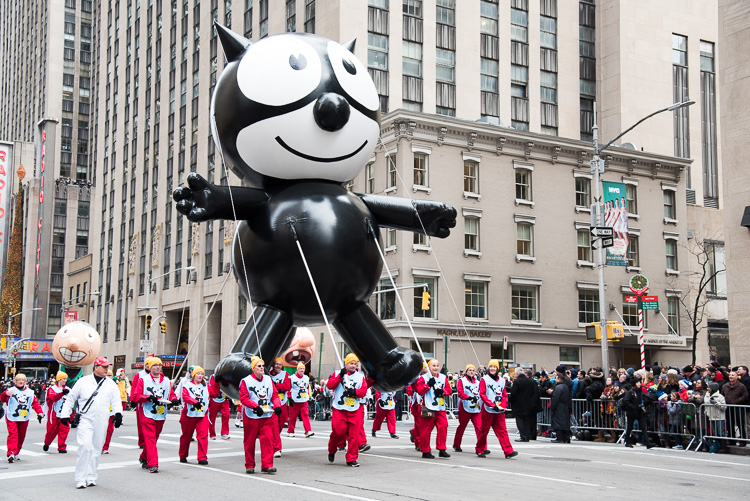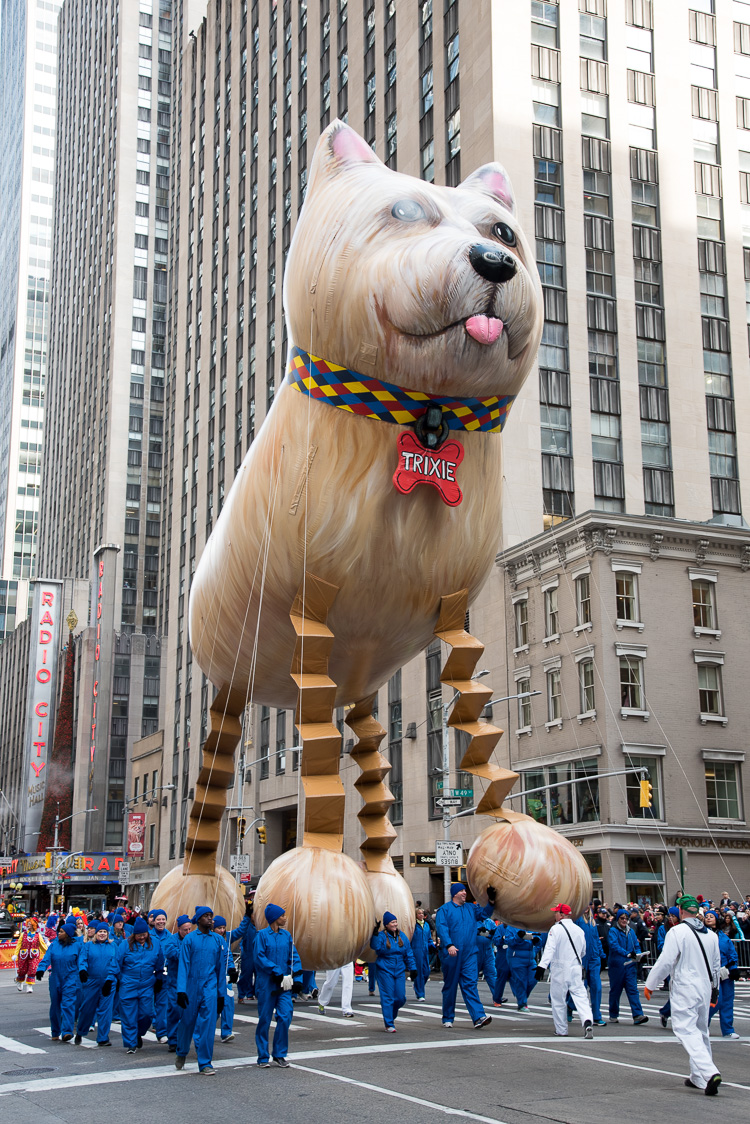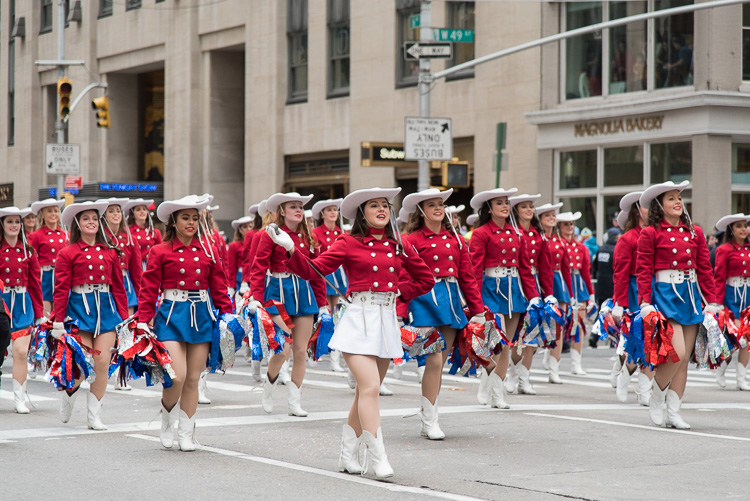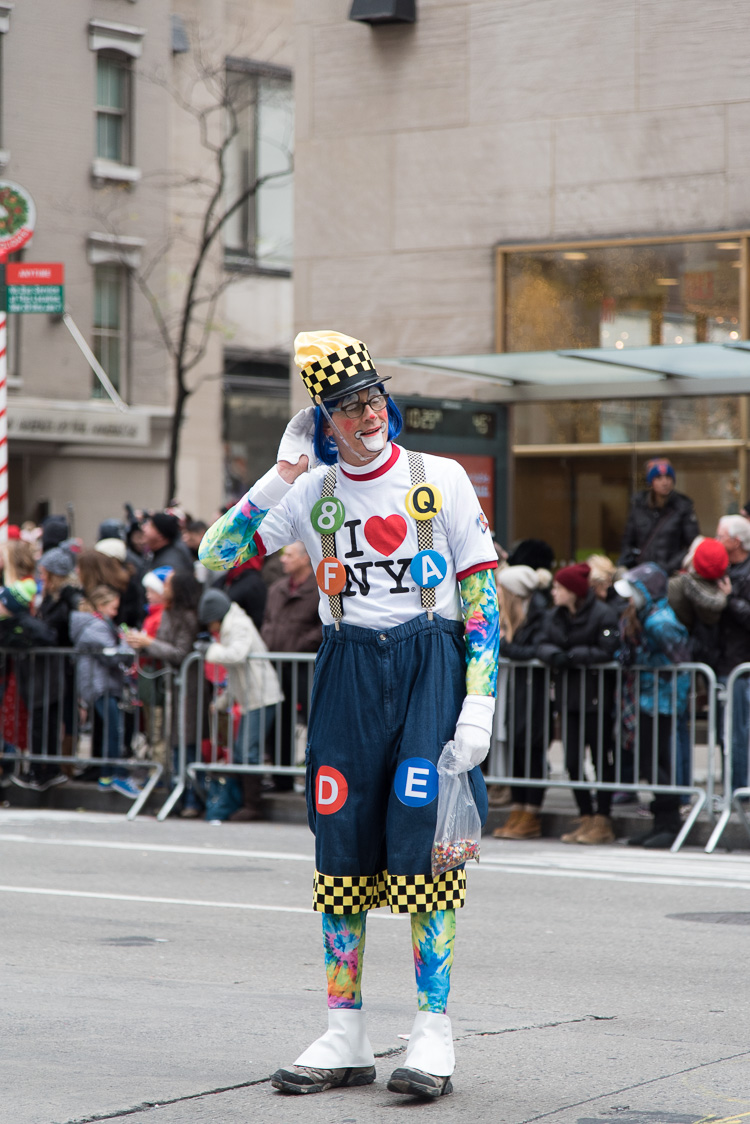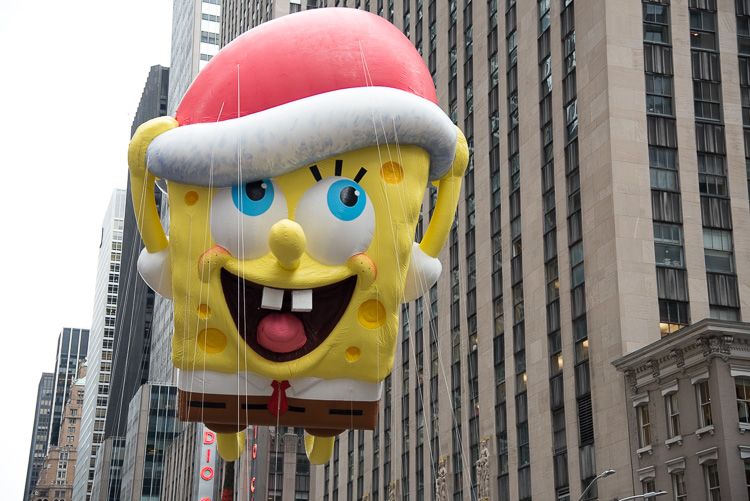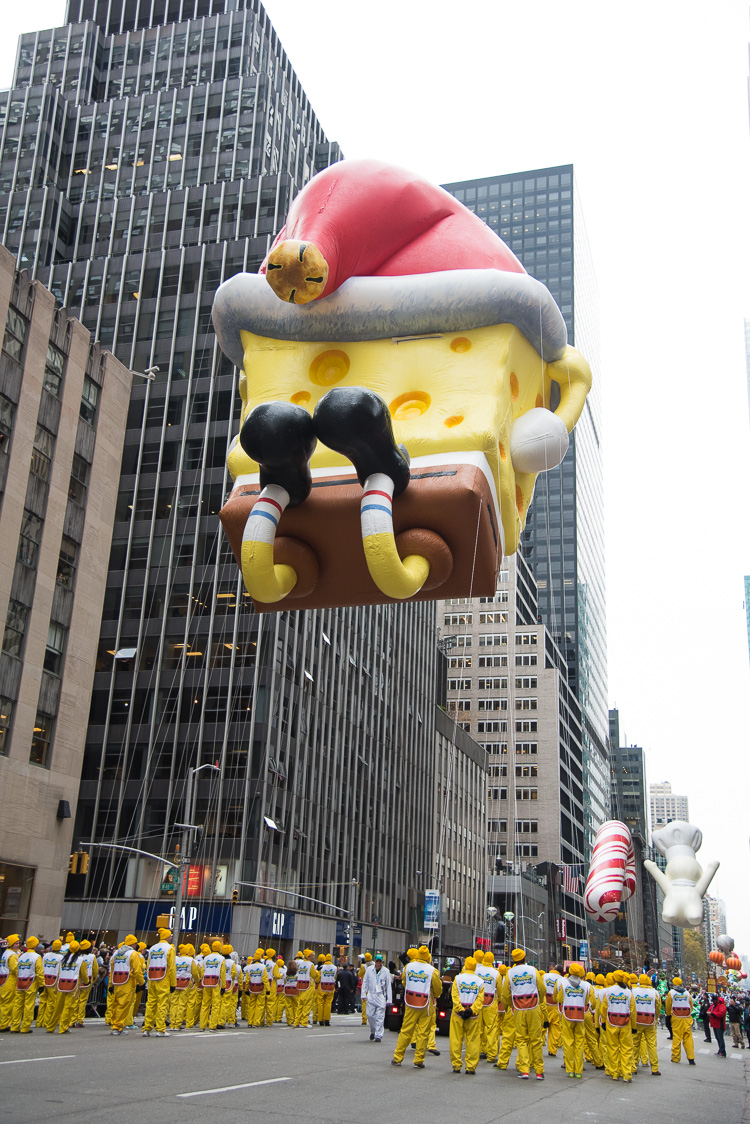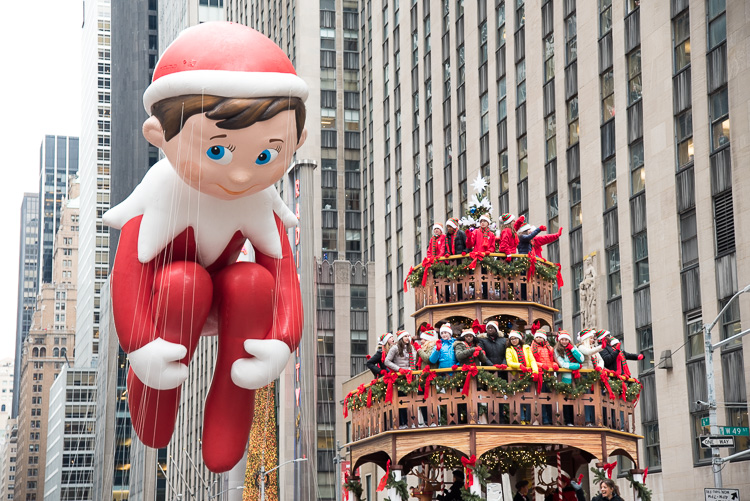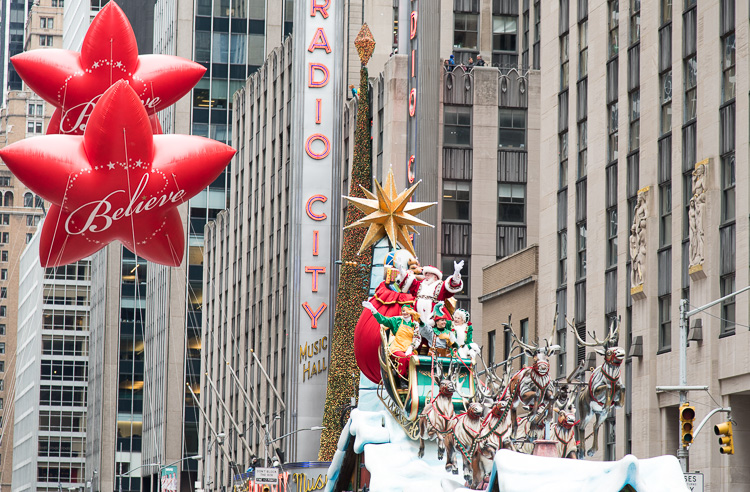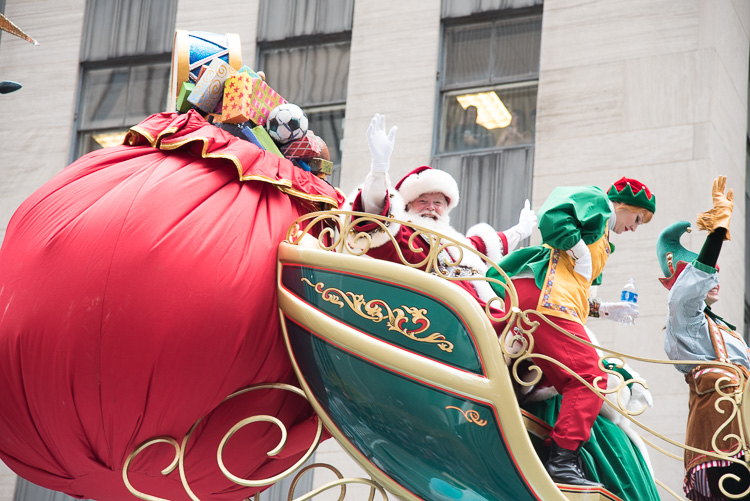 J'ai vécu un moment génial, surtout en cette période post-électorale triste et confuse.  Je pense que libérer les esprits du problème politique pour profiter d'un moment aussi convivial a fait du bien à tous.  J'ai adoré vivre la Parade de Thanskgiving en direct et je ne serai pas contre renouveler l'expérience à l'occasion.
Après 4 heures intensives, j'ai ensuite retrouvé un ami aux studios télé de la chaîne NBC dans le Rockefeller Center pour assister à quelques montages vidéo.  Puis, je suis allée chercher Harrison pour une balade de Thanksgiving pré-dîner dans Central Park.  J'ai passé une journée exceptionnelle. Dans l'esprit de Thanksgiving, cette année je suis reconnaissante pour mon petit chien et de la joie quotidienne qu'il me procure, mais aussi d'avoir la chance de vivre mes rêves à New York.
Comme le veut la tradition, la Parade se termine avec l'arrivée du Père Noël à New York, ce qui permet de lancer officiellement les préparatifs et les célébrations de Noël à NYC (et je vous réserve quelques surprises…).
J'espère que ce récit vous a plu.  Si c'est le cas, n'hésitez-pas à partager cet article et / ou me laisser un petit commentaire sous l'article.
—
I had such an amazing time at the Thanksgiving Parade in New York.  The kind atmosphere was very welcomed, especially after the chaos post-election.  It was a relief to leave the presidential controversy aside and out of our mind for a bit to enjoy the show.  Once again, New Yorkers know how to celebrate and I was glad I could live this moment.  I spent the rest of my day visiting a good friend at NBC studios and in Central Park with Harrison.  And as it is the Thanksgiving tradition: I am very thankful for my little puppy and the joy he brings me every day, as well as the chance to live my dreams in New York.
I hope you had a great Thanksgiving.  Let me know in the comment section how your day went.
xx Jennie
—