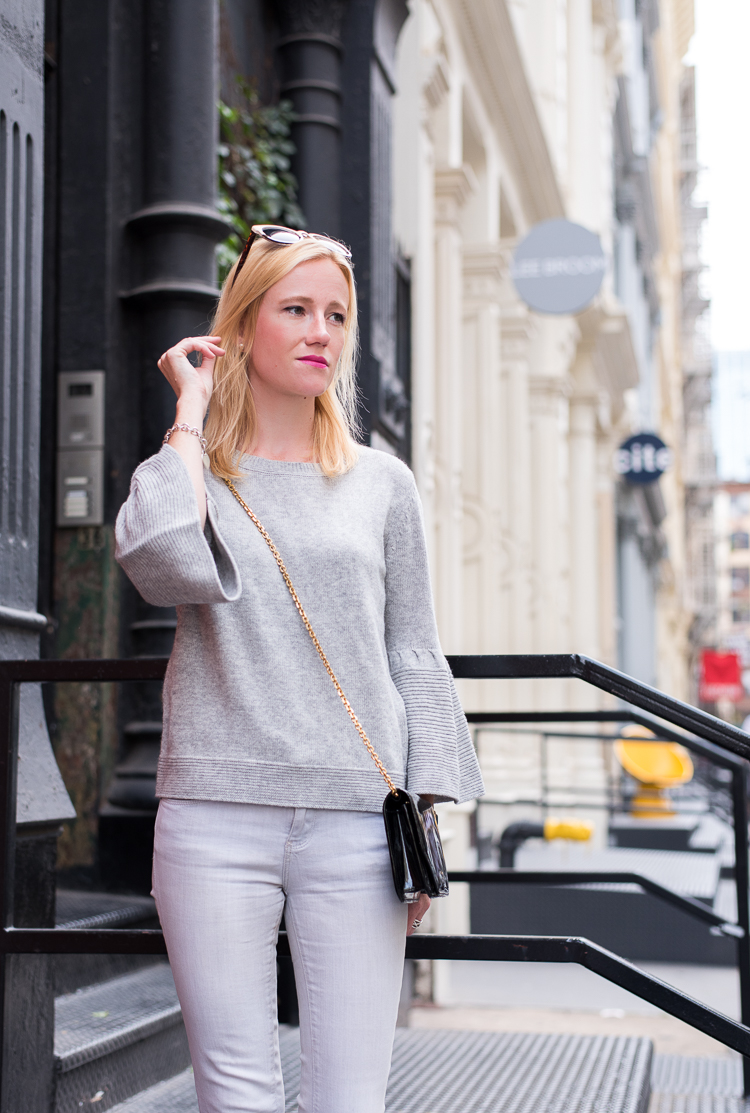 Le printemps arrive!  C'est ce que je ne cesse d'annoncer ici à New York.  Je sais que c'est un leurre; l'hiver a encore des jours glorieux devant lui.  Mais ce n'est pas totalement faux… Le printemps arrivera!  Le temps passe si vite et 2018 est déjà bien entamée.  J'ignore ce que cette année réservera mais je crois en la faveur de l'inattendu.  Parce que peu importe ce qui arrive, force est de constater qu'on y fera face.  Bon ou difficile, nous sommes humains et nous évoluons constamment.  Mais si je suis certaine d'une seule chose, c'est combien j'aime vivre à New York.  Et cette histoire d'amour n'est pas prête de s'arrêter.
—
Spring is coming!  That is what I keep telling people here in New York.  I know it's not true and Winter still has some glorious days in front of itself.  But ultimately, I am not wrong.  Spring is coming…  Time flies and 2018 is already in motion.  I am not sure of how this year will look like but I believe in the good of the unexpected.  Whatever comes our way, we will deal with it.  Good or bad, we are humans and we never stop evolving.  One thing I am certain of though, is how much I love living in New York.  And this love story will last forever.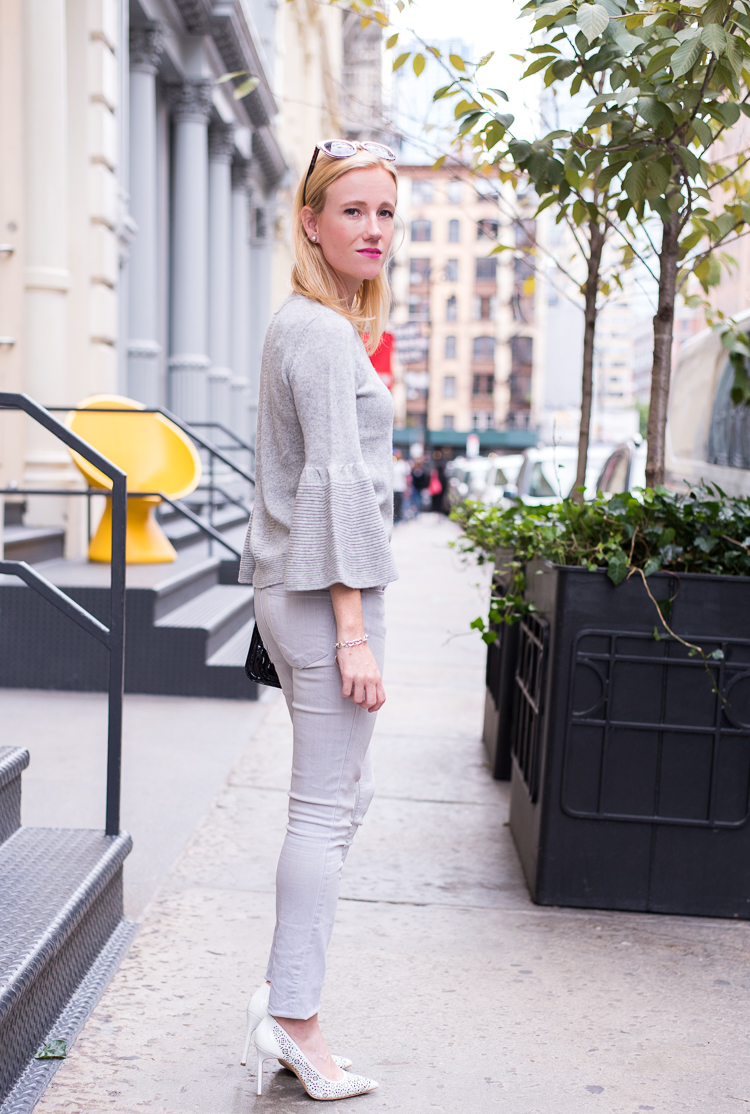 J'adore porter des tenues monochromes.  Il y a quelque chose de facile, et tout de même élaboré quand on porte le même ton de la tête aux pieds.  M'habiller en noir est un uniforme.  Cette fois, je change pour le gris.  Les vêtements les plus basiques sont toujours mes préférés.  Et rien n'est plus important que de se sentir à l'aise dans sa tenue pour apporter de la confiance en soi et affronter une nouvelle journée.  Soyons honnête, ce look est un simple jeans – pullover.  Tout le monde peut porter et porte cette tenue.  Mais étonnamment, je trouve ce look plutôt chic dans sa simplicité.  Qu'en pensez-vous?  J'adore un bon pull d'hiver et celui-là avec ses manches évasées est de chez Banana Republic (ici).  Pour terminer, quand je porte un look monochrome, j'aime l'élever avec un détail qui pop, comme avec ce rouge à lèvre rose.
—
Going monochromatic is a look I love to wear.  There is something easy, yet elaborated about wearing the same tone head to toe.  I am known for wearing all black, let me be known for wearing all grey too…  Simple pieces of clothing are my favorites.  And there is nothing more important to have a good day than feeling comfortable in what you are wearing.  Yet, still be confident you are well put together.  Because to be honest, these are just simple jeans and a sweater.  Everybody can and is wearing that.  But somehow, this outfit looks chic, don't you think?  I love a good grey sweater and this one with its pretty bell sleeves is from Banana Republic (here).  And of course, when you wear monochromatic, it is important to have a little detail that pops, like this bright pink lipstick.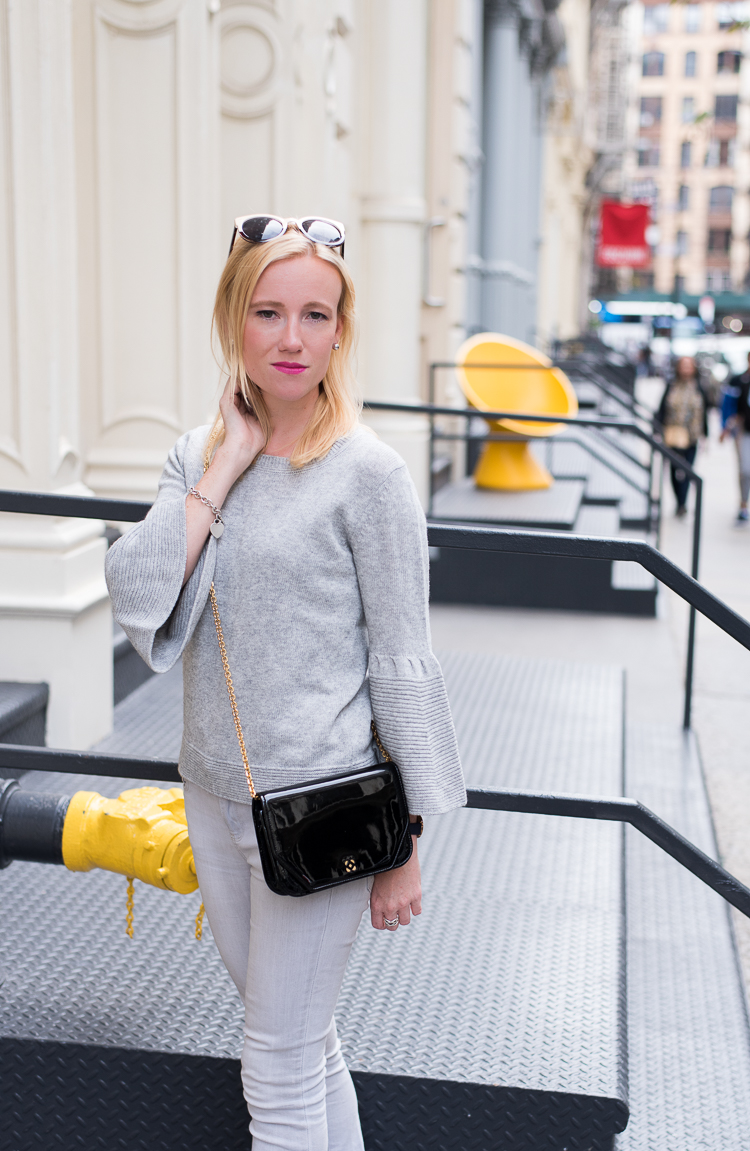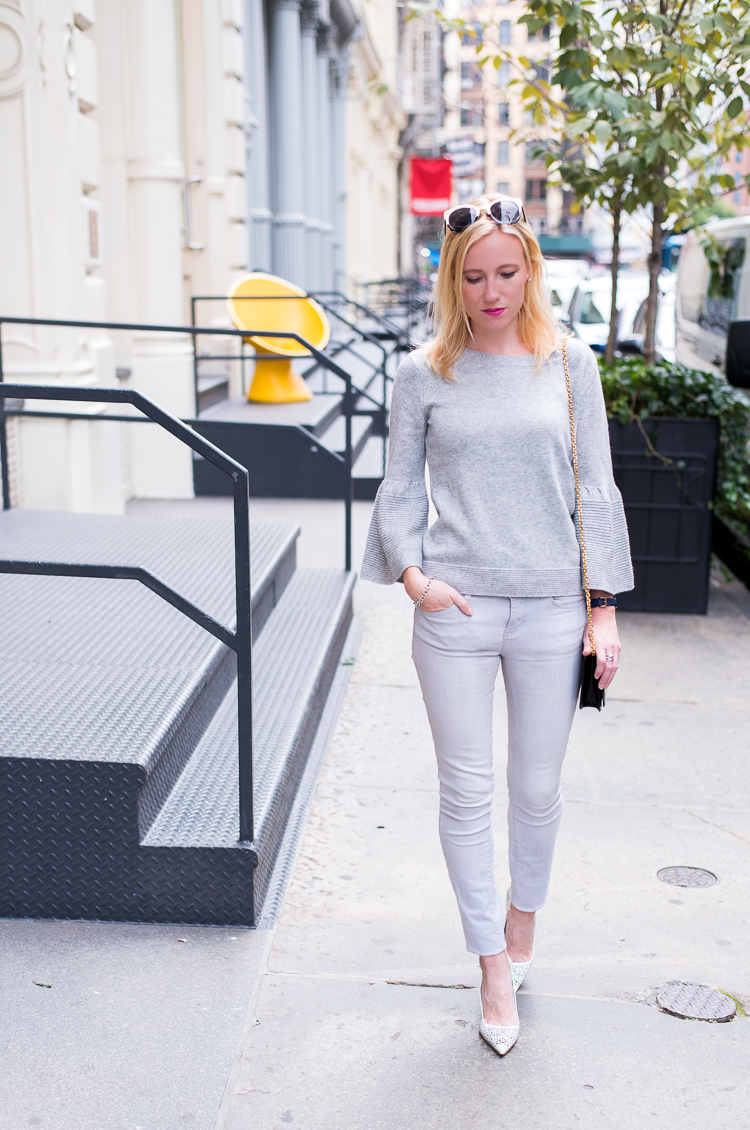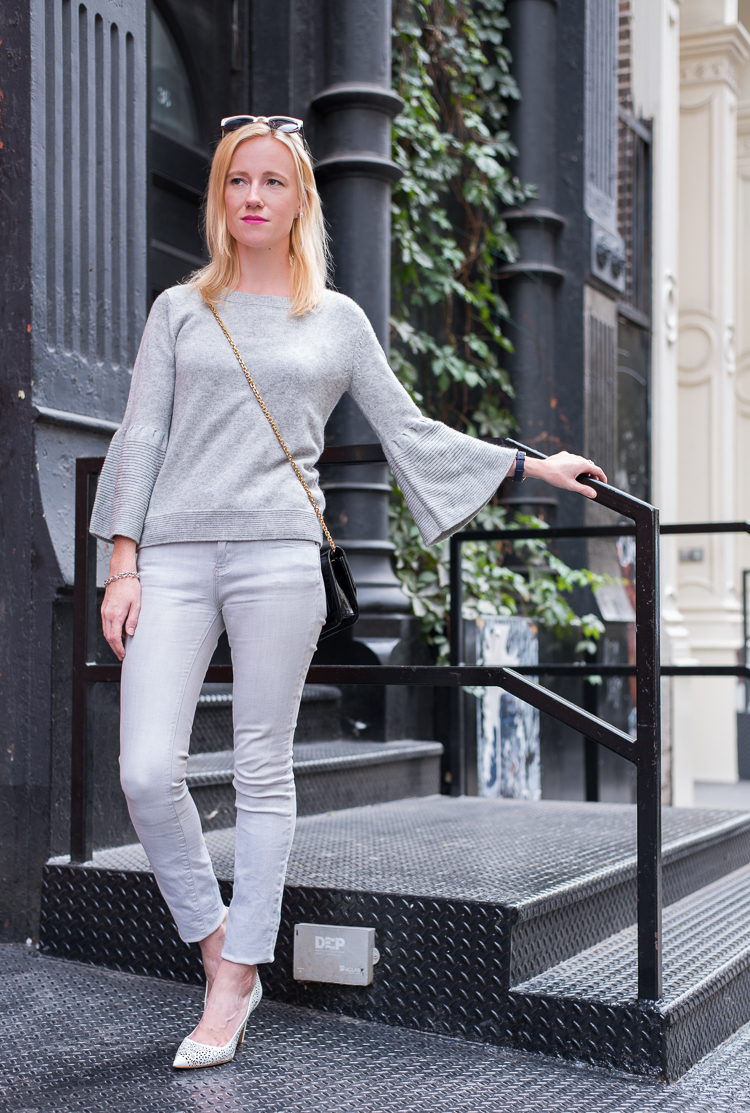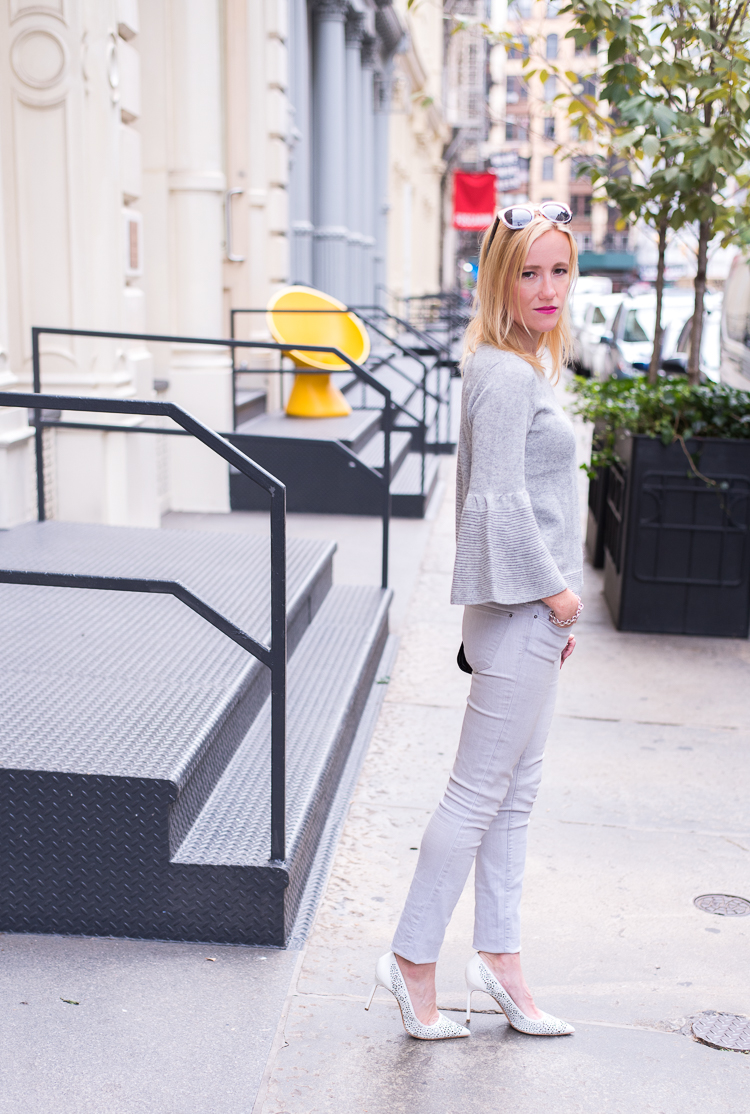 Sweater / Jeans / Manolo Blahnik shoes (other / other) / Similar sunglasses / Oscar De La Renta clutch (similar, other) / Lipstick
Que pensez-vous de ce look gris?  Chic ou trop simple?  Est-ce que vous aussi portez parfois la même couleur de la tête aux pieds?
What do you think of this look?  Chic or too simple?  Do you wear monochromatic head to toe as well?
xx Jennie
—
(Visited 982 times, 1 visits today)