Ma rubrique de la semaine « One Week, Three Things » est de retour. Même si chaque semaine je pourrais vous parler de la nouvelle tempête de neige qui frappe New York, je garde ça pour mes partages quotidiens sur Instagram. Alors cette semaine à l'honneur: ma rencontre avec Manolo Blahnik, comment j'ai bu un cocktail interdit dans une baignoire (ou presque) et ma Saint Valentin à Manhattan.

It's about time to start writing my "One Week, Three Things" column again. Even though, every week I could talk and show the new snowstorm in New York, I am leaving that for my daily shares on Instagram.  So this week, let's talk about how I met Manolo Blahnik, how I ended up drinking a forbidden cocktail in a bathtub (quite close), and how I spent Valentine's Day in Manhattan.
An evening with Manolo Blahnik and Zac Posen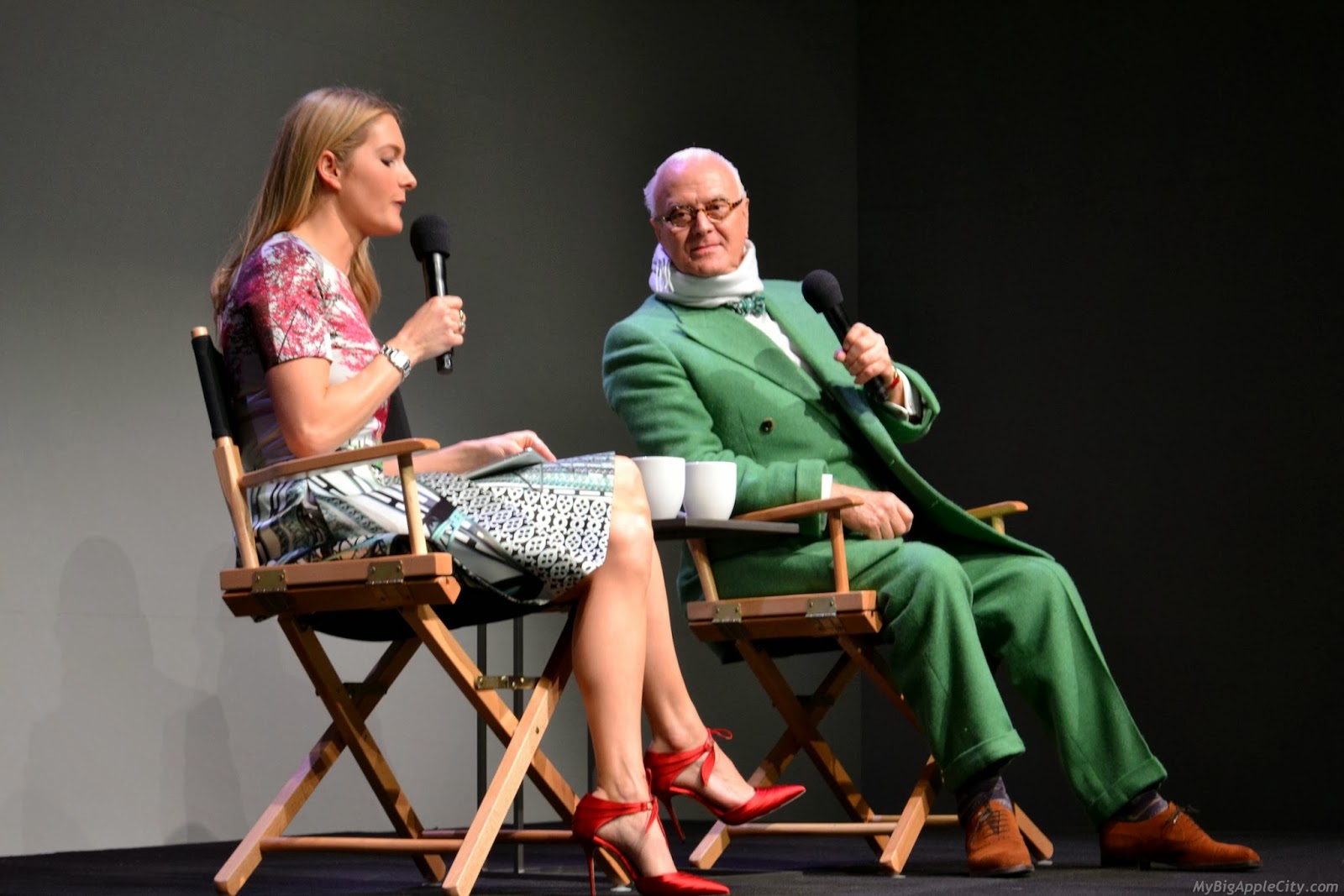 J'adore quand la Fashion Week est de passage à New York. Merci à Kinvara Balfour et Apple pour avoir donné accès à des mini-conférences avec des personnes influentes de la Mode. J'ai pu assister à un échange très inspirant avec Manolo Blahnik,

le Papa de la Chaussure

comme j'aime l'appeler. C'était tellement incroyable de l'avoir en face de moi à raconter sa vie et sa façon traditionnelle de fabriquer les chaussures. Ca m'a permis d'en savoir plus sur l'homme derrière la marque emblématique. J'ai eu l'honneur de pouvoir échanger quelques phrases (en français svp) avec lui et son adorable assistant Joe. Autant vous dire que je suis repartie le coeur en émoi et le sourire aux lèvres pour plusieurs années.
Je suis aussi retournée à l'Apple Store pour un autre échange avec

Zac Posen

. Le créateur nous a parlé de son parcours digne d'un roman Fashion et a été très généreux avec ses conseils sur comment lancer sa marque, se faire connaître et rester soi-même dans le business. Beaucoup d'humour et très naturel, j'ai passé un très bon moment. Et puis, quand on voit sa perçée dans le monde de la Mode et son immense talent, c'est vraiment enrichissant.
Les vidéos de ces échanges seront en ligne sur l'Apple Store très prochainement et j'ai hâte de revivre ces moments.
—
I adore when Fashion Week is in town because there are plenty of things to do, not to mention the shows and parties. Thanks to Kinvara Balfour and Apple, I went to SoHo to attend an inspiring talk with

Sir Manolo Blahnik

himself. The

Papa of Shoes

is how I like to refer to him. I guess everyone knows his name and I was eager to hear his wonderful journey. Not only was he inspiring and totally approachable, Manolo is the man you totally fall for at first glance. So natural, so elegant and so gentlemanly, he does what he does with such passion and in such a traditional way that you just admire him even more. This talk was very educational about the brand and the incredible man behind it. As if it wasn't a dream already, I even had the chance to chat a little bit with Manolo (in French) and his wonderful assistant, Joe. I left totally overwhelmed with love in my heart and a huge smile on my face for days.
I actually went back to the Apple Store last Thursday to hear the wonderful

Zac Posen

. The SoHo kid, who dresses A-listers and who makes gowns every girl would die for, is also a very genuine man, full of advice on how to launch a brand, remain true to yourself, and what not to do to get laid.
These talks will be soon available on the iTunes Store as free podcasts and you should definitely watch them.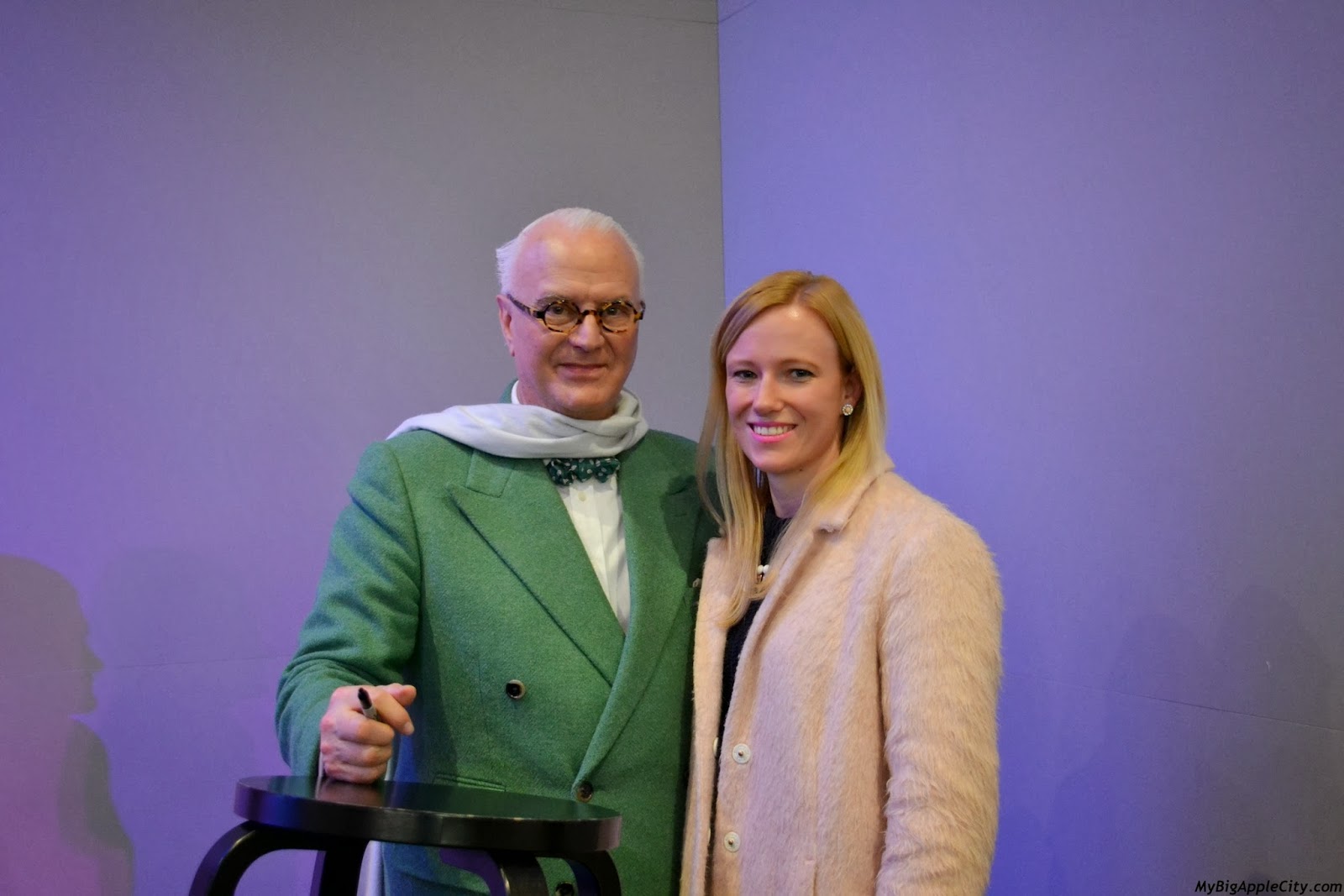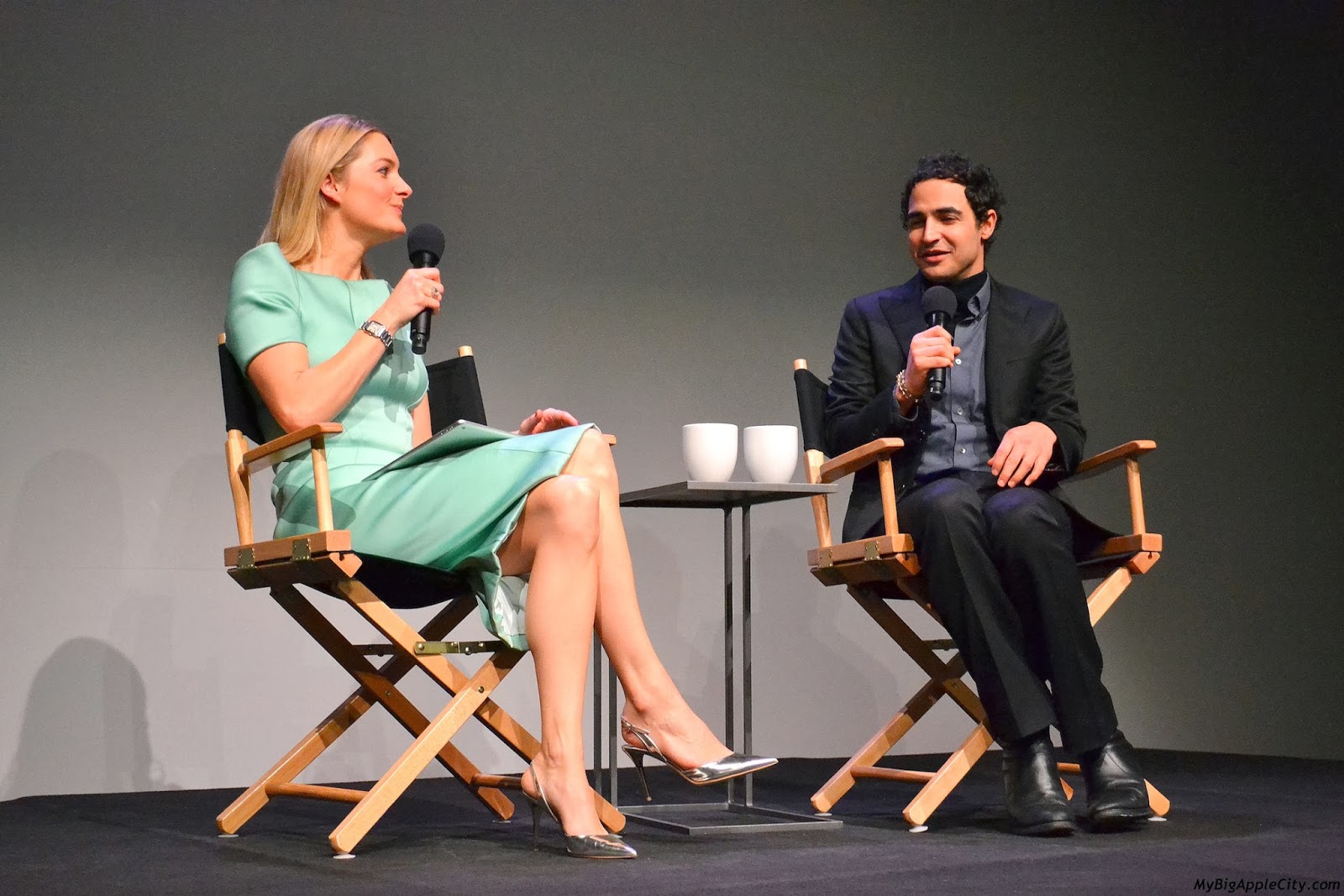 Bathtub Gin, un verre dans une baignoire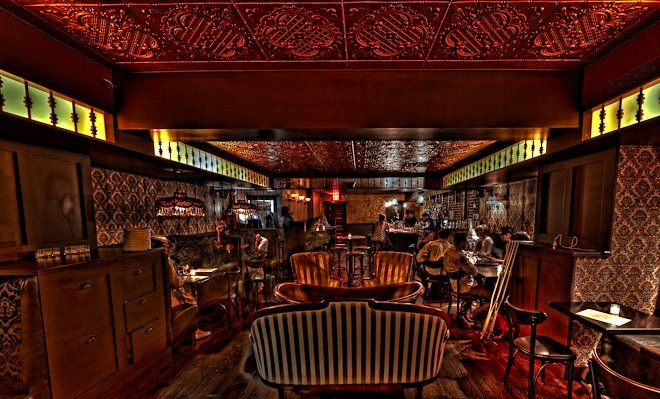 Pic from The BathTub Gin
Mercredi, mon homme célébrait son anniversaire. Après un dîner entre amis, nous nous sommes retrouvés dans un
Speakeasy
(comprenez bar secret) pour un dernier verre:
LeBathtub Gin
(la Baignoire de Gin).  On y accède par une porte secrète dans un petit café et boom: on se sent transporté dans les années 20. Le décor est magnifique, le personnel aimable et les cocktails savoureux. Bon, il était difficile de faire quelques photos car l'endroit est très sombre alors voici celles de leur site. Avant de partir, un petit saut dans la baignoire dorée au milieu de la pièce et il était temps de terminer la soirée. Si vous cherchez une aventure hors du commun à New York, allez donc y faire un tour.
Last Wednesday was my man's Birthday. Not to mention the stress of finding the prefect gifts (without a clue), I ended up organizing an evening with friends. After the stress and hard-kept secrets, we had a wonderful time in Chelsea at La Salinas, a Spanish tapas bar, then went for a drink at a speakeasy: The Bathtub Gin. Set inside a coffee shop, you access through a doorman and a secret door, then: it's 1920 all over again! The place is gorgeous, the staff are very friendly and the cocktails are delicious. It was hard to take pictures as the place was so dark, so here are some from their website. As for the Bathtub, we ended up in a golden tub in a middle of the room for pictures after cocktails. None to say, things were getting out of control and it was time to call it a night. To sum up, if you want a different bar experience, give it a try and take the journey back to the 1920's.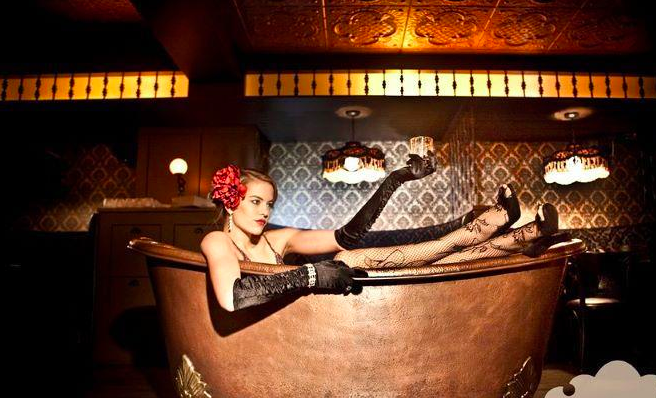 Pic from The BathTub Gin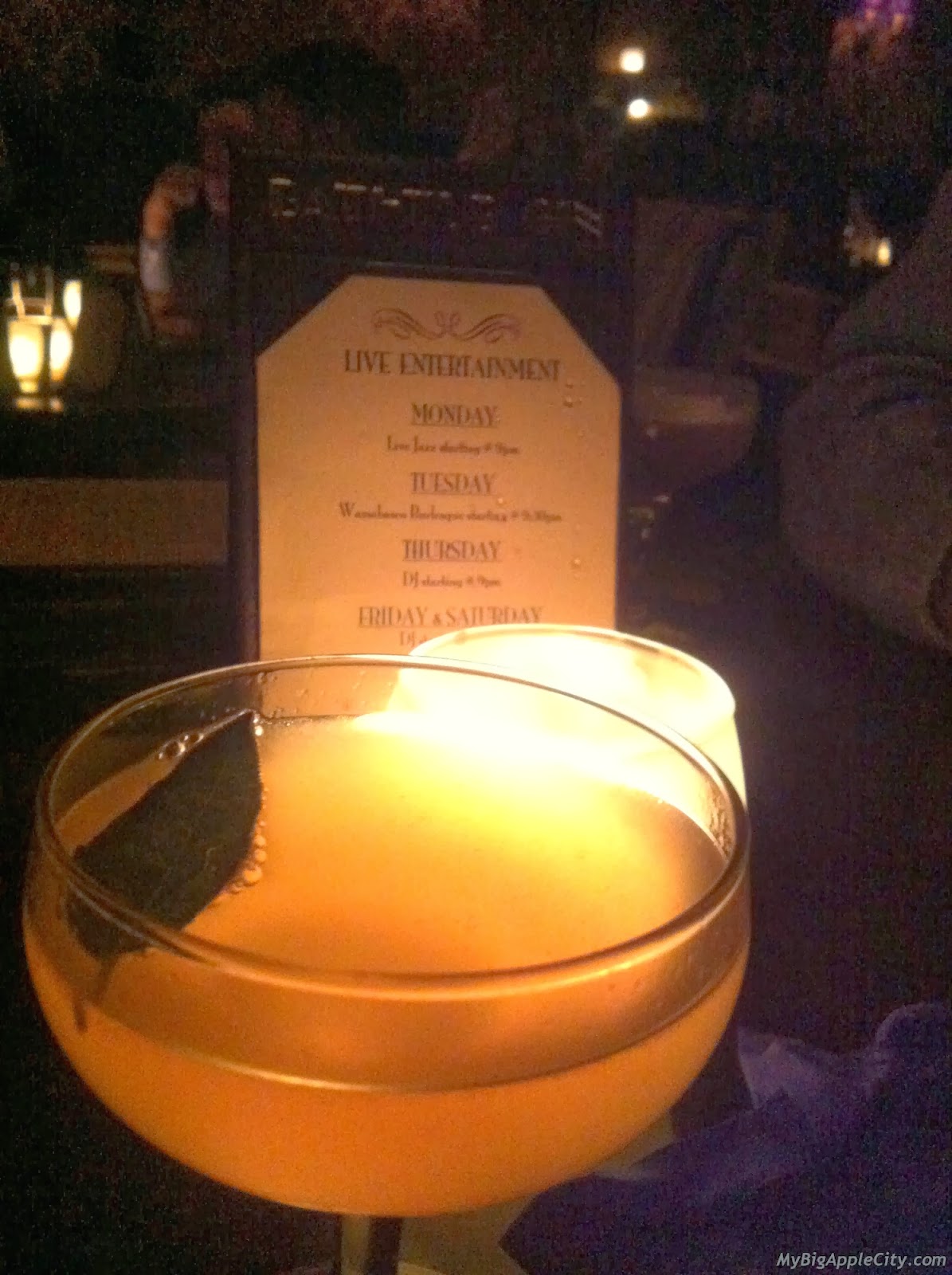 Valentine's Day at home
J'espère que vous avez passé une merveilleuse St Valentin. J'adore car aux US, c'est la fête de l'amour et de l'amitié, et tout le monde se la souhaite. Enfin, si votre patron vous la souhaite, c'est quand même douteux. Il faut savoir ne pas pousser les limites! Comme d'habitude, on a choisi d'éviter la foule et de rester à la maison pour un dîner décontracté avec des petits cadeaux. Pâtes Carbonara et Mousse au Chocolat, Guacamole en apéro, un menu assez atypique en fait, mais succulent. Et puis j'ai été gâtée avec la bible des livres de mode, le très lourd et très joli « Vogue: The Editor's Eye » et un bracelet Kate Spade, des roses et des pétales plein l'appart. Et vous, qu'avez-vous eu / fait pour la Saint Valentin?

—

I hope every one of you had a delightful Valentine's Day. I love it in America, everyone wishes it to everyone. If your boss wishes you a Happy V Day, it is definitely awkward though. Know the boundaries. As it usually gets awfully crowded in the restaurants, we prefer celebrate it at home, with a home cooked dinner and small presents. It's very casual, but no TV, phone or Internet is allowed (ok just for pictures). We take the time to just be together and enjoy each other. I ended up cooking some Pasta Carbonara and Chocolate Mousse while he took care of the Guacamole. Writing it, I realize it is quite an unusual menu. Well, my gifts made up for it: the heaviest and prettiest Fashion book of all: "Vogue: The Editor's Eye", a Kate Spade bangle and Red roses with petals everywhere. What did you do/get for V Day?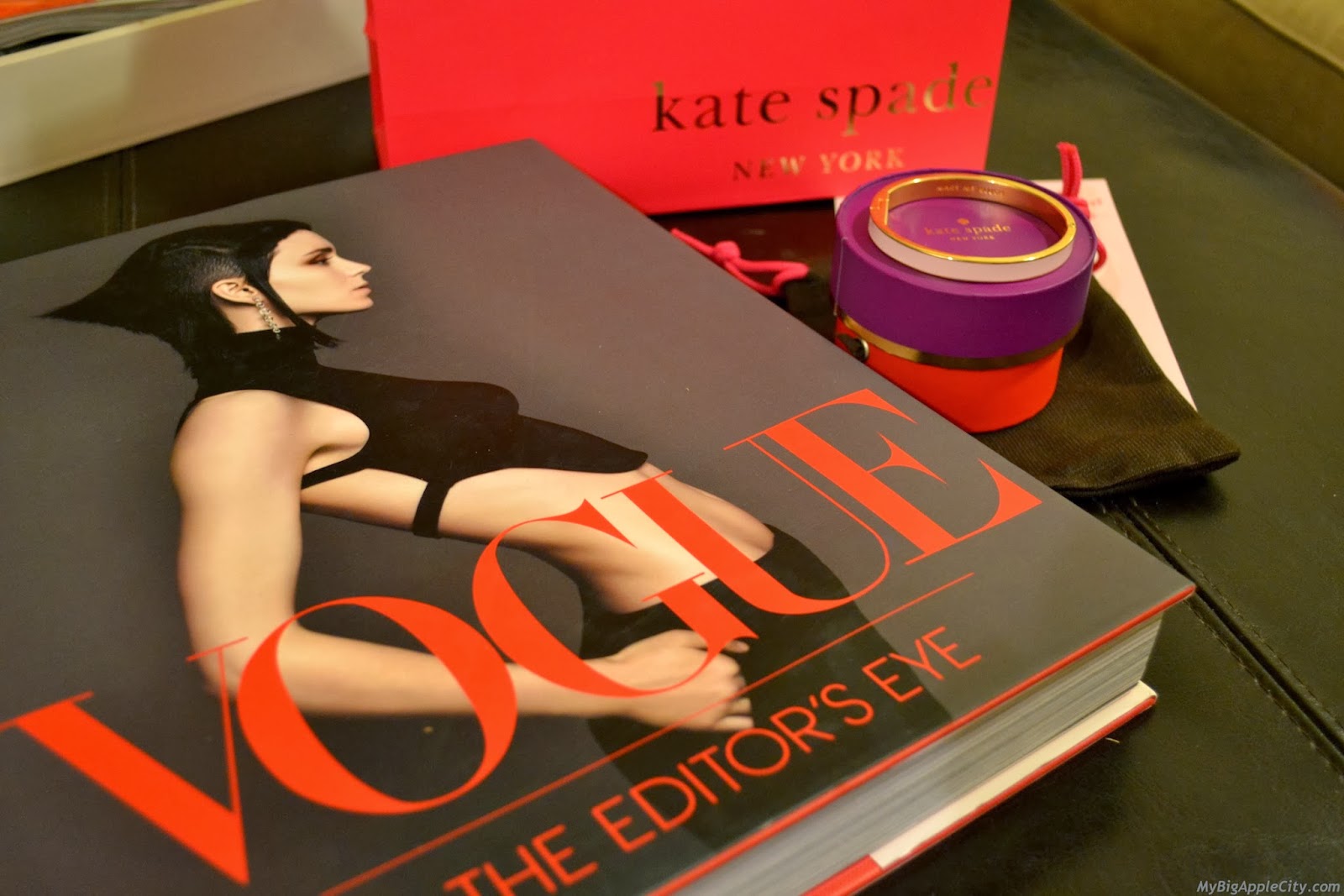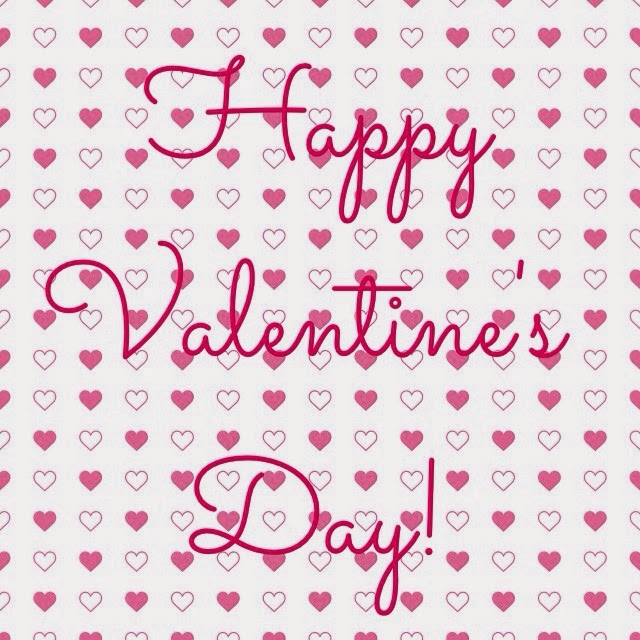 (Visited 209 times, 1 visits today)