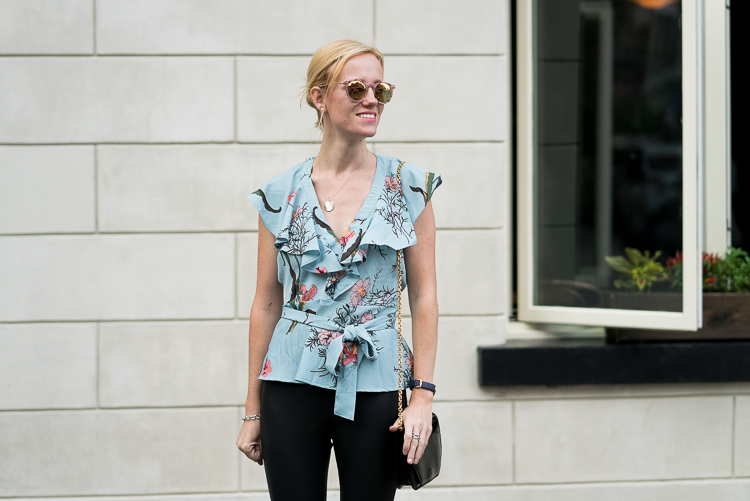 Avec le froid polaire qui s'est abattu sur New York ces derniers jours, autant vous dire que je suis soulagée d'avoir shooté ce look il y a quelques temps.  Certes le legging est toujours d'actualité, mais les bras nus et les pieds exposés ne le sont plus.  Je porte en ce moment ce joli top sous un cardigan en cachemire et avec des bottes en cuir.  Il faut savoir s'adapter!  Surtout quand on vit à New York…
—
With the harsh Winter temperatures in New York this week, I am glad I shot this look a while back.  Let's be honest, I am still wearing this outfit but underneath a cozy warm Winter coat and with a pair of high heeled leather boots.  The skin on my arms and foot is not going to see the light of day for the next few months. Unless a Winter vacation under the sun comes along…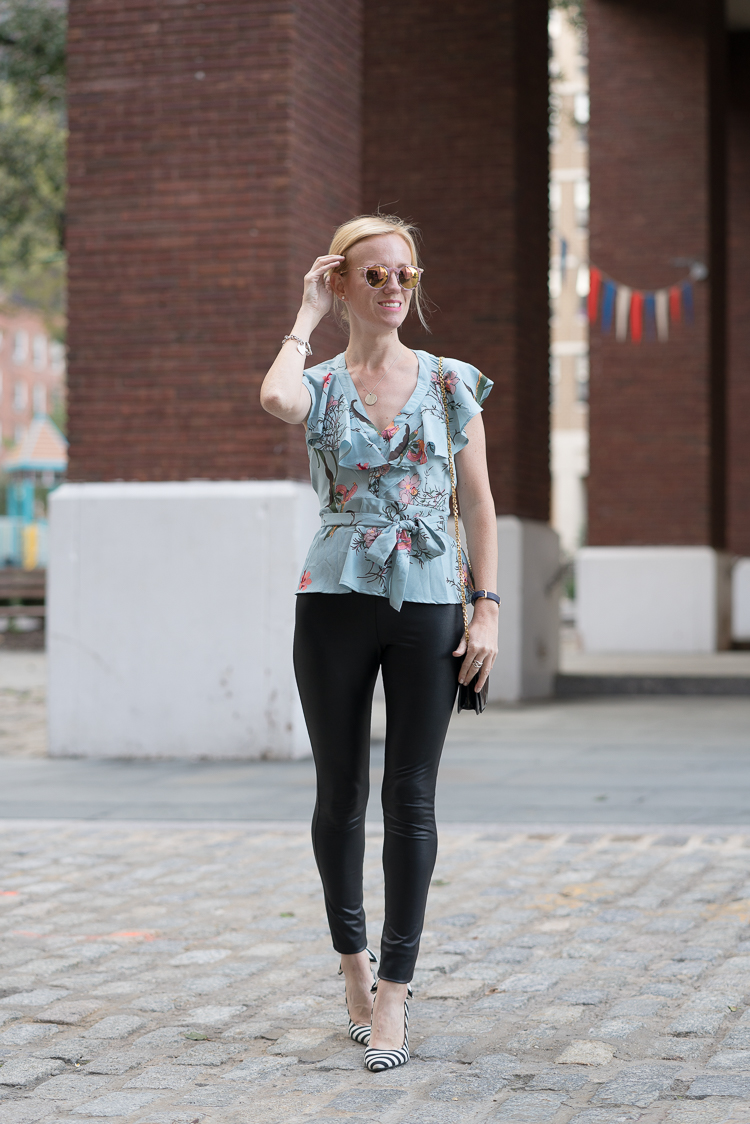 J'adore porter les couleurs sombres.  Si je m'écoutais, je ne porterais que du noir des pieds à la tête.  Mais comme je ne peux pas passer ma journée à sourire pour égayer l'humeur (hello mesdames les rides), j'essaie de combiner mon amour pour le noir avec un vêtement plus clair.
J'ai trouvé ce petit haut chez ASOS ici, un de mes sites favoris (ceci n'est pas un message sponsorisé).  Je ne suis pas une grande fan de fleurs sur les vêtements mais j'aime le dessin subtil sur ce haut.  La coupe est également très féminine et j'alterne le noeux en le portant devant ou dans le dos.  Nul besoin de vous présenter ce legging en faux cuir que je porte depuis plus d'un an, il est toujours disponible sur le site (ou un de mes dernier looks).  Mes nouvelles lunettes sont en soldes ici.  Malheureusement les chaussures ne sont plus disponibles mais je vous en ai trouvé une paire similaire ici.  Mon petit sac est un vintage Oscar de la Renta (ou papa comme j'aime l'appeler.  Pas d'inquiétude Manolo, tu restes aussi un de mes papas).  Si vous aimez la coupe, je vous en propose deux similaires ici et ici.
C'est le dernier look de l'année 2017, j'en profite pour vous souhaitez un joyeux réveillon et une très bonne année 2018.
—
I love, love, love wearing dark colors.  If I could only wear black every day, I think I would be fine with it.  But because I cannot spend all day smiling to brighten everybody's mood (hello wrinkles…), I try to combine my love of black with a brighter piece of clothing. 
I found that wrapped top at ASOS here, one of my favorite retailers ever (not sponsored to say this!).  I am not a big flower girl but I really like how subtil the print is.  The cut is also amazing and I wear the bow in the front or sometimes wrap it in the back.  No need to introduce you to these faux-leather leggings, I have been rocking them for over a year (still available here).  My new sunglasses are on sale here for $10.  Unfortunately, the shoes are sold out but I found a similar style here.  As of the bag, it is vintage De La Renta (or Papa as I like to call him.  Don't worry Manolo, you are still one of my papas too). However, I found two similar versions here and here.
It is the last look of 2017.  I wish you all a fun New Year's Eve and a Happy New Year!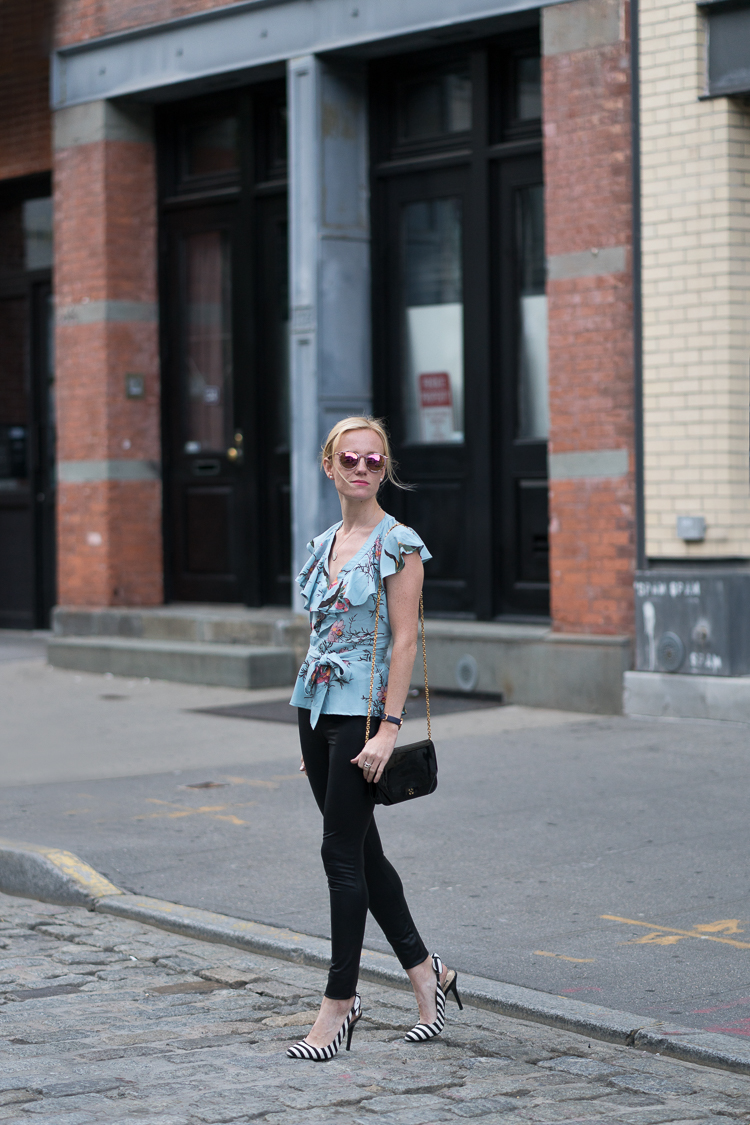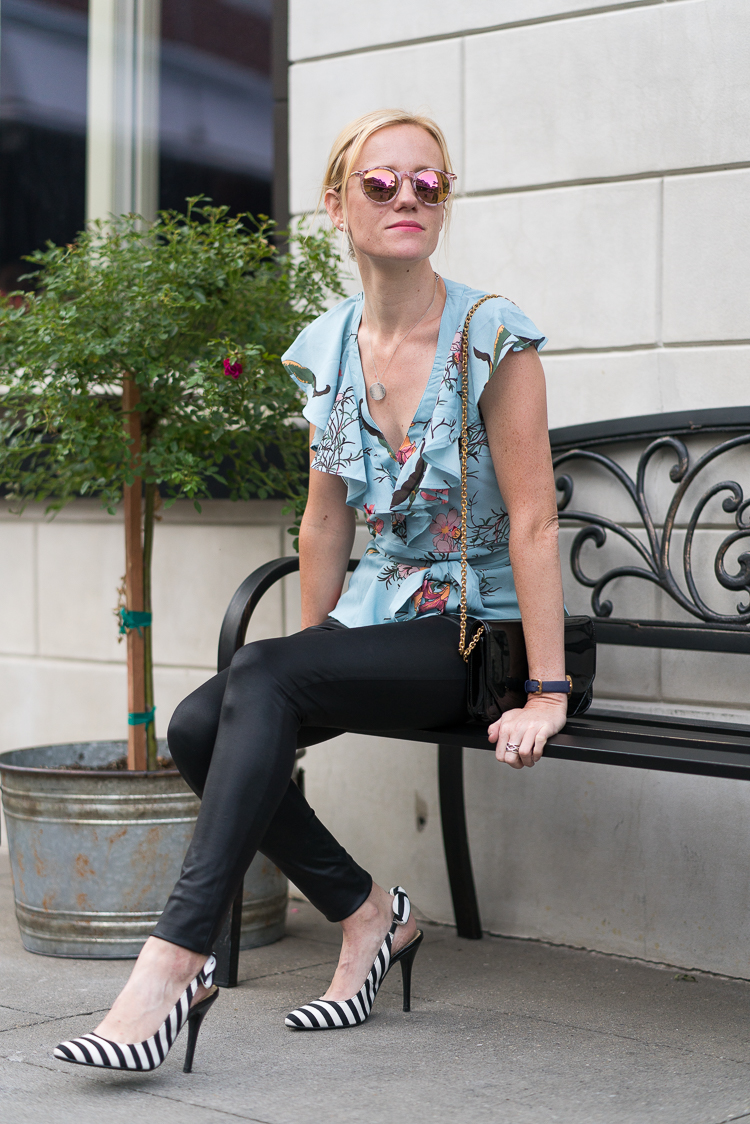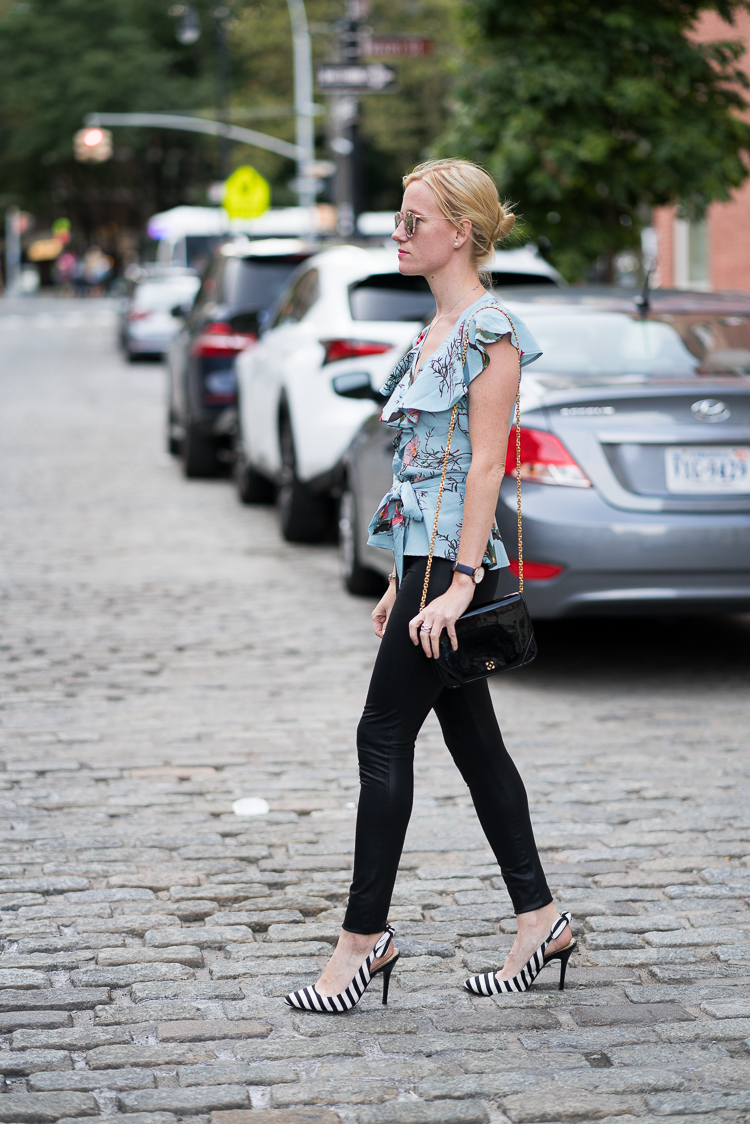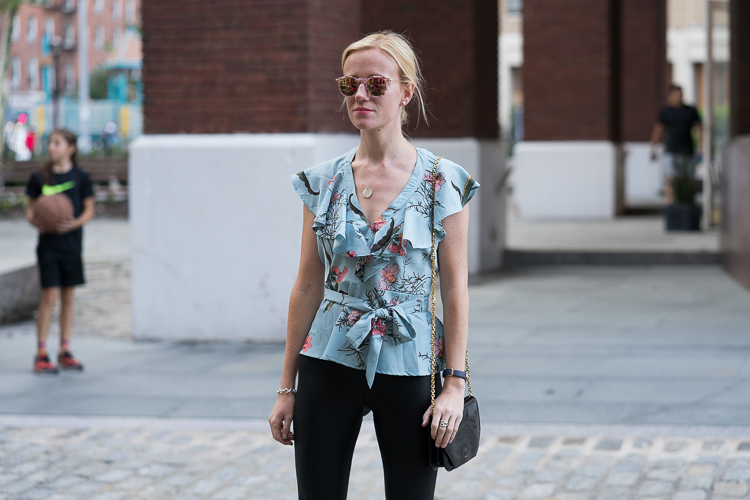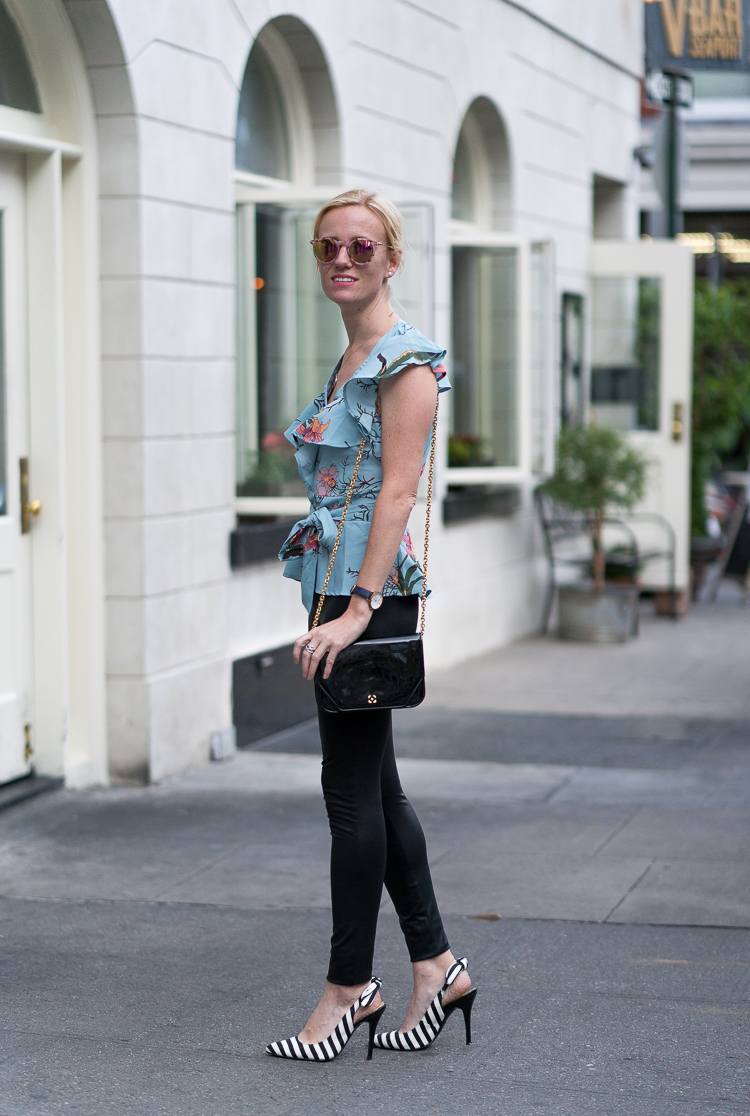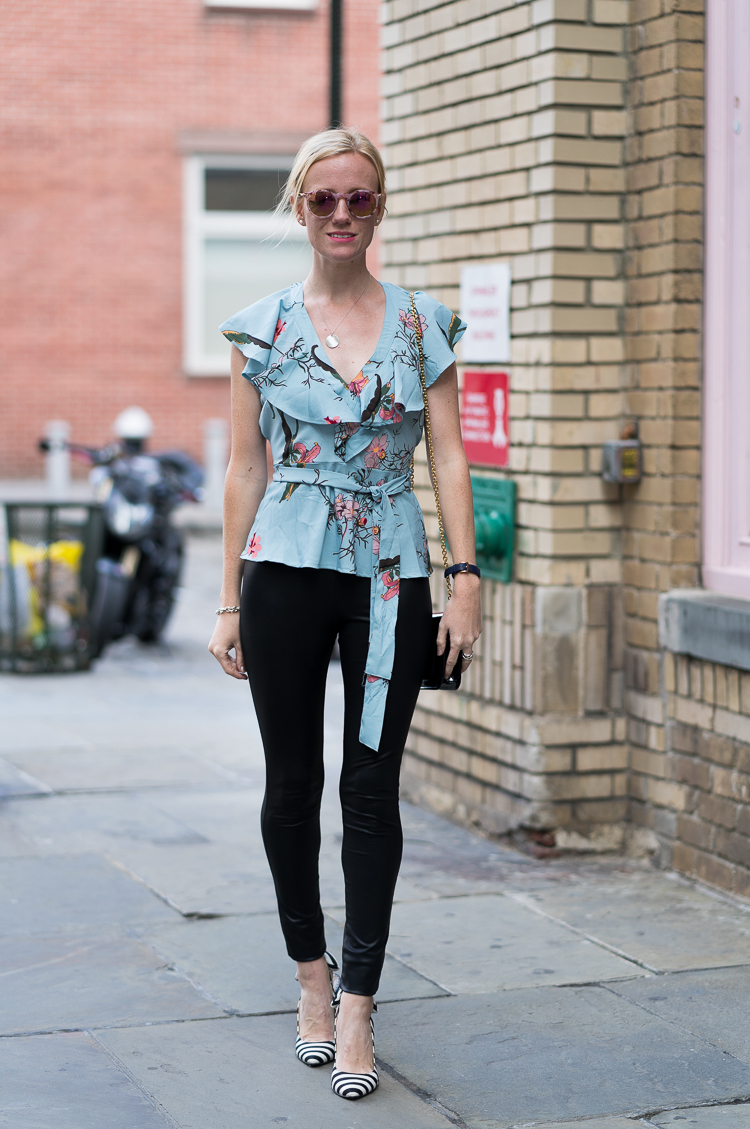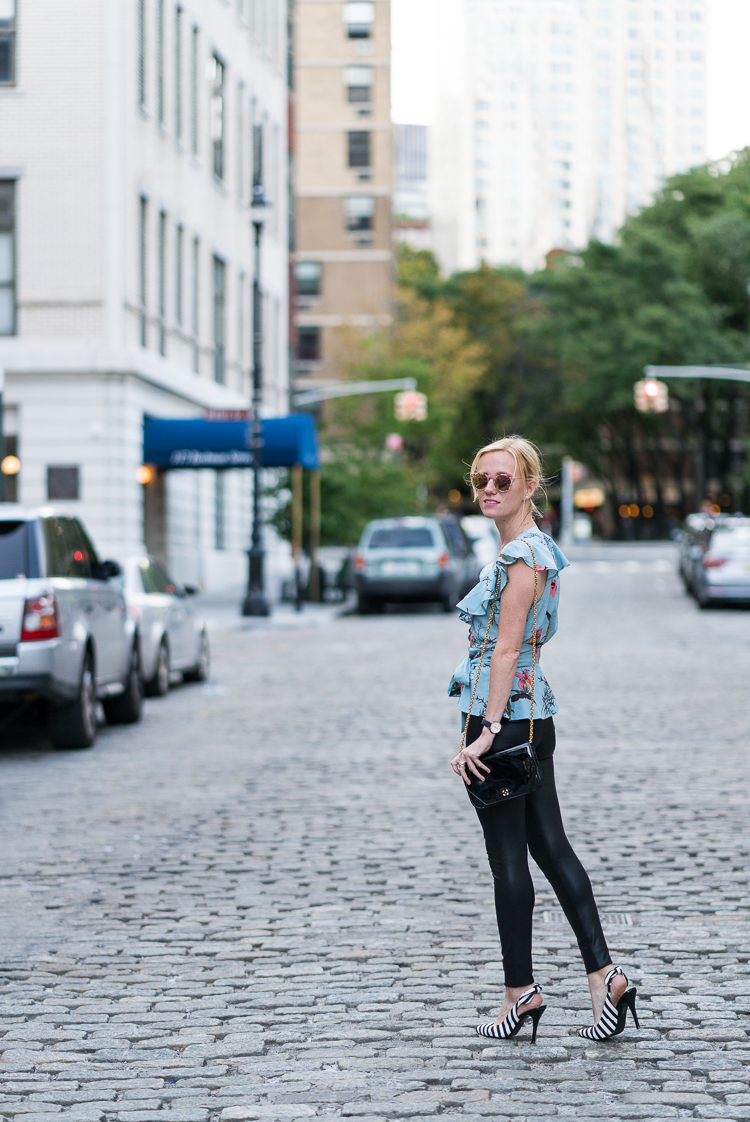 Top ON SALE / Leggings / Similar cheaper shoes / Sunglasses ON SALE / Oscar de la Renta Vintage bag (similar here / here)
—
(Visited 222 times, 1 visits today)