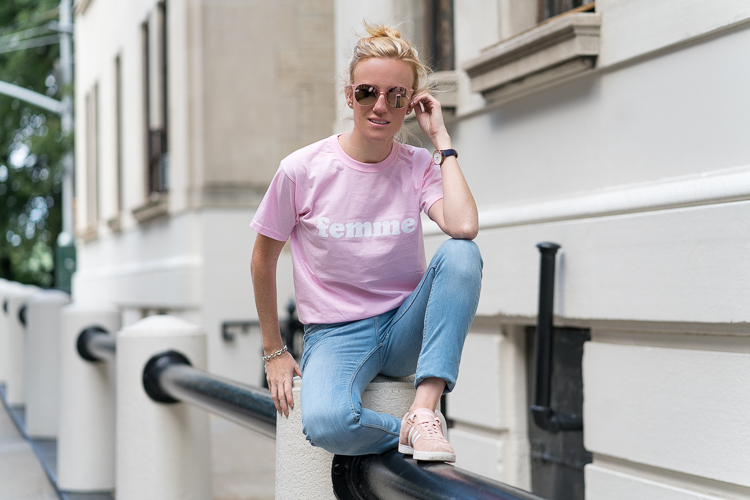 Pink T-shirt, Pink glasses, Pink shoes, Pink lipstick… Pink everything!  This month is also breast cancer awareness month which seems even more appropriate to be a woman in Pink.  
—
T-shirt rose, lunettes roses, baskets roses, rouge à lèvres rose… Du rose partout!  Et comme Octobre est le mois consacrer à la sensibilisation du cancer du sein, porter du rose prend encore plus de sens.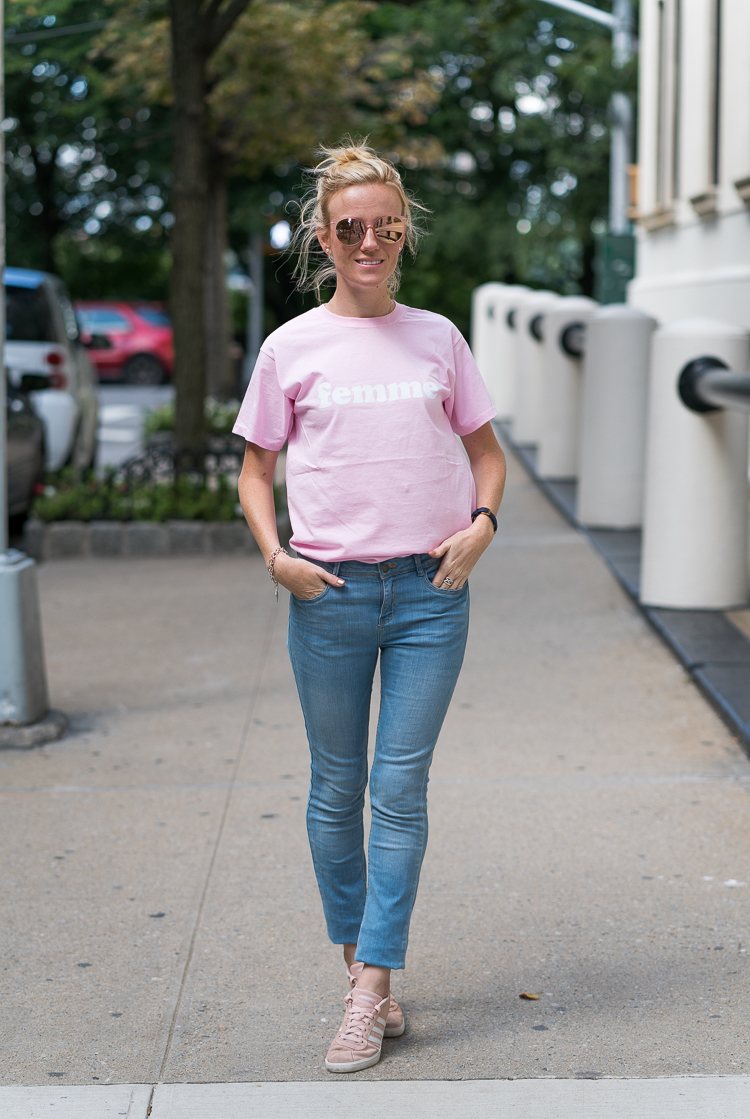 Just a simple look that I can probably call my weekend and / or park walk uniform.  As much as I love wearing heels, I found myself mostly in flats and sneakers these days.  I also have a sweet spot for wearing PINK at any season.  It brightens my mood every time.  I love this t-shirt that I bought here.   Femme is also such a powerful message in these dark days.  2017 and we are still dealing with such BS that should not have its place in these modern days.  Can we actually call them modern with what is going on against women these days?!  Yeah, I am crazy pissed with what came to light.  So it really helps that this shirt comes in pink after all.  STAY STRONG & UNITED SISTERS!
—
Ce look est sans aucun doute mon uniforme du weekend et / ou de mes sorties à Central Park.   J'ai beau vouer un amour inconditionnel aux escarpins, ces derniers mois, je suis le plus souvent en baskets ou ballerines.  J'ai également un amour pour le ROSE à toutes les saisons new-yorkaises.  Porter du rose égaye mon humeur à tous les coups.  J'adore ce t-shirt que j'ai trouvé ici.  Et son message est d'autant plus fort en cette période où être une femme peut être un frein, un handicap…  Vivre en 2017 et avoir à supporter ces remarques et actions insensées, stupides et inutiles en ces temps modernes envers les femmes.  Peut-on vraiment se considerer vivre dans la modernité avec les révélations à l'heure actuelle?  Oui, je suis remontée, dégoutée, furieuse…  Alors, heureusement que j'ai choisi ce t-shirt en rose finalement.  STAY STRONG & UNITED SISTERS!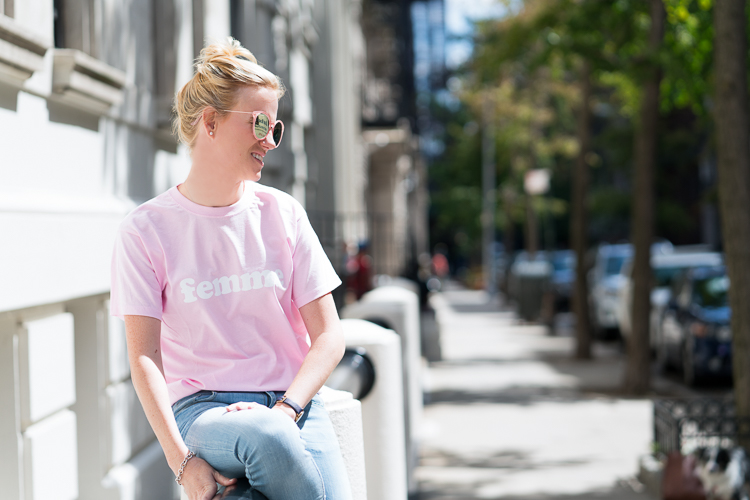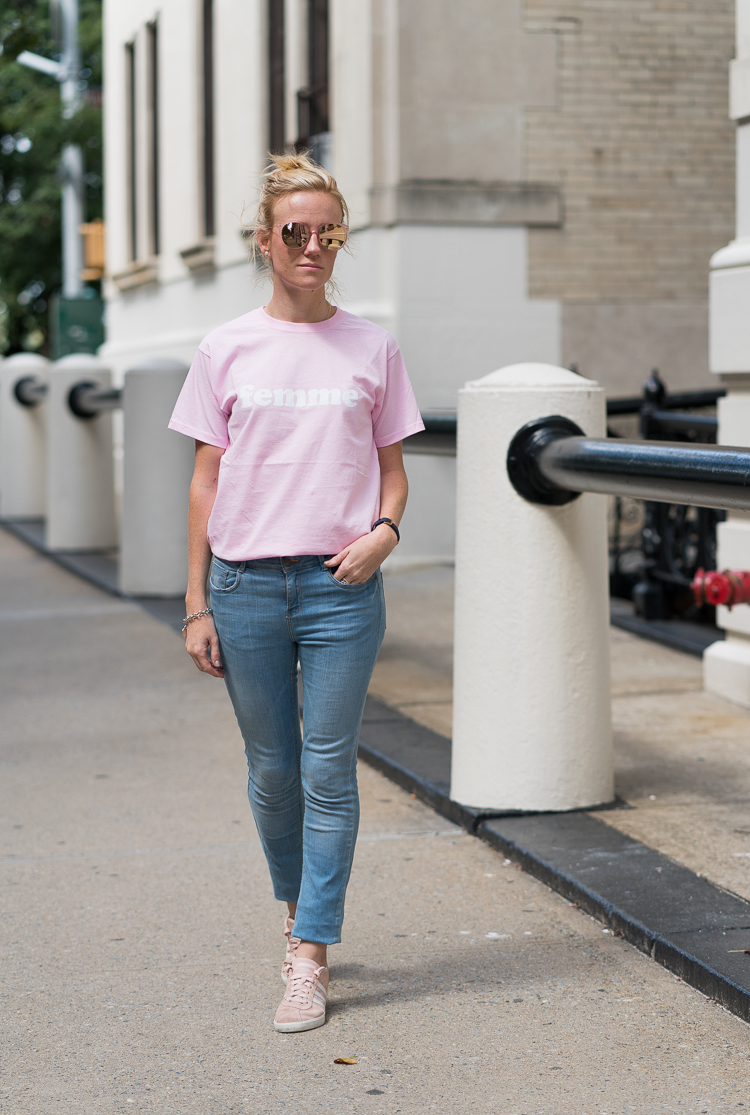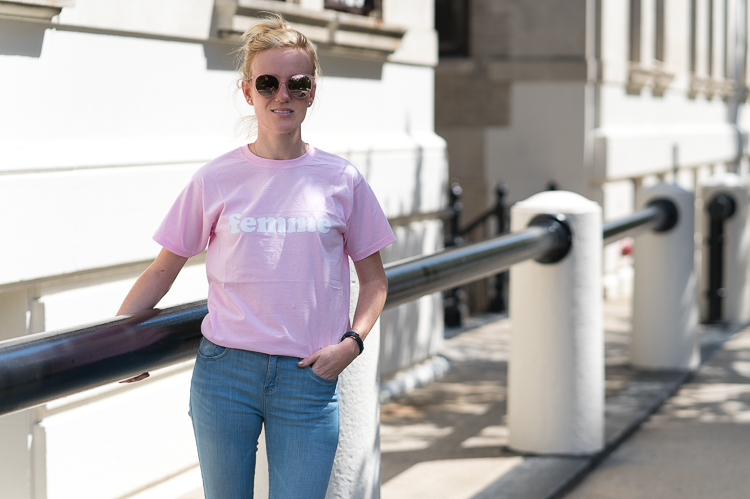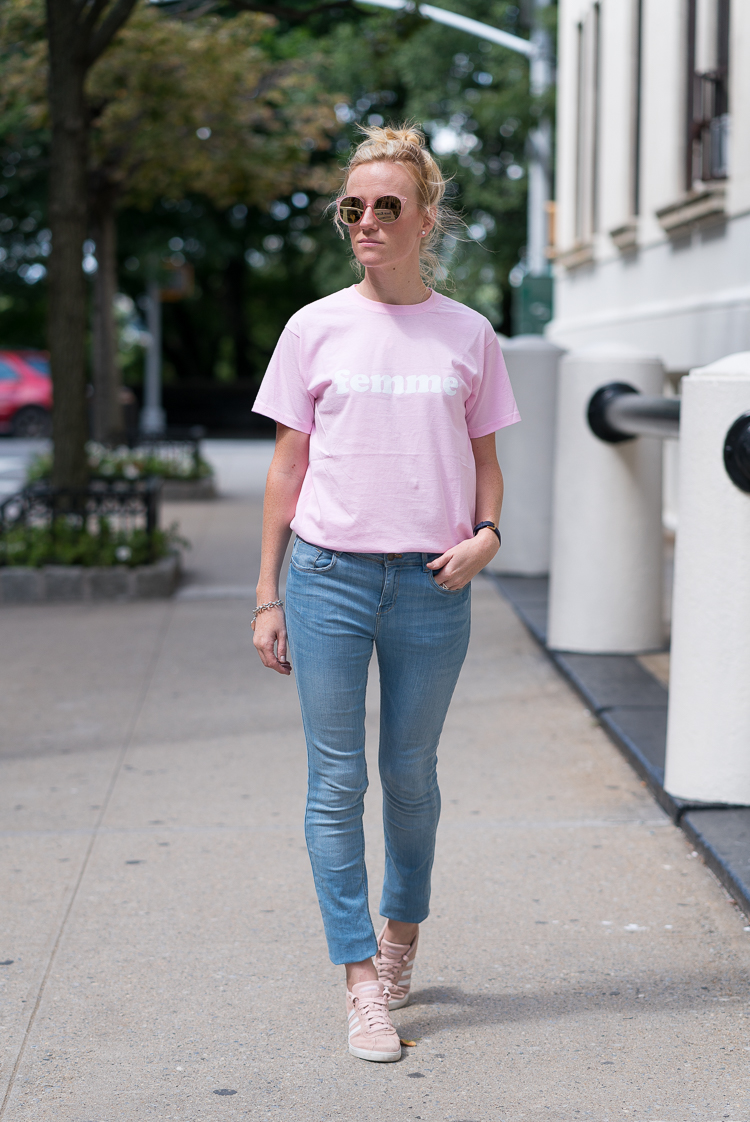 T-shirt / Jeans / Sneakers / Sunglasses / Watch / Lipstick
How are you doing?  Do you wear pink as well?  What is the favorite pink piece you own?
Et vous, ça va?  Vous aimez également porter le rose?  Quel est votre vêtement ou accessoire rose favori?
xx Jennie
—
(Visited 297 times, 1 visits today)