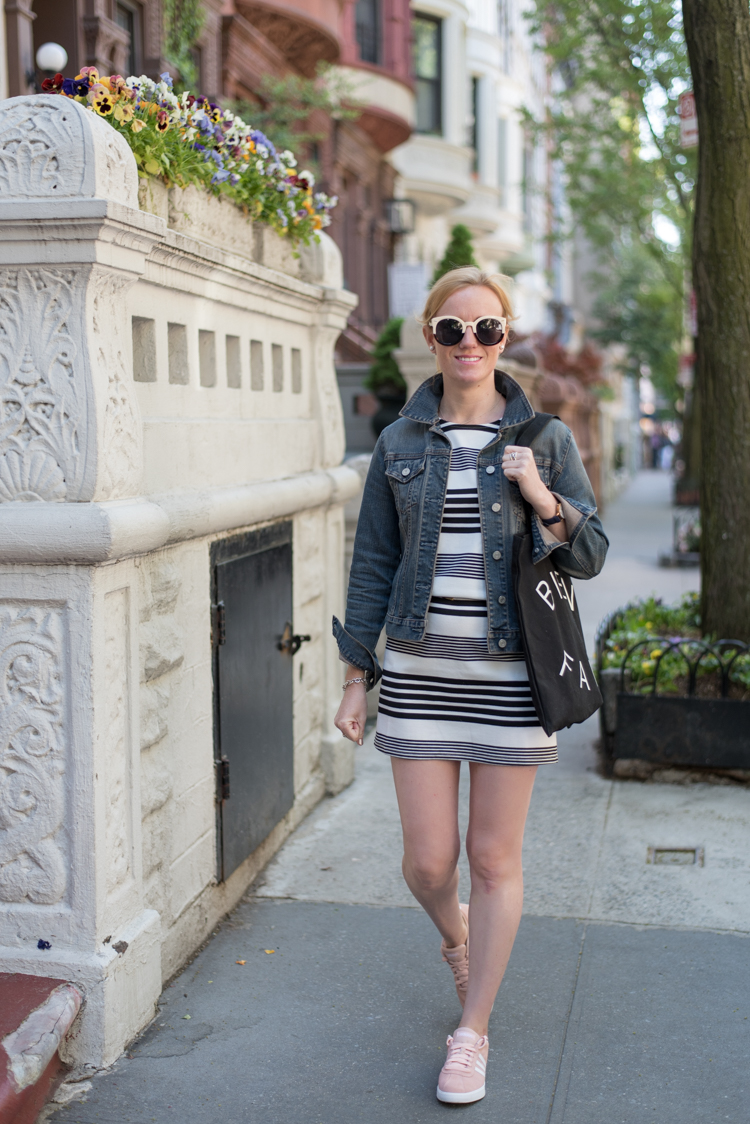 Vive le printemps à New York!  J'ai sorti les jambes pour une promenade dans mon quartier de l'Upper West Side le week-end dernier.  Alors oui, j'ai les jambes bien blanches mais en voyant mon type de peau, doutez-vous bien que pour moi, mon bronzage d'été se fait essentiellement sous la douche.  J'ai toujours été complexée par la blancheur de ma peau, surtout en été. Passer du blanc neigeux au rouge homard pour enfin devenir un brin bronzé…  Le dilemme dangereux que j'évite chaque année.  Et mon complexe, j'y travaille.  C'est l'effet New York!  New York qui me donne confiance en moi et me permet d'oser, de me challenger, de repousser mes propres limites.  Alors en attendant que la flemme de la première séance auto-bronzante de l'année disparaisse, je balade mes jambes blanches dans la Big Apple.
—
I love Spring in New York and its first warm days of the year!  I took my bare legs for a walk on the Upper West Side last weekend.  And yes, my legs are super white.  With my skin type, tanning happens essentially in the shower anyway.  I have always been self-conscious about how white my skin is, especially during Summer.  To tan naturally, my skin has to go from the brightest white to a lobster red, and then I can get a slight bronzed effect…  It is a dangerous combination that I avoid.  And how about my complex?  I am working on it.  I call it the New York effect.  New York makes me more confident to accept myself and push my own boundaries.  And as of now, I am too lazy to self-tan.  Until then, I am walking my whitest white bare legs in the Big Apple. #hatersgetlost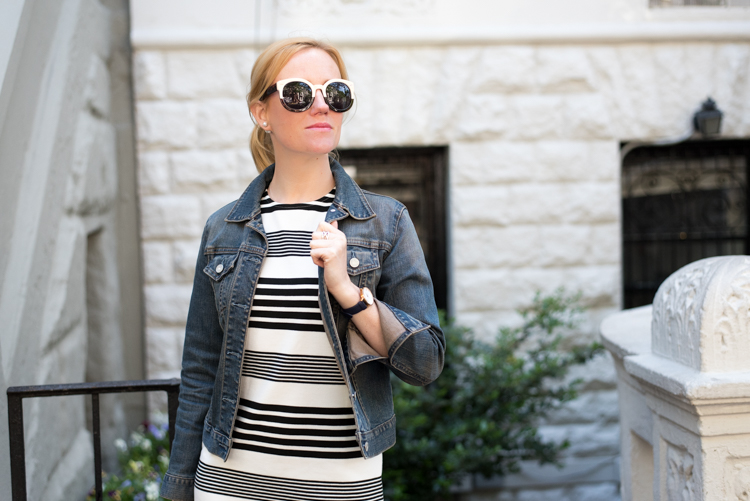 Ce look était parfait pour me promener dans les jolies rues new-yorkaises, faire un brunch et visiter le marché aux puces du week-end.  Et bien entendu, mon amour d'Harrison était de la partie.  Il est tellement patient lors de mes séances photos.  Il reste assis derrière la caméra ou sur le côté et sans me quitter du regard.
Cette robe est nouvelle dans ma garde robe, la marque Tobi.com (en solde pour $29 ici) et mes baskets le sont aussi.  Je les ai dénichées à un super prix chez DSW (magasins idéaux pour des chaussures à prix soldés à NY).  Elles étaient en soldes, et avec un bon d'achat, m'ont coûté moins de $35.  Pas mal pour des Adidas .  La veste est une GAP, achetée il y a plus de 10 ans (si je vous jure, souvenir de ma vie en Angleterre).  Quant au sac, un simple cabas en tissu de la marque Madewell.  Les lunettes sont de chez Urban Outfitters de l'été dernier.
Que pensez-vous de cette tenue de printemps / été?  Vous aussi vous avez le complexe des jambes blanches?  Ou même un autre. Dites-moi en commentaire comment vous surmonter vos complexes.  Be strong and love yourself!
—
This look was great to roam around the pretty NYC streets, go for a quick bite and visit the weekend flea market.  Of course, Harrison was with me.  The main reason I love my neighborhood so much is that it is pet-friendly.  He is also such a patient puppy and stares at me while I shoot my looks.
I wore this new dress from the online brand Tobi (you can shop it on sale for $29 here).  My sneakers are new as well.  With an extra coupon, I got them for $35 at DSW, not too bad for these pretty Adidas kicks.  The denim jacket is from GAP and I bought it over 10 years ago (souvenir from my past British life).  The bag is Madewell and is perfect to carry all of my purchases (here).  You saw them many times, I have been wearing these sunglasses from UO since last Summer.
What do you think about this weekend outfit?  Do you suffer from the white leg syndrom as well?  Or maybe you have another complex?  Let me know how you fight your insecurities in the comment section.  Be strong and love yourself!
xx Jennie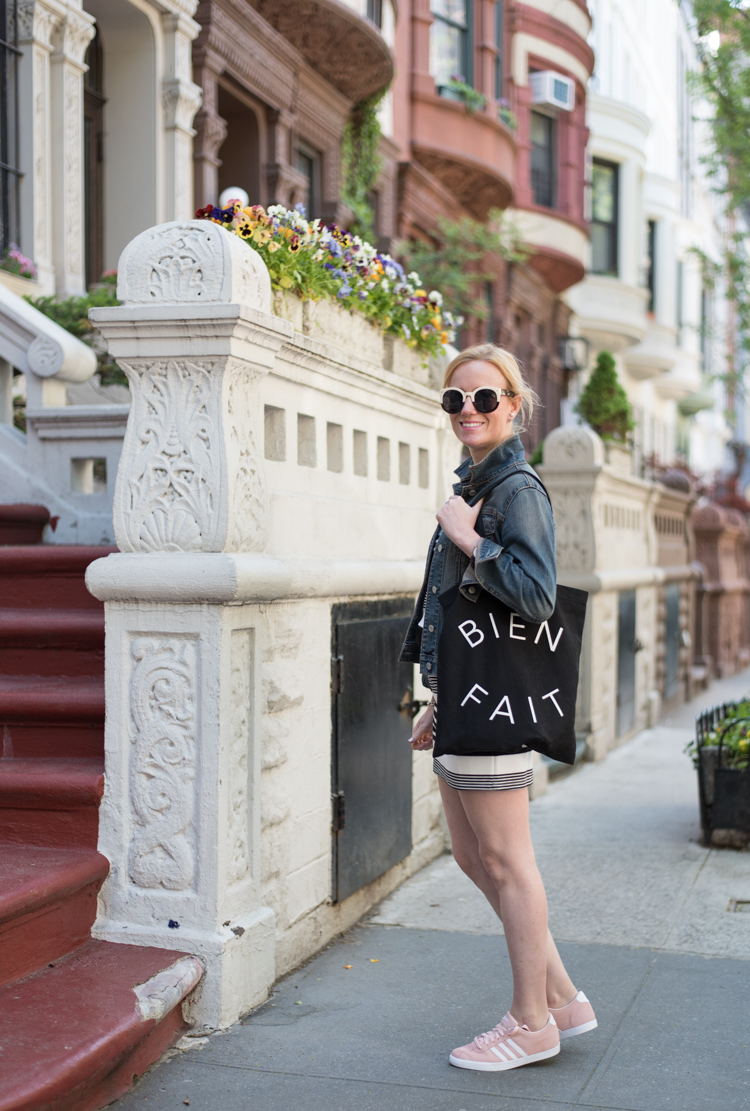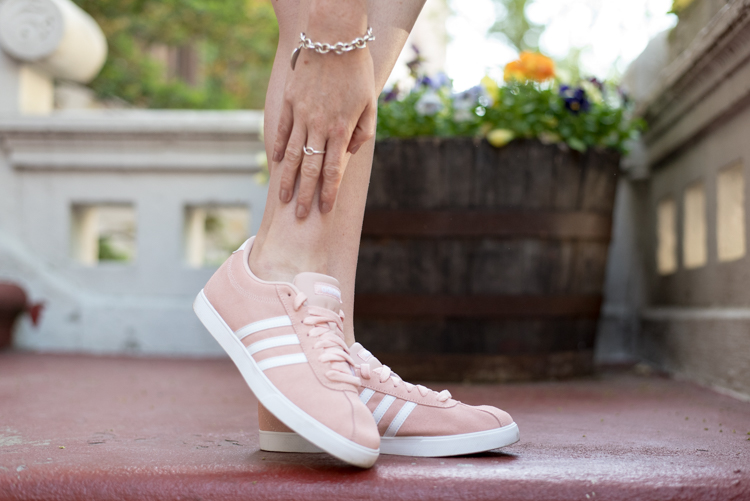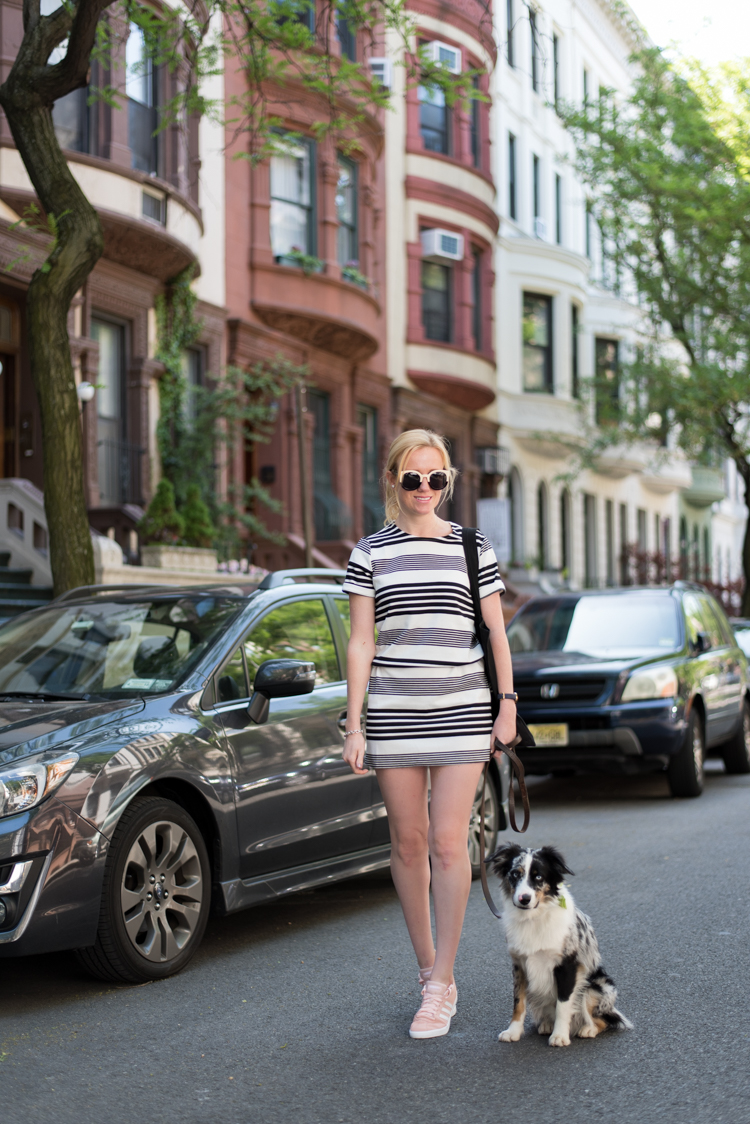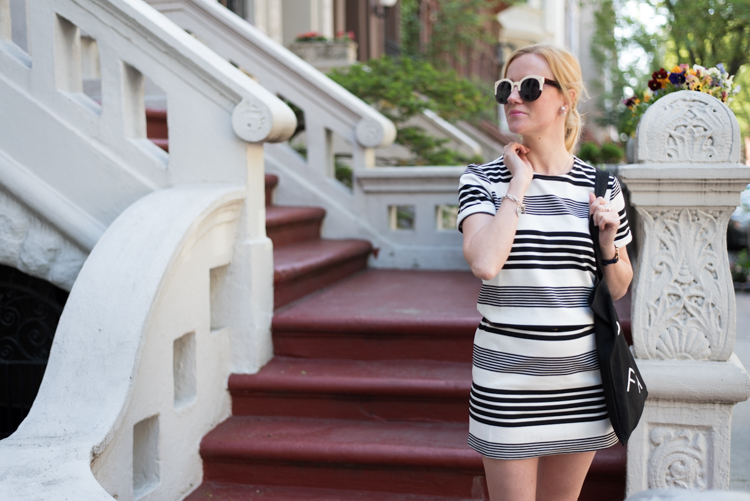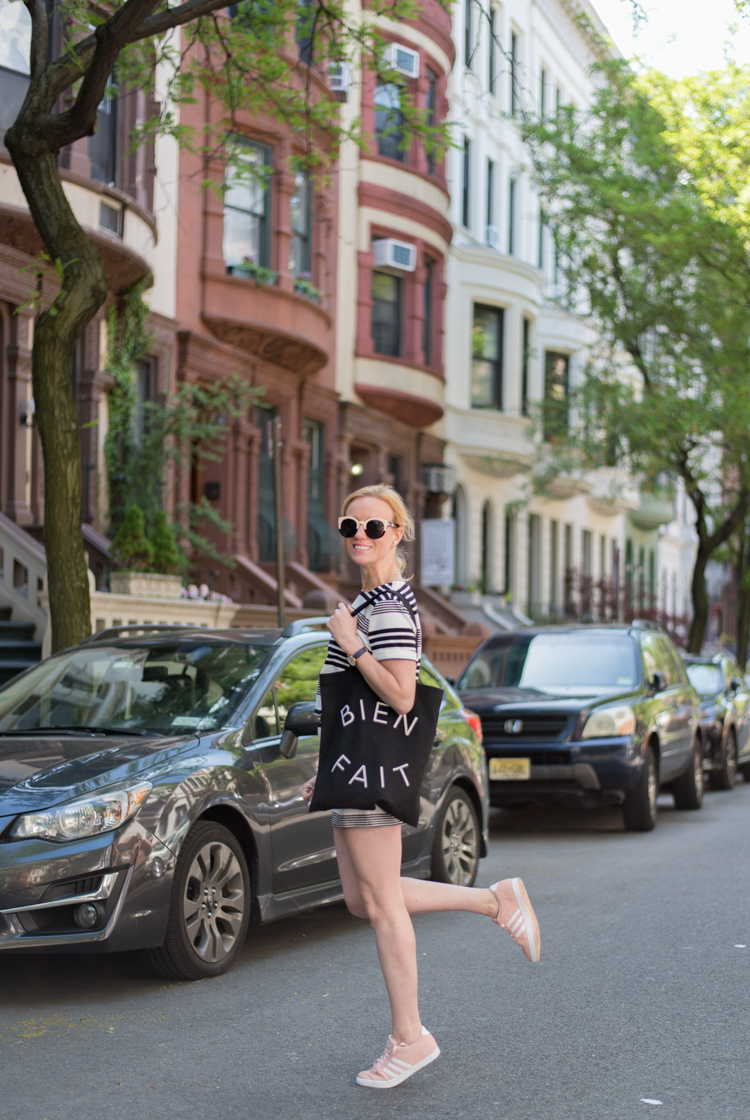 —
(Visited 249 times, 1 visits today)