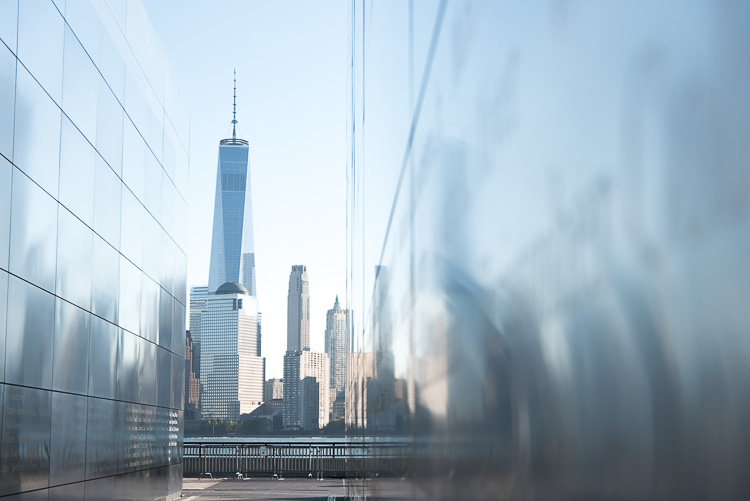 Il y a des moments qu'on n'oubliera jamais.  Ces moments forts qui resteront ancrés dans nos mémoires.  La semaine dernière, j'ai vécu un de ces moments mémorables, inoubliables et intenses.  Levées à l'aube, 5h00 samedi dernier, nous nous sommes dirigées vers le New Jersey pour regarder le lever du soleil sur Manhattan.  Nous?  Vous l'avez deviné, je veux bien entendu parler de Viviane du blog We Love New York et de moi-même.  Un pur moment de bonheur, de sérénité et d'amitié.
—
There are moments we can never forget.  No matter what.  These big moments that will be forever in our mind.  Last week, I lived one of these unforgettable and intense moments.  We woke up at dawn, at 5AM on a Saturday, to head to New Jersey and watch the sun rise over Manhattan.  "Who is we?", you might ask.  But you probably guessed it, I am talking about my friend Viviane from the blog We Love New York and myself.   It was such a pure moment of joy, serenity and friendship.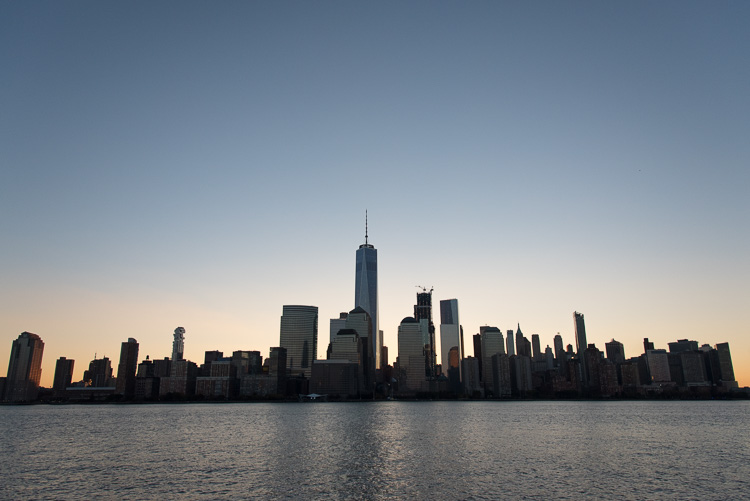 Arrivées au World Trade Center, en passant par l'Occulus, nous avons pris le PATH train en direction du New Jersey, station Exchange Place.  Il était très tôt, la nuit commençait tout juste à se dissiper.  Quelques minutes plus tard, nous étions installées sur la rive de l'Hudson River prêtes à dévorer ce spectacle.  C'était un moment unique pour Viviane et moi-même et nous avons adoré le vivre toutes les deux.  Deux amies, deux blogueuses, et surtout deux amoureuses de New York City.
Le soleil s'est levé rapidement, les photos et vidéos se sont succédées.  En quelques minutes, Manhattan s'était réveillée devant nos yeux.  L'énergie était palpable et une journée chargée pouvait commencer.
Viviane partage également cette expérience, mais surtout le travail réalisé "l'envers du décor" pour l'alimentation de son blog voyage dans son article: Comment se déroule la rédaction d'un article de A à Z?
—
We rode the subway to the World Trade Center.  We stopped by to admire the breathtaking Occulus and took the PATH train to Exchange Place in the New Jersey.   It was very early and night was only starting to fade away.  A few minutes later, we arrived on the other side of the Hudson River.  We were ready to take on the spectacle that was about to take place in front of us.  It was an amazing moment for both of us and we loved living it together.  Two friends, two bloggers, and most importantly two lovers of New York City.
The sun rose very quickly in the sky and we took as many photos and videos as we could.  Within a few minutes, Manhattan was awake in front of our eyes.  The energy was already palpable and a busy day was about to begin.
For French speakers, my friend Viviane described that busy blogging day and the behind-the-scenes to write a travel blogpost here.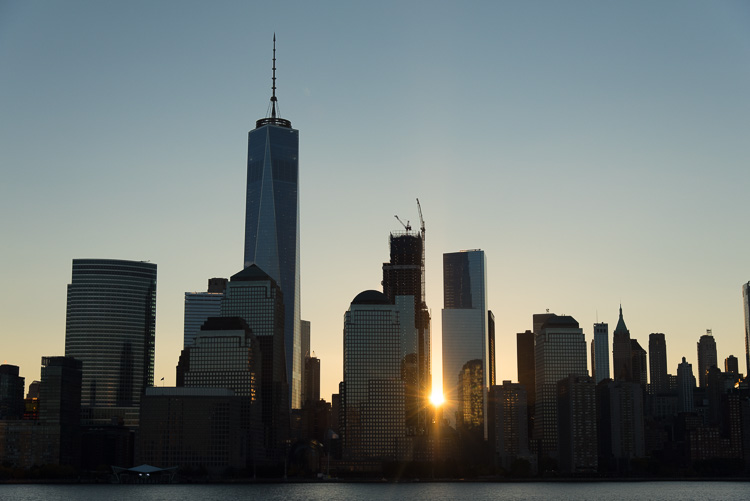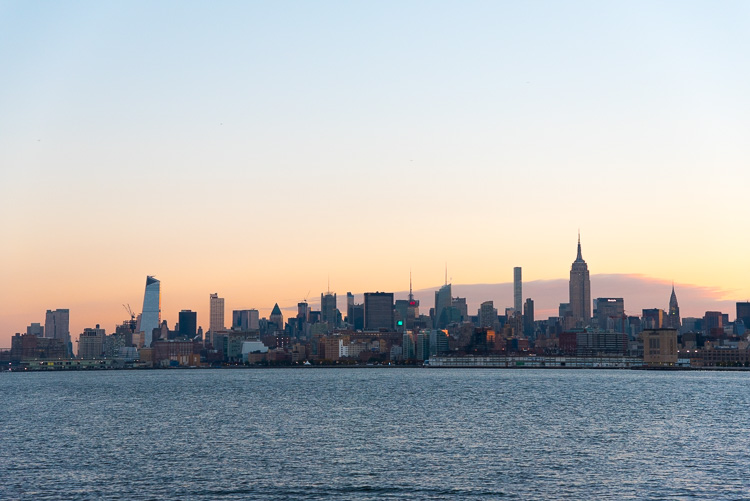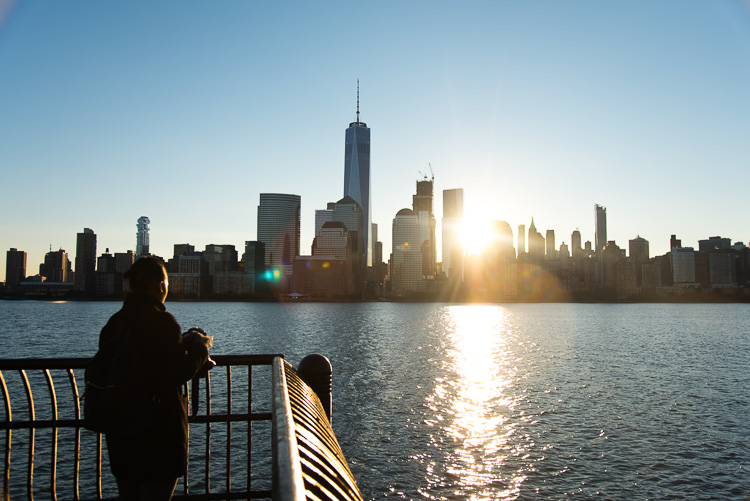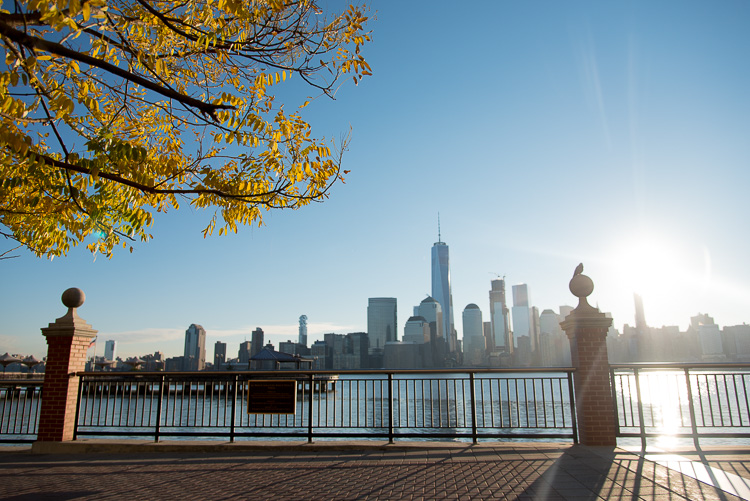 La journée ne faisait que commencer et nous avons pris la direction d'un autre point de vue sur la Skyline de Manhattan.  Grâce au tramway, nous nous sommes rendues au Liberty State Park un peu plus au sud du New Jersey.  Le Liberty State Park est un parc grandiose.  C'est aussi au bord de l'Hudson River que se trouve "Empty Sky", un mémorial magnifique et touchant du 11 septembre dédié aux 746 habitants du New Jersey qui ont perdu la vie lors des attaques.  Les deux murs identiques symbolisent les tours jumelles du World Trade Center.  Le nom "Empty Sky" parle de lui-même et a aussi été choisi d'après la chanson de Bruce Springsteen. (Je vous ai mis un extrait de la chanson ci-dessous.)
—
The day was only started and we decided to take the tramway down south to Liberty State Park, still in New Jersey.  Liberty State Park is magnificent and offers a great view on the Manhattan Skyline as well.  There we found our way to "Empty Sky", the 9/11 memorial dedicated to the 746 victims from New Jersey who lost their lives during the attacks.  The two identical walls symbolize the Twin Towers.  The name "Empty Sky" says it all and was chosen after the name of a Bruce Springsteen' song.  (You can play the song below.)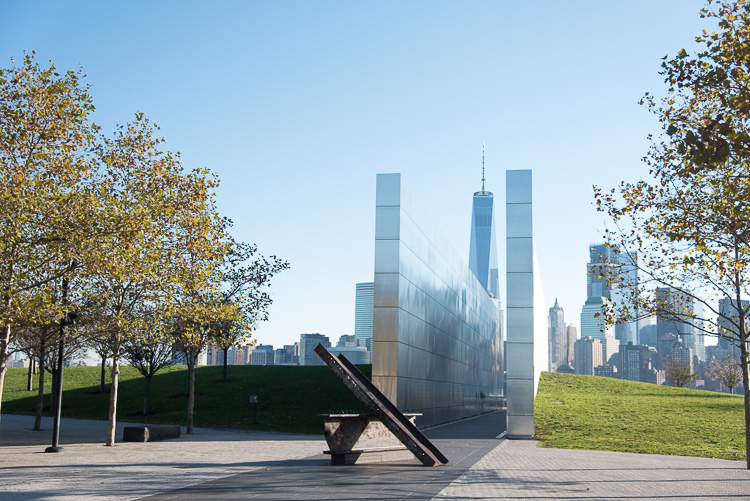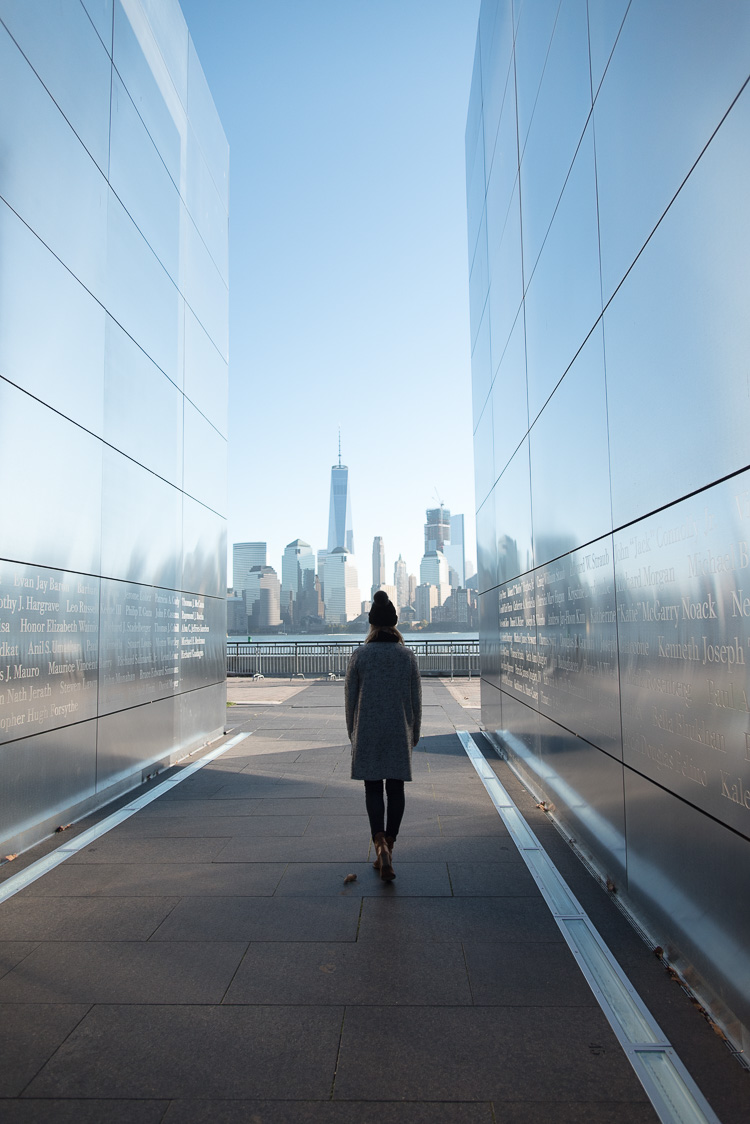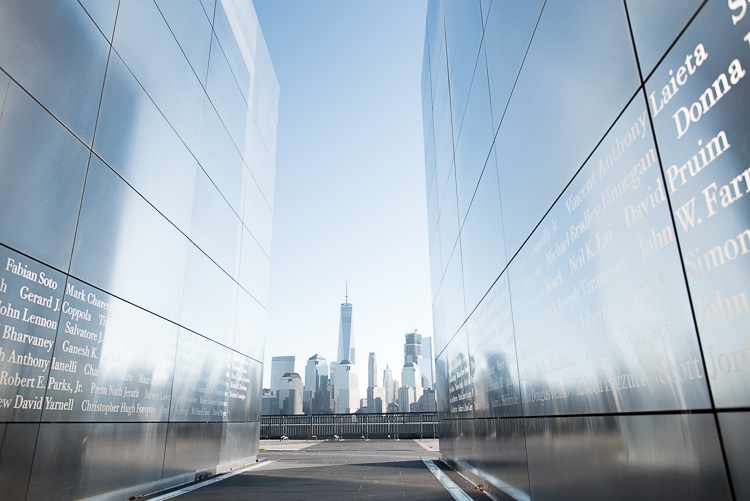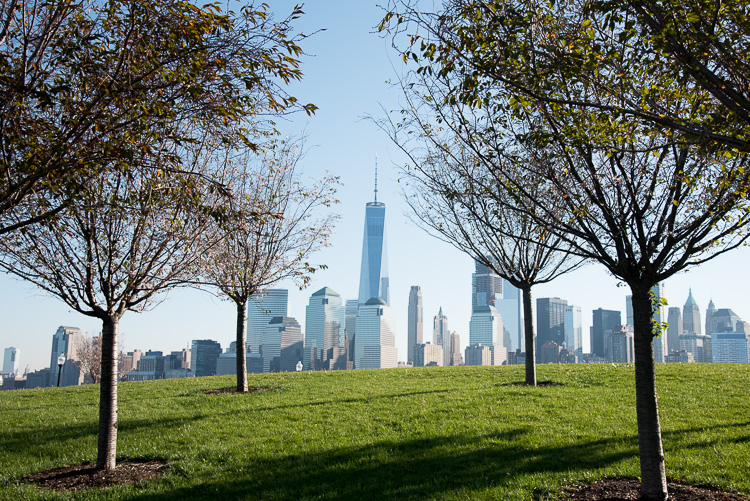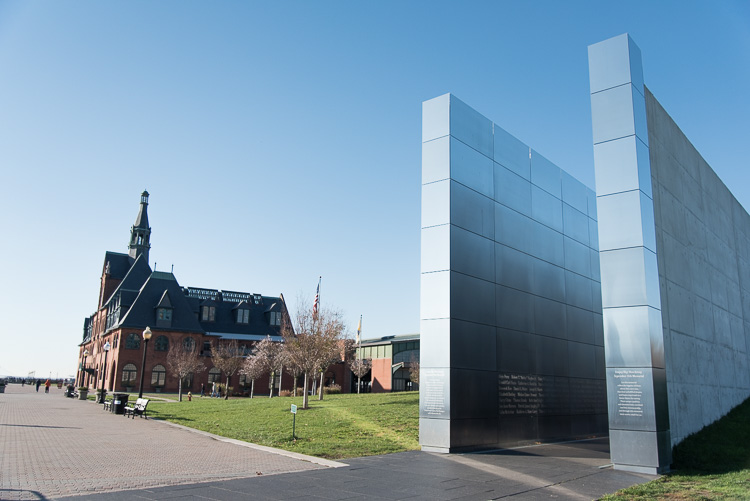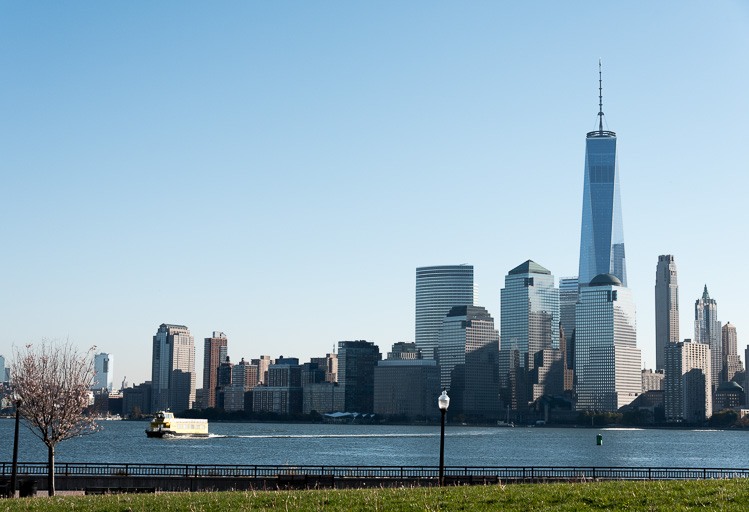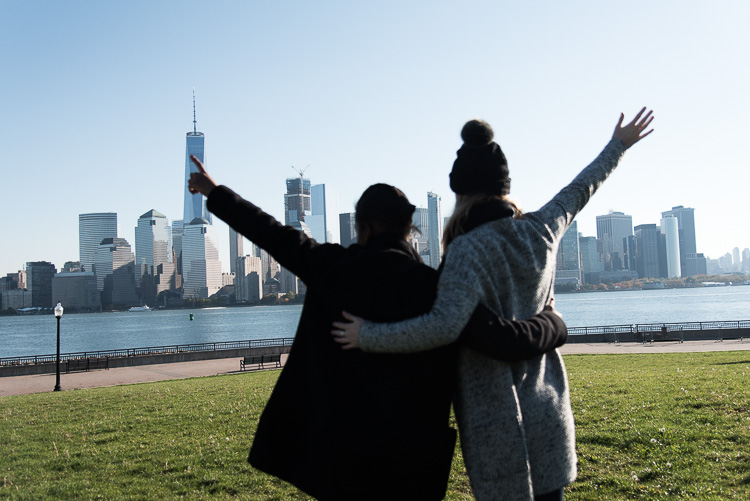 Cette matinée exceptionnelle dans le New Jersey vaut vraiment le détour et je conseille à tous, habitants et visiteurs, de venir faire l'expérience du lever du soleil de ce coté de l'Hudson River.  Y accéder est tellement facile et rapide depuis Manhattan, le plus dur est sans aucun doute le réveil aux aurores.  Je compte bien renouveler l'expérience à l'occasion.
Je tiens à remercier Viviane pour son "friendly kidnapping", moi la French Manhattanite.  Sa motivation, son énergie et sa bonne humeur ont fait de ce moment un souvenir inoubliable.
Que pensez-vous de cette expérience?  L'avez-vous déjà fait?  Ou alors c'est à prévoir lors d'un prochain voyage? Laissez-moi vos petits mots sous l'article.
—
It was an extraordinary early morning in New Jersey.  It is really worth it and I recommend to everyone, locals and visitors, to come and live this incredible experience.  Watching the sunrise on Manhattan was breathtaking.  It is also so simple and pretty quick to come to New Jersey from the city.  The most difficult thing was probably to wake up at dawn on a weekend.  I will re-live this experience again without hesitation.
 At last, I would like to thank my dear Friend Viviane for her "friendly kidnapping", me the French Manhattanite.  Her motivation, her energy and her joie de vivre made this moment an unforgettable experience.
What do you think?  Have you ever done it?  Or maybe you are planning to do it soon?  Let me know in the comment section below.
xx Jennie
—
(Visited 519 times, 1 visits today)