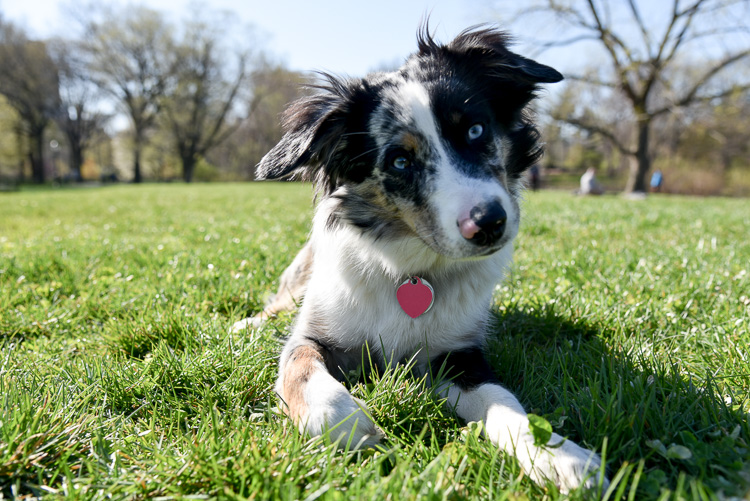 Adopter un chien, c'était un souhait depuis toujours.  Adopter un chien à New York, c'est devenu réalité.  Vous le connaissez sans aucun doute, Harrison est entré dans ma vie new-yorkaise depuis un peu plus d'un an maintenant.  Il fait son apparition sur le blog de plus en plus, notamment en "photobombant" mes articles mode (les derniers ici et ici).  Je me suis dit qu'un post était le bienvenu pour vous expliquer comment j'ai adopté un chien et vous donner un peu plus de détails sur notre vie à New York.
—
Adopting a dog was a lifelong dream of mine.  Adopting a dog in New York became a reality.  For sure you know who I am talking about by now.  I welcomed Mister Harrison into my NYC life for a little bit over a year now.  He is more and more present on the blog, as he loves to photobomb my fashion shoots (the last ones here and here).  So I thought I will dedicate a blogpost to explain how I adopted a puppy in New York and tell you a little bit of our NYC lifestyle.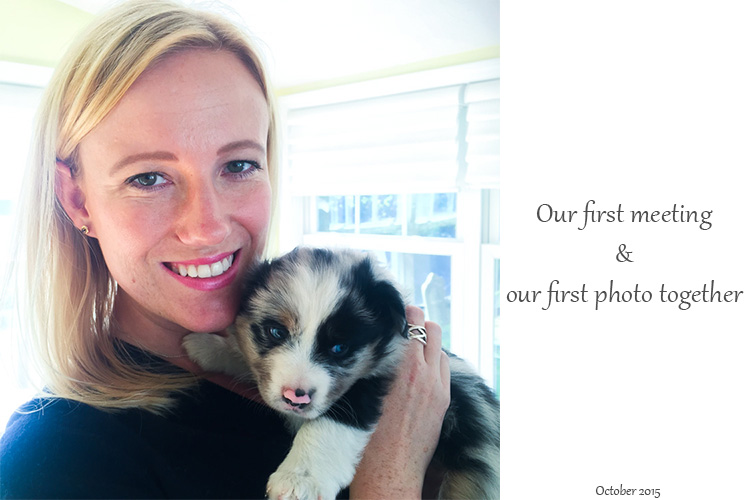 Harrison est un berger australien miniature (mini aussie), et doit son nom à la couleur de ses poils comme Harrison Ford (il aurait pu s'appeler Richard Gere aussi…).  Je voulais trouver un nom facilement prononçable en anglais et en français (croyez-moi, ce n'était pas évident).
Après l'avoir découvert sur petfinder.com (trouvetonanimal-point-com), direction le Massachusetts pour aller le rencontrer chez une éleveuse. Il avait alors 5 semaines.  Bien entendu gros craquage:  the Gros Coup de Foudre et ne pas le ramener à la maison de suite a été un vrai supplice!
A 8 semaines, Harrison est devenu new-yorkais.  Son arrivée à New York a été une période de joie, de découvertes et d'adaptation.  Je n'avais jamais eu de chien auparavant (sauf une très courte période quand je devais avoir 4 ans).  Je pense qu'il m'a adoptée autant que je l'ai adopté.  Ma vie new yorkaise a été littéralement chamboulée.  Moi qui d'ordinaire passais de longues journées et soirées en extérieur, il me fallait désormais rentrer à la maison pour pouvoir lui apporter toute l'attention dont il avait besoin.  La vérité?  Je voulais de toute façon passer tout mon temps avec lui.
—
Harrison is a miniature Australian Shepherd (mini aussie).  I named him because of his blue merle coat similar to Harrison Ford (Richard Gere could have also been an option…).  And I wanted to find a name easily pronounceable in French and English.
I found him on petfinder.com and headed to Massachusetts to meet him and the breeder.  He was only 5 weeks old and my heart literally melted.  It was Love at first sight and not being able to take him home was heartbreaking.  I counted the days until he could finally be with me in New York.
At 8 weeks old, Harrison became a New Yorker and found its place at home on the Upper West Side.  Welcoming him home was mix of joy, discoveries and adaptation.  I had never owned a dog before (except that ridiculously short amount of time I had a dog at 4 years old).  I believe he adopted me as much as I adopted him.  My New York life was turned upside down and I wanted to spend every moment of the day with him.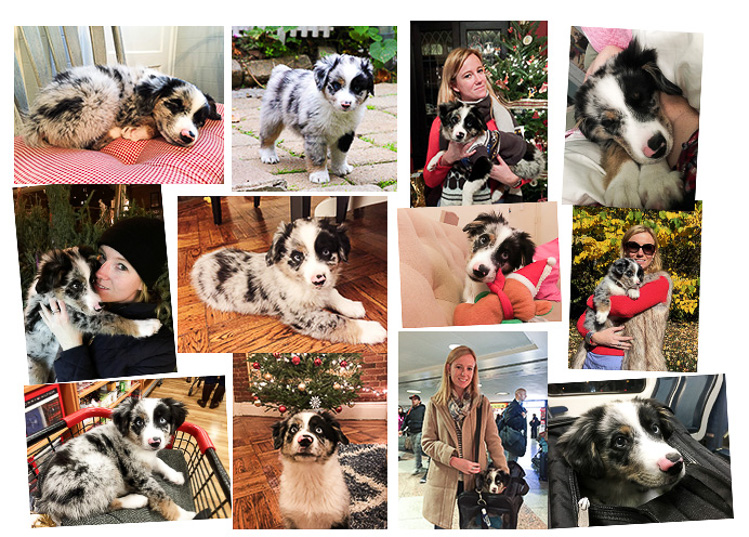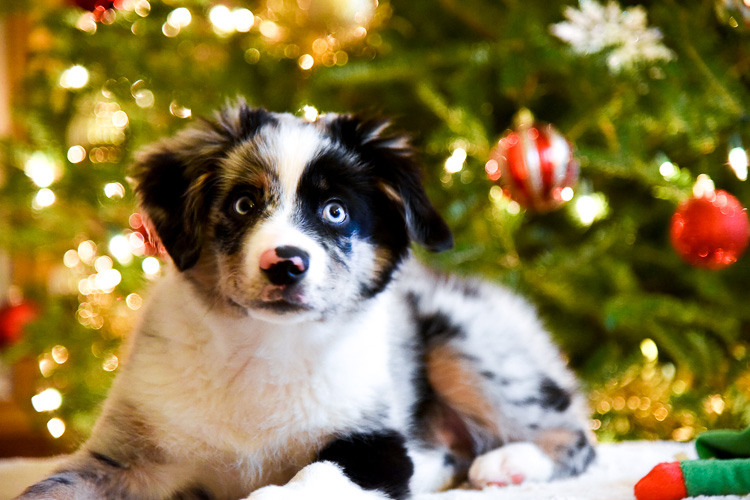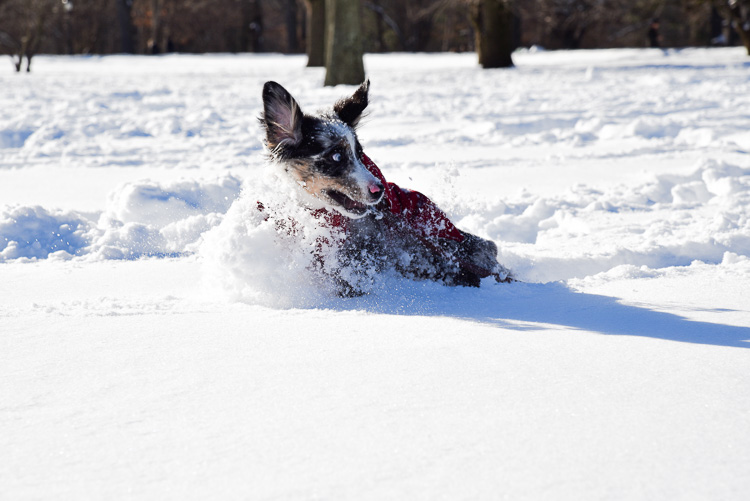 Harrison a vécu les 4 saisons à Central Park où moi-même je passe maintenant le plus clair de mon temps.  Avoir un chien à New York m'a permis de rencontrer d'autres personnes (des célébrités aussi) de mon quartier.  Des amitiés se sont nouées aussi bien pour les chiens, que pour les adultes.  Harrison est très loyal à ses meilleurs amis: Peach, Sophie, Rex, Lincoln, Dakota, Lola…  Mais il n'est jamais contre l'idée d'en faire de nouveaux.
Habiter près de Central Park est un pur bonheur.  Les chiens ont le droit d'être en liberté avant 9h et après 21h.  Chaque matin et chaque soir, nous retrouvons donc les copains.  Le midi, j'amène également Harrison pour une ballade en laisse.  Et en fin d'après-midi, nous faisons une promenade dans l'Upper West Side, ou alors je l'amène faire du shopping avec moi.  Harrison adooore les magasins! For real!
—
Harrison has been through the 4 seasons in Central Park.  You can guess that this is where we spend most of our time together.  Owning a dog in New York has been a chance to meet new people (and sometimes celebrities) from my neighborhood.  Friendships were born and not only for the dogs.  Harrison is very loyal to his selective group of friends: Peach, Sophie, Rex, Lincoln, Dakota, Lola…  And the list keeps growing every day.
Living by Central Park is a dream when you have a dog in NYC.  Dogs are permitted off-leash before 9AM and after 9PM.  Every morning and every night, we meet with friends in the park.  During lunchtime, I also take Harrison for a walk around the Great Lawn.  In the evening, we usually take a quick walk on the Upper West or go shopping (he loves it!).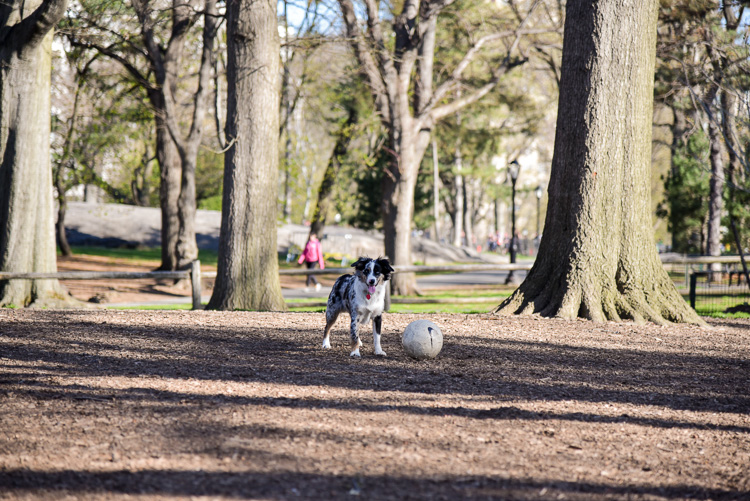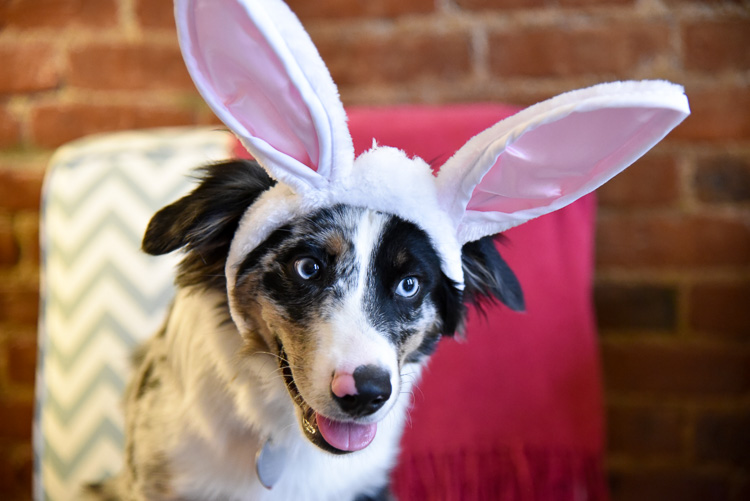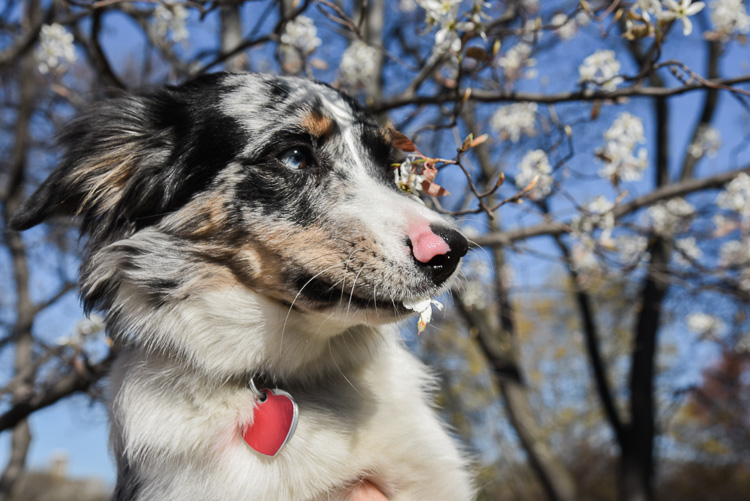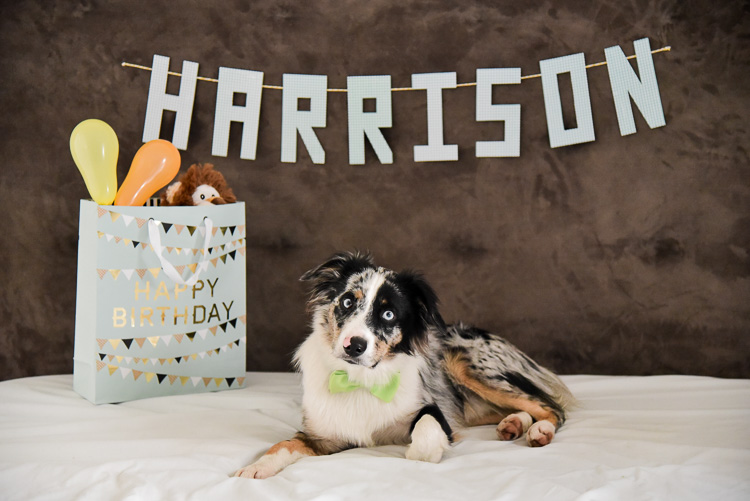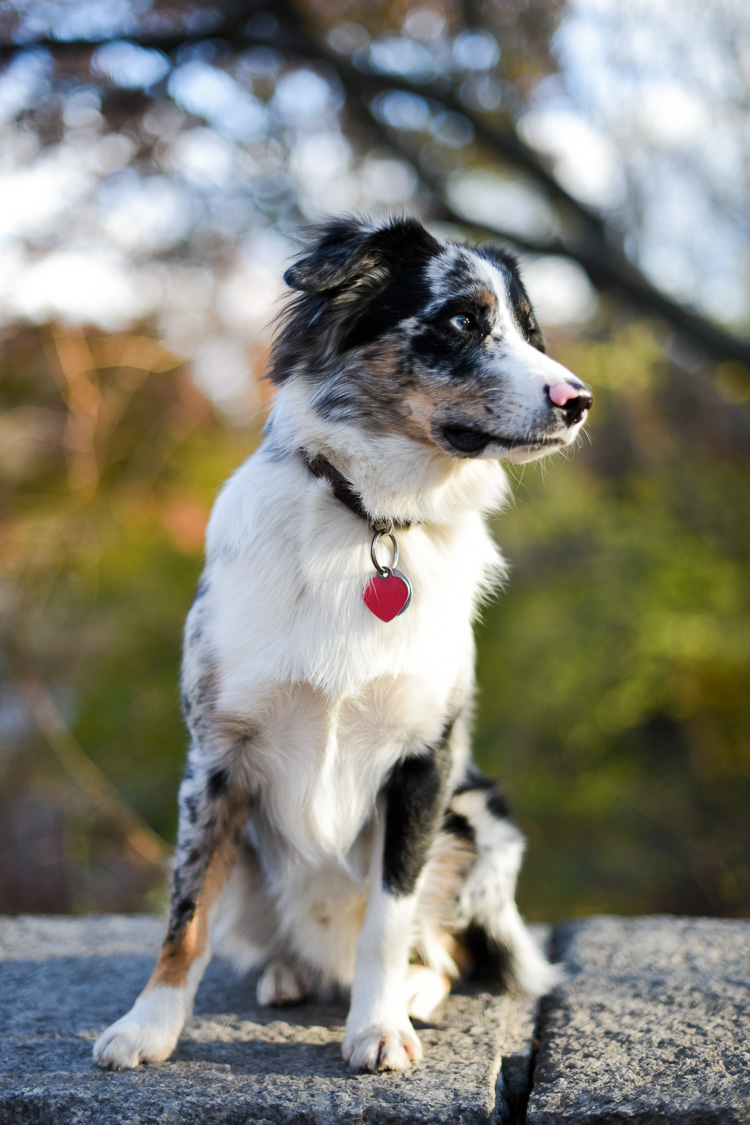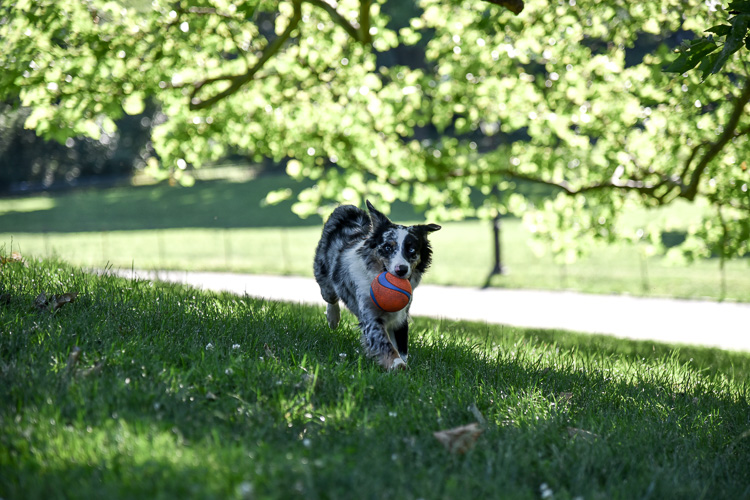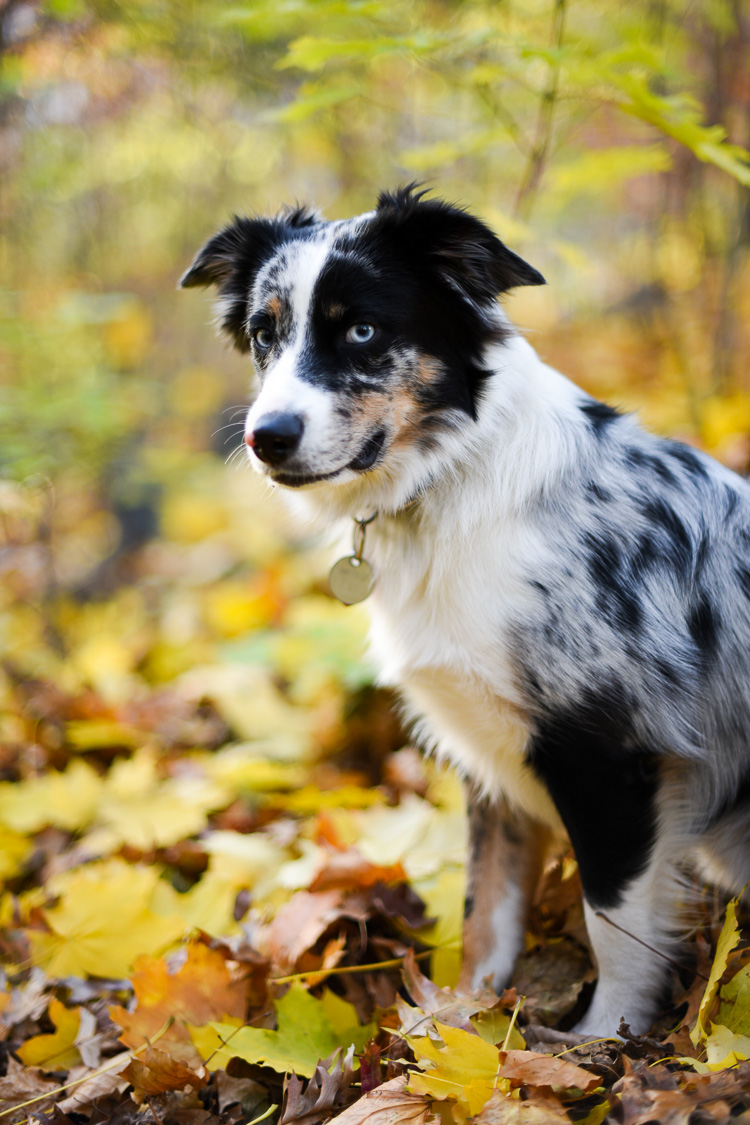 Depuis la venue d'Harrison, je vis une toute autre vie new yorkaise.  Je pense qu'en fait je me sens vraiment chez moi ici et j'ai découvert mon quartier grâce à nos longues promenades.  Ce petit chien que j'appelle aussi mon Cheesy Monster (il a une sérieuse addiction au fromage) a été tellement facile à éduquer.  C'est une boule de poils pleine de vie qui ne manque jamais l'occasion de voler mes chaussettes.  Il est très joueur comme vous pouvez le voir sur mon Snapchat.  Entre le frisbee, la balle, les bouteilles en plastique, il a un grand besoin d'être occupé.  Mais il est aussi toujours partant pour de longues siestes dans la journée.  Chaque soir, il s'endort au pied du lit, et chaque matin il fait office de réveil et vient se blottir sur mon oreiller.  Une vie que je ne pourrai vivre autrement.
Vous aussi avez un chien, ou même être l'heureux propriétaire d'un berger australien?  N'hésitez pas à me laisser vos impressions sous l'article.
Et si vous souhaitez voir plus de photos d'Harrison, abonnez-vous à son Instagram: Harrison_theminiaussie. 
—
I am living such a different NYC life with Harrison.  I feel truly at home here in New York now and I believe owning a dog made me a little bit more of a New Yorker.  He has been such a blessing to educate and to live with.  I call him my Cheesy Monster due to his addiction to cheese.  This furry ball never misses the occasion to steal my socks as well (another obsession).  He is very playful and loves catching the frisbee, running after the ball and playing with empty bottles.  He can be very active but also enjoys his long naps during the day.  Every night, he sleeps next to the bed and snuggles on my pillow every morning to wake me up.  I could not imagine my life in New York any other way.
Do you own a dog and live in New York? Or maybe you are lucky enough to own an Aussie?  Let me know in the comments.
If you'd like to see more photos of Harrison, you can follow him on his Instagram: Harrison_theminiaussie.
xx Jennie
—
(Visited 387 times, 1 visits today)