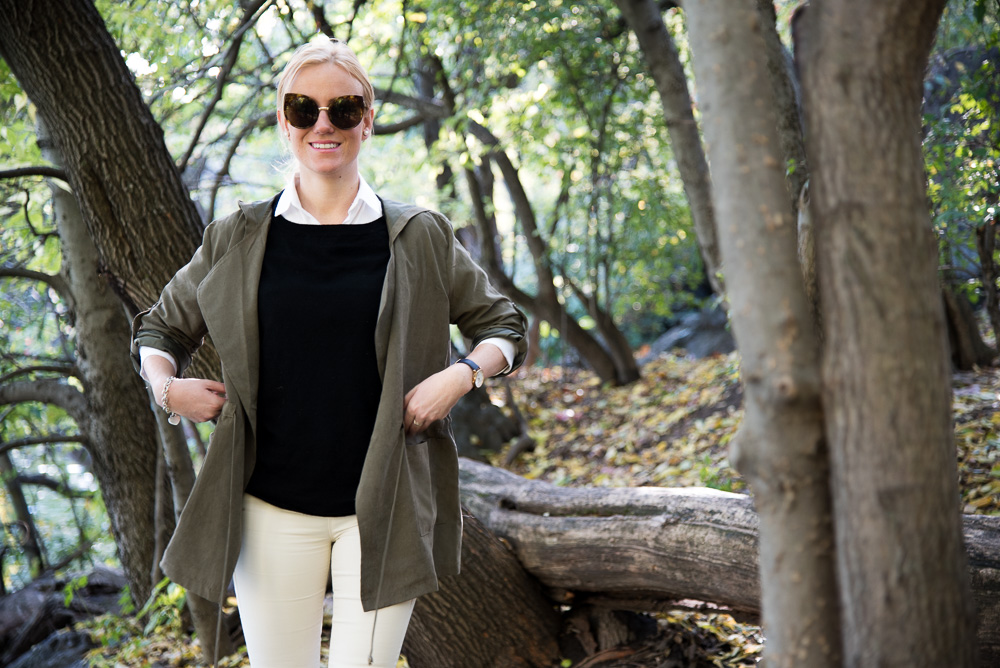 L'automne est en plein boom à New York et comme lors de mon post Fashion précédent, je continue à incorporer de nouvelles couleurs dans la garde robe que je n'ai pas l'habitude de porter. Après le bordeau, place à la couleur olive. J'ai flashé sur cette veste façon daim de chez Tobi.com. Je la trouve parfaite pour compléter un look d'automne sans l'alourdir et c'est aussi une alternative agréable au traditionnel gilet.
—
Fall is in full swing in New York and as I told you in my previous Fashion post, I am looking forward to try on new colors this season.  Last time, I was introducing a burgundi shift dress.  This time, I was attracted to this olive anorak jacket from  Tobi.com.  The fabric is so soft and comfortable to wear.  It is perfect to complete my look and also wear it underneath a coat.   I found it a great alternative as well to a traditional cardigan.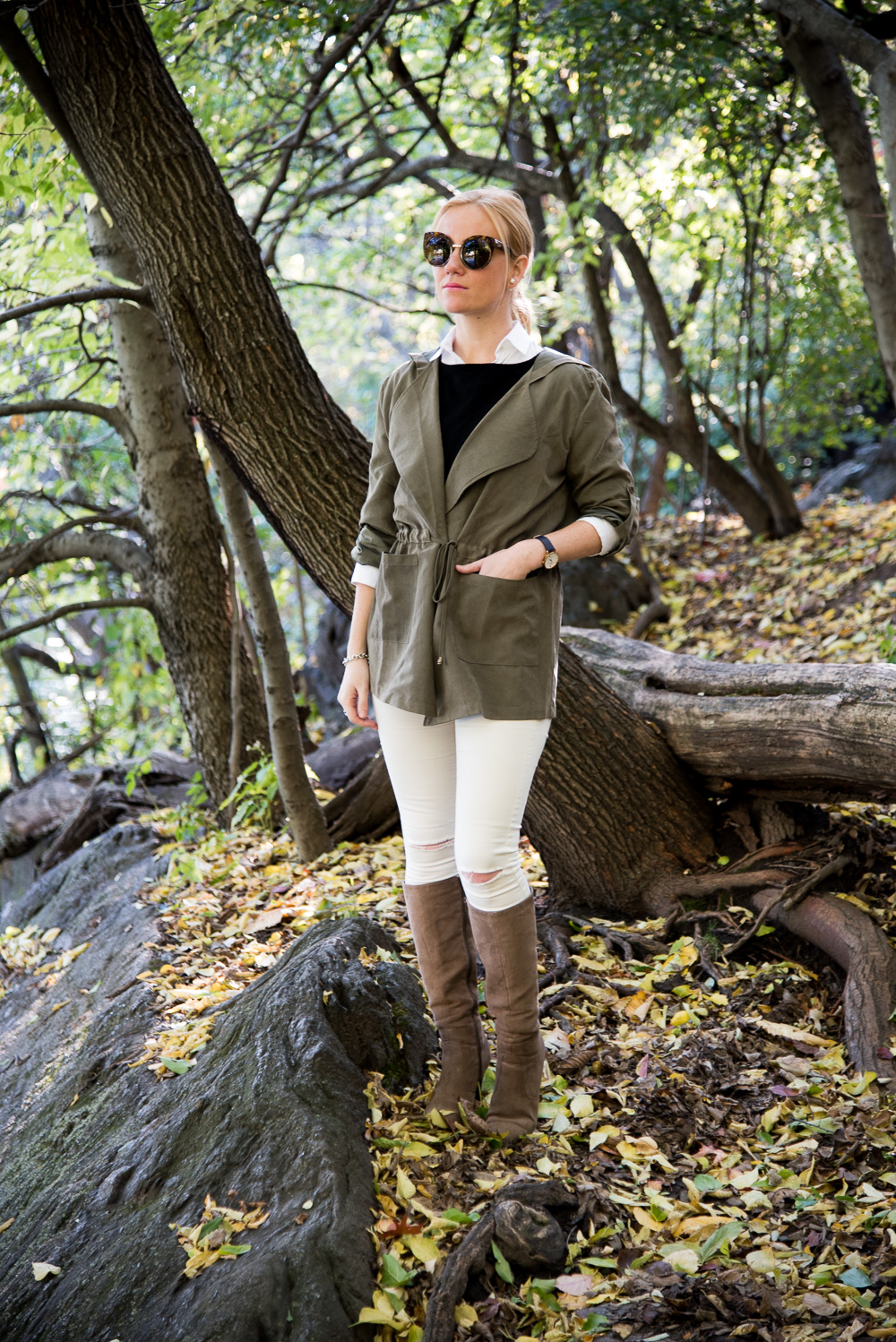 Depuis le début de l'automne, je porte cette veste en répétition avec tous mes jeans et même le legging pour un look plus décontracté. J'adore également les couleurs neutres de ce look. Plutôt chic pour une promenade du dimanche, non?
Je ne sais pas vous, mais cet automne / hiver, j'ai envie de m'orienter vers des couleurs olive, rose blush et beige pour changer un peu des couleurs sombres.  Tobi.com est mon nouveau rendez-vous en ligne pour un haul shopping abordable. J'adore leur collection cette saison et je viens de recevoir une autre veste plus épaisse que j'ai hâte de vous montrer.
Et quelle meilleure manière de profiter de l'automne à New York qu'en profitant d'une promenade à Central Park. La couleur des feuilles commencent enfin à changer et à tomber. Le paysage est juste magnifique. Et comme je ne peux jamais aller à Central Park sans Harrison, il m'a également accompagné sur quelques-unes de ces photos. Un vrai chien de blogueuse ce toutou!
Que pensez-vous de cette veste? Vous aussi avez envie de couleurs claires cet hiver ou alors je suis en plein déni du froid qui va forcément arriver à New York?
—
Since the beginning of Fall in New York, I have been wearing this jacket on repeat.  I pair it with jeans and even with leggings for a more relaxed look – when I go get croissant at the bakery early morning for example.  What can I say?  I will always be French!  On this photoshoot however, I went more for a preppy look.
I don't know how you feel but I am attracted to olive, blush and beige colors this season, instead of the usual dark winter colors.  Tobi.com is my new go to online place to look for affordable new outfits.  They have a lot of pretty pieces this Fall. I have another thicker jacket to show you soon.
And what better way to enjoy Fall in New York than to taking a Sunday stroll in Central Park?  The foliage is starting to change and leaves are falling.  The landscape is gorgeous.  And as  Harrison would be so mad if I went to the park without him, I brought him along.  As you can see, he gladly photobombed a couple of photos. He is such a blogger dog!
What do you think about this piece? Have you ever shopped on Tobi.com? 
xx Jennie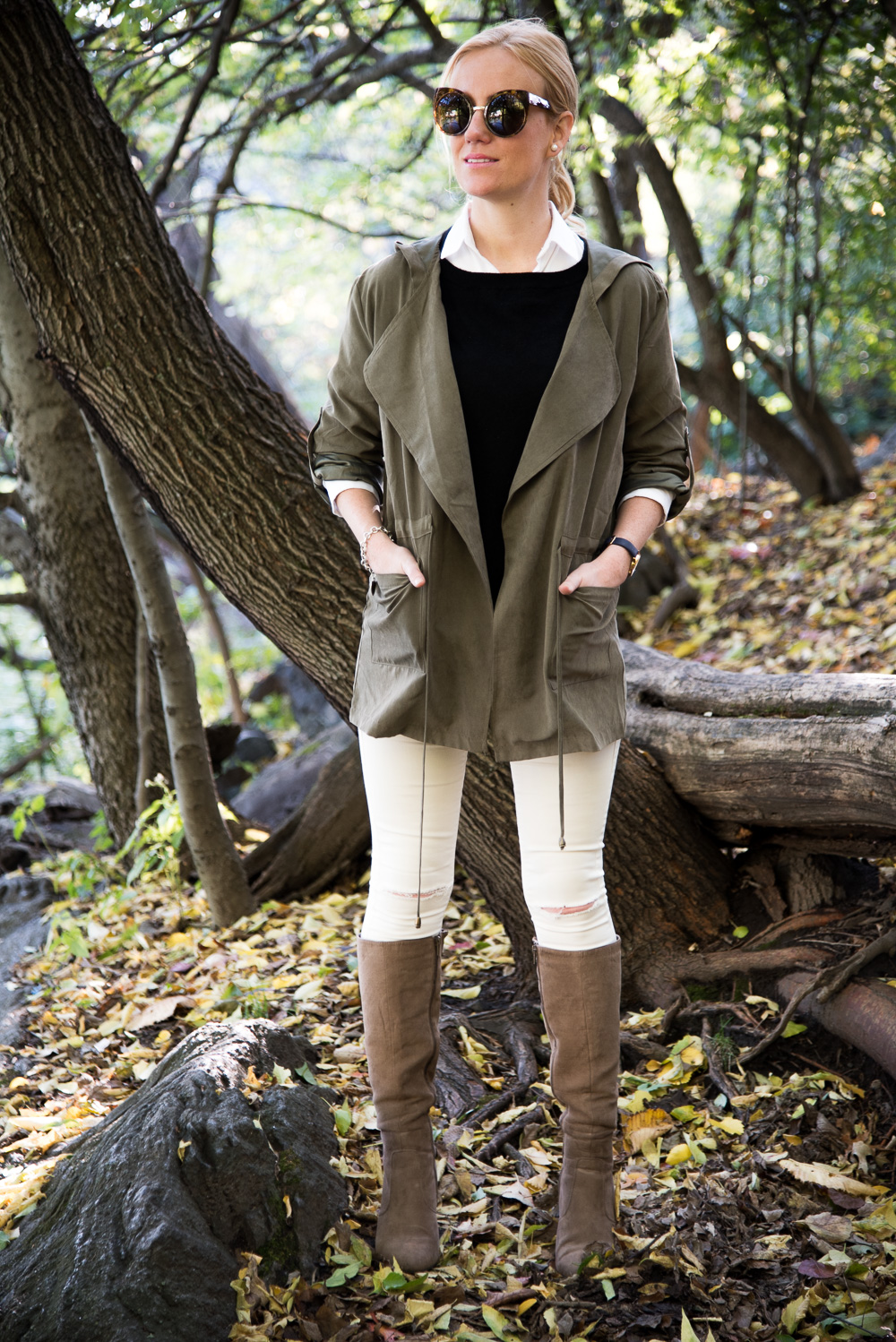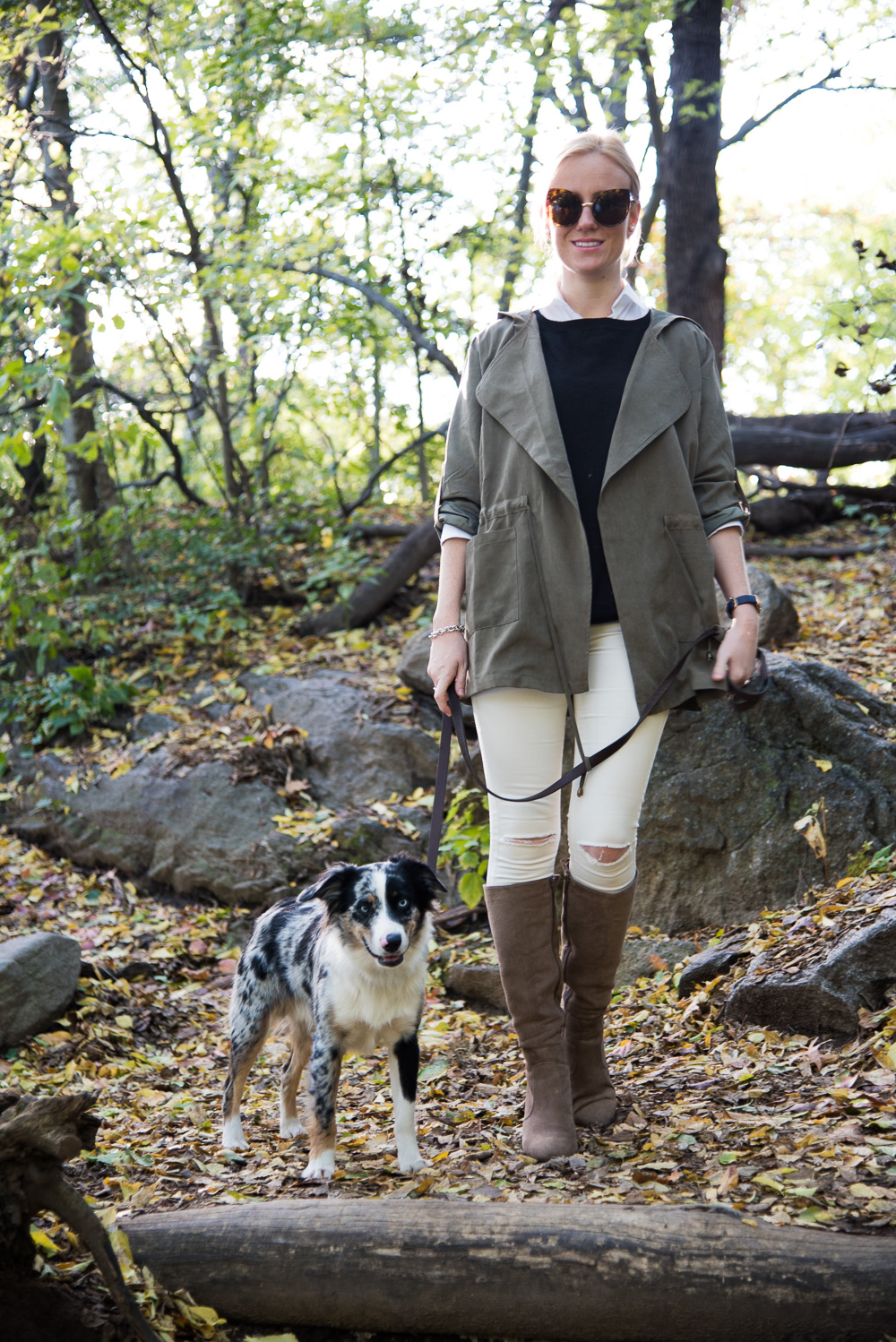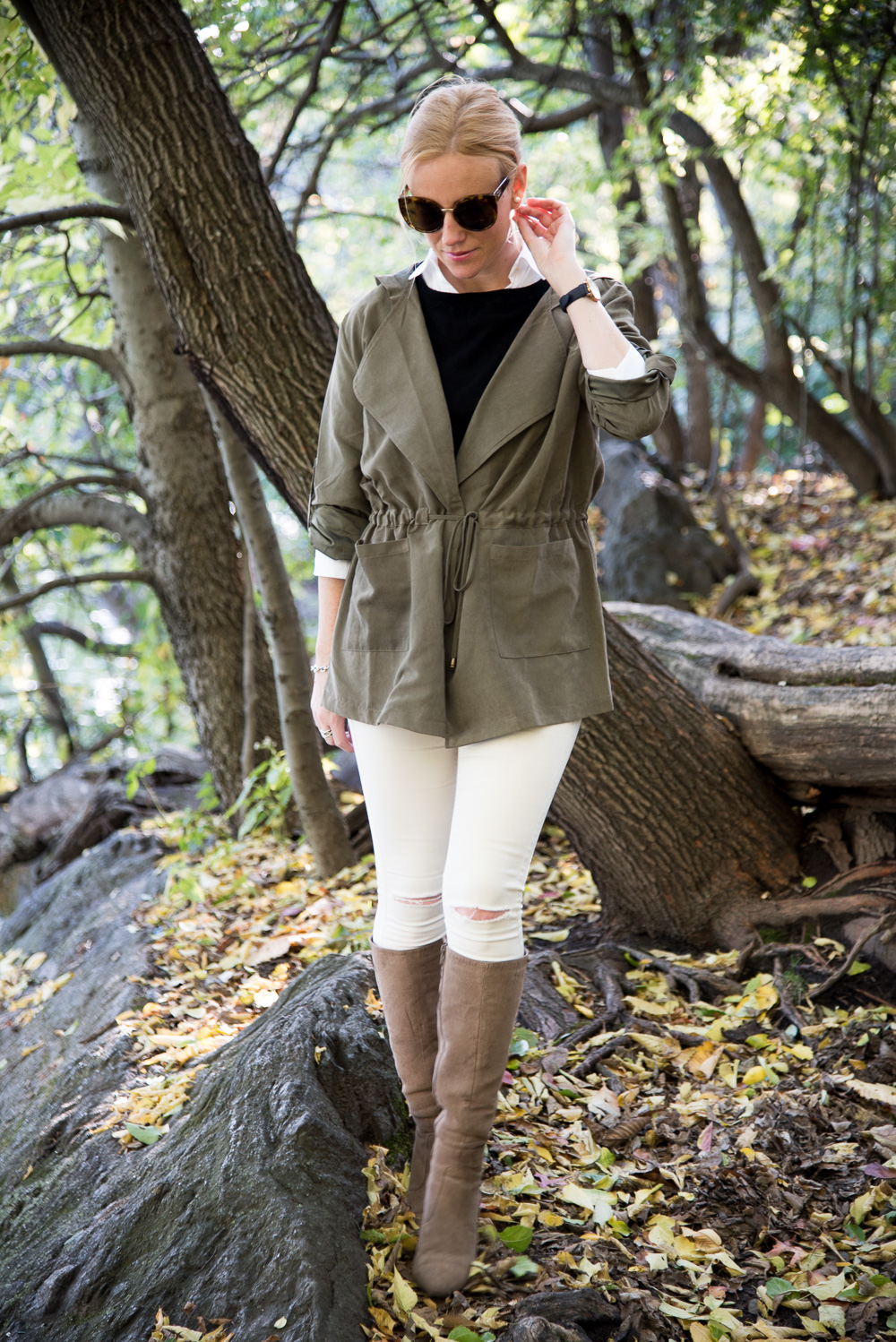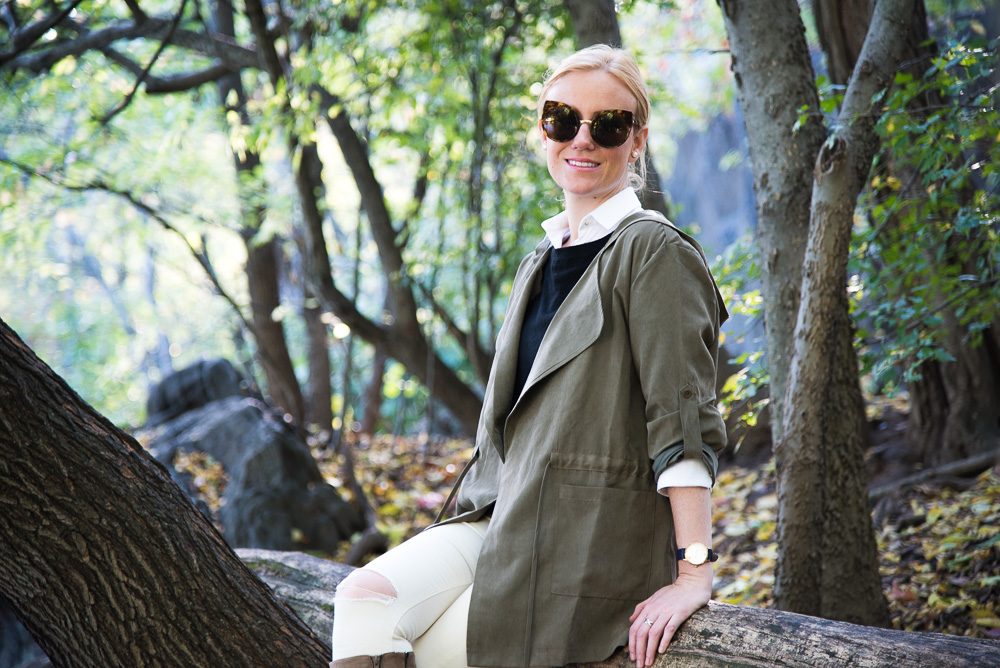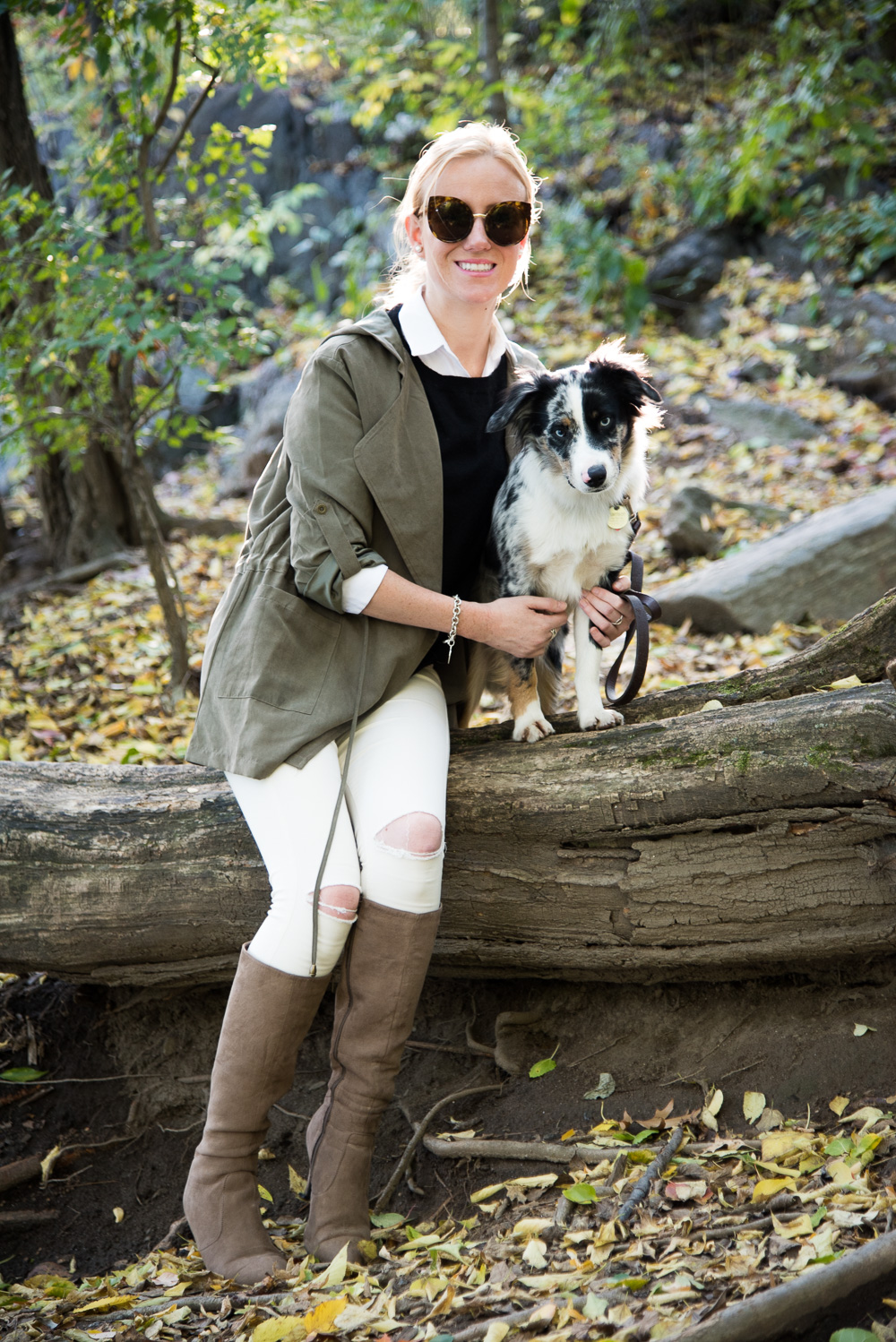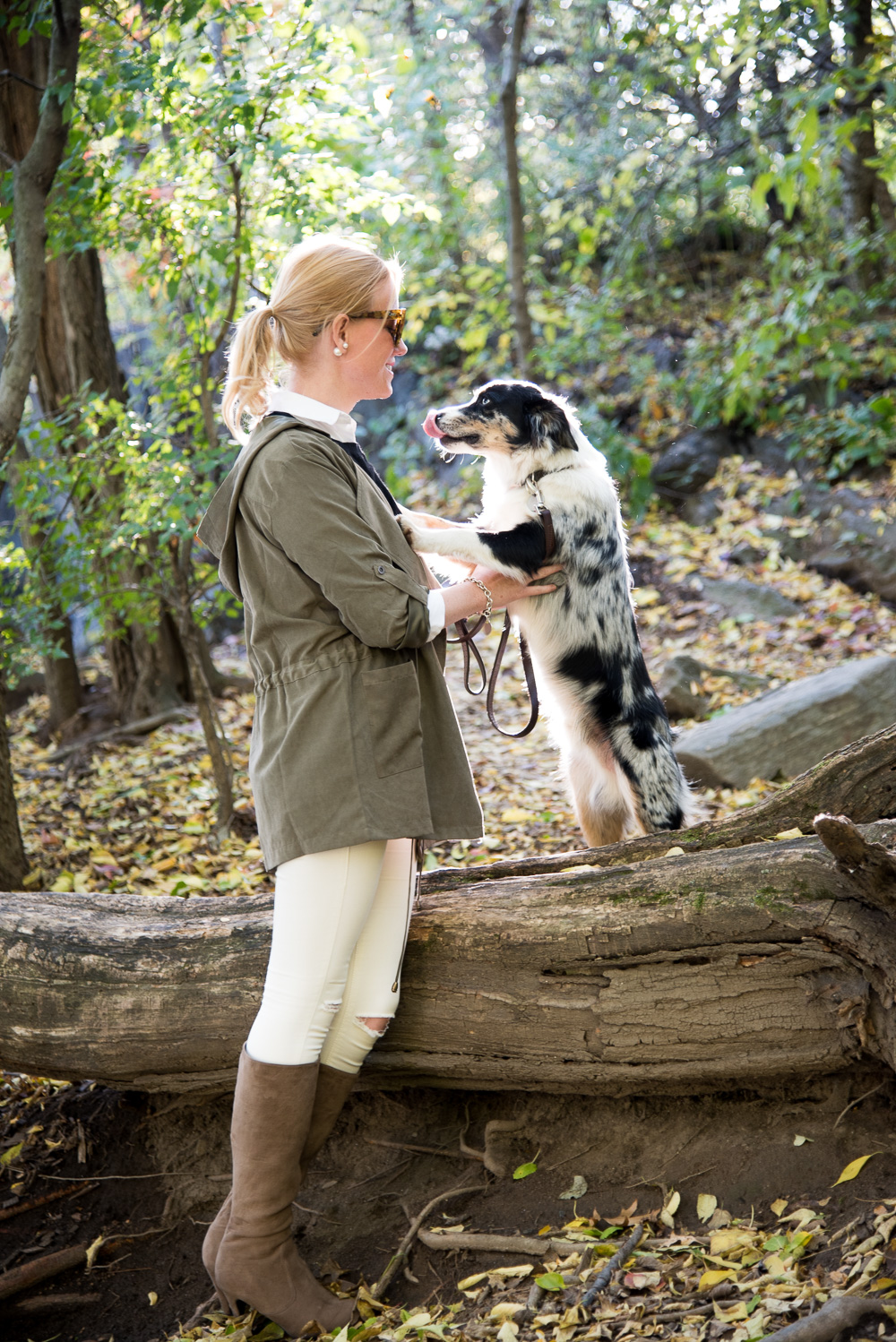 Jacket: Tobi.com / Sweater: Vince / Shirt: J.Crew / Jeans: Topshop
Boots (old, similar here) / Sunglasses: Quay Australia / Watch: Kate Spade NY
Other Olive Jackets I love:
—
(Visited 193 times, 1 visits today)