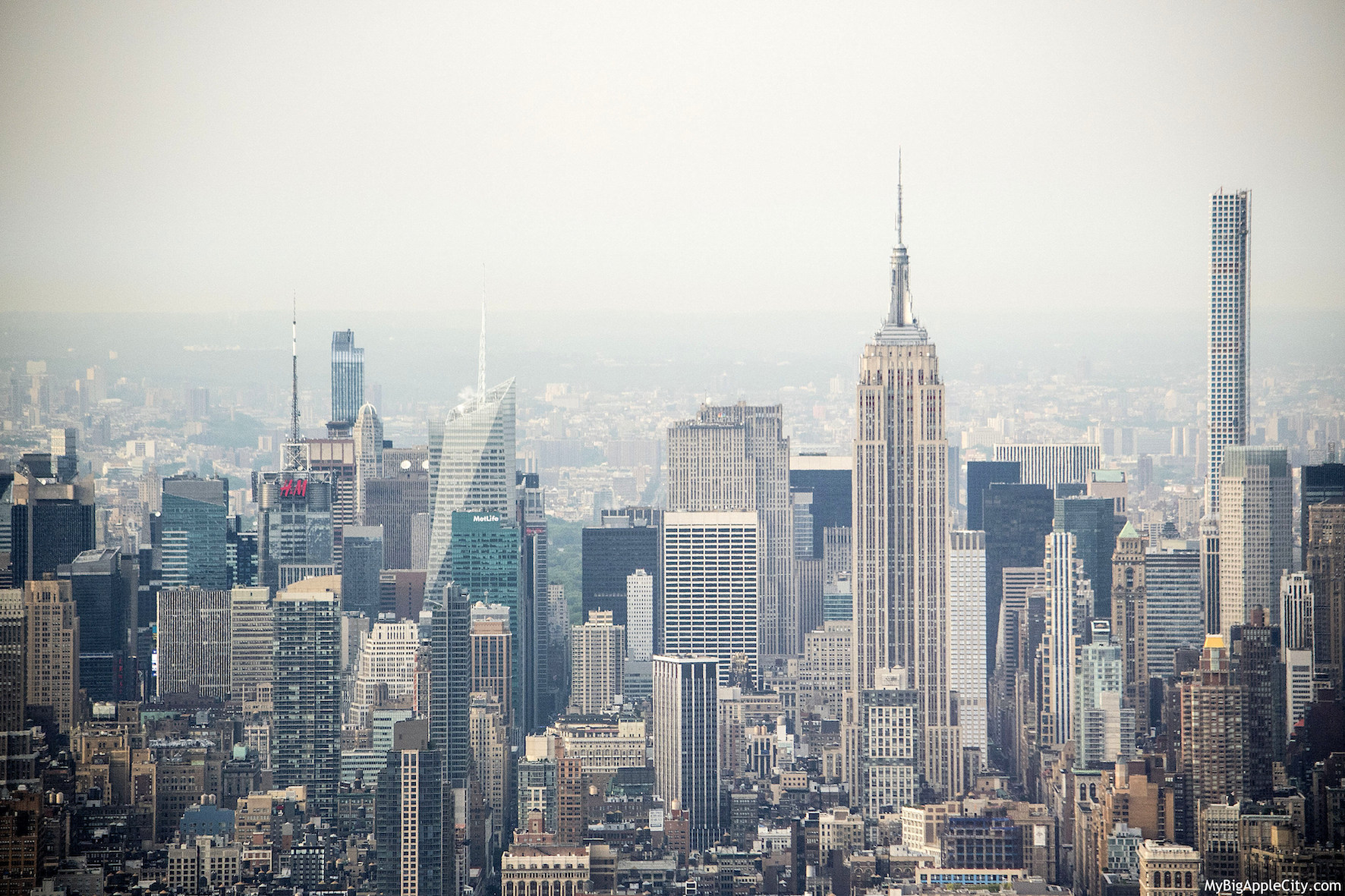 L'ouverture au public du haut de la tour du World Trade Center à New York a eu lieu la semaine dernière. Après des années à patienter et à regarder la tour se construire, il était temps d'aller admirer la vue. J'ai beau vivre ici, je suis toujours aussi curieuse de découvrir ce que la ville à offrir. C'est donc avec impatience que j'ai réservé les billets et attendu l'heure de la montée.
Officiellement appelé le One World Observatory, il est le plus haut building de l'hémisphère ouest avec 104 étages et 541 mètres de hauteur (en mesure américaine, 1776 feet – petit clin d'oeil à l'année de la déclaration de l'Indépendance des Etats-Unis). J'avais un peu d'appréhension sur l'ampleur de la sécurité pour la visite ainsi que la longueur de la file d'attente, surtout en jour d'ouverture. Au final, les employés se sont montrés très courtois et ont su rendre l'attente agréable. Avec une montée prévue à 17h45 et une recommendation d'arriver 15 minutes à l'avance, je m'y suis rendue à 17h42, et j'ai de suite été guidée vers la sécurité. Une file d'attente assez courte. Et hop, la visite a commencé!
—
The opening day of the World Trade Center Observatory in New York was a week ago and I was eager to discover the view from a tower I have seen growing through the years. Even though I live here, I am still very much amazed by everything this city has to offer. I never get tired of it. 
Officially named the One World Observatory, it is the tallest building of the Western Hemisphere, with it 104 floors reaching 1,776 feet high (referring to the year of the signing of the Declaration of Independence). I was a little bit apprehensive of the level of security (especially since it was the opening day), but I was happily surprised as everything moved quickly. My tickets were for an entry at 5:45pm, with the suggestion to arrive 15min prior to the visit time. I was there at 5.42pm and was sent inside the building and through security very quickly. The staff was very courteous and friendly, and made visitors feel welcomed.
En patientant pour prendre l'ascenseur, dont la vidéo fait sensation sur la toile, nous sommes guidés à travers écrans et présentations… Pas ou alors peu de mention au 11 septembre, très peu d'histoire également sur le site, ce que j'ai trouvé regrettable; on essaie juste de vous renforcer l'idée que New York est la plus belle, les New Yorkais les plus forts, la Freedom Tower est la chose la plus géante du monde, et tout le monde s'aime… La positivité américaine, oh yeah!  Vient enfin le temps de prendre ce fameux ascenseur: une vidéo, 50 secondes, 103 étages et boom, tout le monde descend. Incrédible, ça fait l'effet d'une blague. On n'est pas monté en fait, hein? On nous dirige vers une grande salle avec encore une fois, une multitudes d'écrans 3D – encore une vidéo – mais vraiment très cool cette fois avec le vrai New York bourdonnant et à toute vitesse, une musique de science fiction en fond sonore, et puis (ne lisez pas la suite si vous ne voulez pas gâcher l'effet de surprise…). Et puis, re-boom! Les écrans s'éteignent et montent jusqu'au plafond et nous révélant la vue sublime de New York. C'était pas une blague, on est vraiment monté!
Before taking the elevator to the top floor, with its famous video that went viral before the opening, the trick was to make people wait in line and in front of a lot of TVs. In the documentaries, there was no mention (or maybe extremely little) to September 11th, nor really to the history, which I thought was unfortunate. It was dedicated towards, what I call, "the great American spirit", meaning: New York is the most wonderful city of all, New Yorkers are the strongest, the Freedom Tower is the best building on Earth, and everyone loves each other… It sounded very superficial to me, but that is my very own opinion. It was now time to take the famous elevator: 1 video, 50 seconds and 103 floors later, we were supposedly at the top. Supposedly? It is hard to believe you rise that high with so little movement and in such small amount of time.  We were then guided to a dark room with another set of screens, this time in 3D. The documentary was very well done.  This time the movie showed the New York we all know, the one that never stops, with a science fiction style music in the background. (If you don't want a spoiler, what follows was the best. So please stop reading this paragraph…) Well, the video stopped, the screens darkened and began to disappear up into the ceiling, revealing what we have all been waiting for: the beautiful view of New York City from above! It was quite a sensational moment.
On y vient pour la vue,  mais à l'intérieur, c'est avant tout un business. Bien sûr, on essaie de nous faire poser devant un écran pour nous inciter à acheter la photo avec une fausse vue donc. Il y a également un bar/restaurant, si l'envie vous prend. Aussi, le fameux gift shop où vous trouverez tous les souvenirs imaginables à l'effigie de la Freedom Tower.
Avec une heure d'entrée en fin d'après midi, mon intention était de profiter de la vue de jour, au coucher du soleil et de nuit. Une vue qui ne déçoit pas, et à 360 degrés – un regard imprenable sur la ville. Prendre des photos est par contre une autre histoire. Comme toute la visite est à l'intérieur, on se voit confronter au problème de reflection dans les vitres. Trouver un bon angle pour prendre de jolies photos y est également difficile car les gens s'assoient tous au pied des vitres pour admirer la vue, prendre une selfie ou se reposer. Bref, armez-vous de toute votre patience pour la prise de vos clichés.
I have to say that even though you come here for the view, this is a business and inside everything is dedicated to make you spend money. Of course, there is the traditional "official' photo of you and a fake skyline  view that they try to make you purchase, a bar / restaurant you have to pass by, and a gift shop with everything you can imagine. 
With a lift at 5.45pm, my intentions were to stay for the sunset and the view of the city by night. The view did not disappoint with a full 360 degree scene. Taking photos was more complicated than I thought. A thing to remember is that you are inside and the reflection of the glass is inevitable.  Everyone sits by the window, looking out, trying to take the best selfie, or resting for a few minutes. Because it is also the only place to sit, it makes it hard to get a spot in front of the "good" view  – meaning the best angle to avoid a reflection in the window. But forget you are a photographer for a sec and just try to enjoy the view. 
Alors cette visite vaut-elle vraiment la peine? Oui, si on veut avoir une vue plongeante depuis la pointe de Manhattan, et non si on veut prendre de belles photos. Le fait d'être à l'intérieur est ce qui m'a le plus déplu. Même si on est entouré de vitres, on suffoque facilement sous le flux de visiteurs – ce qui ne rend pas l'expérience des plus agréables.
La première fois que j'ai contemplé New York, vue d'en haut, c'était à l'Empire State Building. C'était magique! Un grand moment pour toute personne qui visite la Grosse Pomme. Seul hic: l'Empire State manque donc au paysage. Puis, j'ai tenté le Rockefeller Center et son Top of the Rock, qui m'a tout de suite séduite. Une vue tout aussi époustouflante (avec l'Empire!) et aussi un point de vue incroyable sur Central Park. Je m'y rend quelques fois par an avec grand plaisir lors de la visite de la famille ou d'amis. A choisir, c'est mon endroit préféré pour un point de vue de la ville en plein air et avec la possibilités de prendre de jolis clichés de la ville et en famille.
Et vous, qu'en pensez-vous? Vous y êtes allé ou comptez vous y rendre prochainement?
So, is it worth it? I believe it is if you want an incredible view from above New York City. However, if you are looking to take great photos of the city and with the family, I would not recommend it.
The first time I went up above the city, it was at the Empire State Building. Seeing New York from the top was magical! I think it is a great moment for everyone visiting the city. However, you cannot see one of the best buildings of NYC if you are in it… Then I tried the Top of the Rock at the Rockefeller Center and I was amazed. The view was as great and even better as it offered a great view of Central Park as well. I go there a few times a year when family and friends visit. And I have to admit, this is honestly my favorite spot to experience the city from above.  Allowing visitors to go outside on the roof, it gives you the possibility to take great photos of New York City and the family, without a reflection.
How about you? What do you think of the Observatory? Would you go?
xx Jennie
(Visited 1,341 times, 1 visits today)