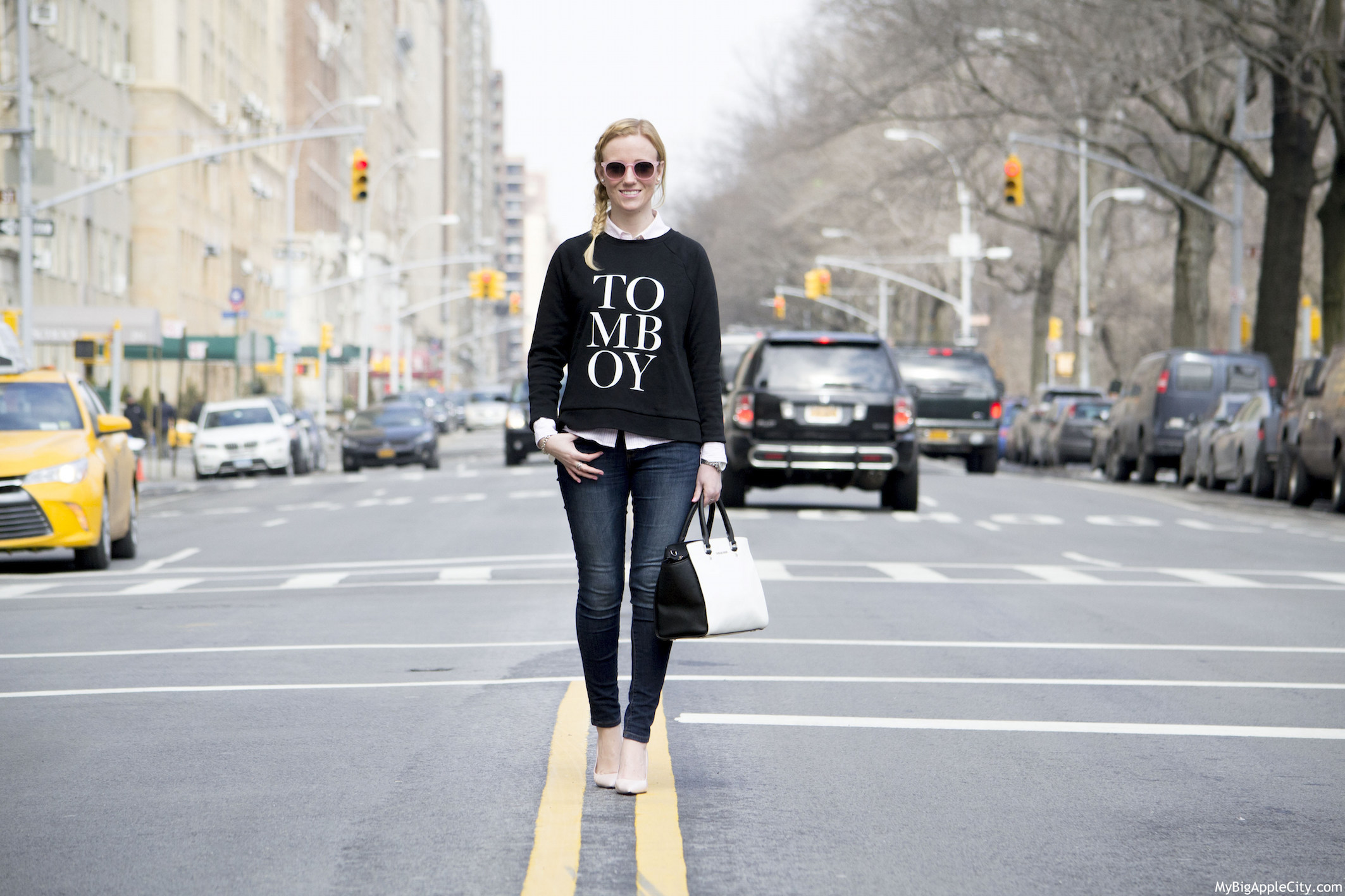 Dans mes rêves, je n'ai pas un style bien précis, mais plusieurs. Dans la vraie vie parfois, je suis un TOMBOY.
Lors d'une de mes dernières sessions shopping à New York (oui, il y en a plusieurs mais jamais trop…), je suis tombée en admiration pour ce pull graphique de chez Banana Republic. Toute de suite attirée par la signification du style Tomboy, qui pourtant ne définit pas mon style quotidien plutôt chic basique, je me suis tout de suite amusée à imaginer comment le porter. Vous le savez, j'adore les tons pastels et le rose… Quant au jean, je suis en recherche active de la bonne coupe d'un blue jean depuis de longs mois (croyez-moi, j'en ai visité des cabines d'essayage. J'ai tout d'abord craqué pour mon jean distressed couleur crème qui vous a beaucoup plus), et celui-là, je l'ai trouvé aussi chez Banana Republic. Non, ce billet n'est pas sponsorisé, je suis juste chanceuse d'avoir trouvé la bonne combinaison dans une seule cabine d'essayage.
—
In my dreams, I am not defined by a single style, but all of them. And sometimes in real life, I'm a TOMBOY.
Among one of my latest shopping sessions in New York (yes, there are plenty of them but never too many…), I was immediately charmed by this graphic sweater from Banana Republic. Attracted by the definition of the Tomboy style, even though my daily style can be better described as basic-chic, I instantly imagined how to style this Tomboy piece. As you already know, I am very fond of pastels and pink… As for the jeans, I have been in a deep and active hunt for the perfect blue jean cut. It's been months and believe me when I tell you that I have visited a ton of fitting rooms since then. First, I found this perfect pair of ripped cream jeans that you seem to love. And recently, I encountered those petite fitted blue jeans at Banana Republic. I promise this is not a sponsored post, I was just lucky enough that day to only visit one dressing room for a whole look.
Vivant à Manhattan (et tant que blogueuse mode à New York…), mon look final devait être cool et garder un côté féminin et urbain. Mon côté Tomboy se situe exclusivement dans le graphique et la coupe loose de ce pull. D'ailleurs, je n'en suis pas à mon premier coup côté pull emprunté aux garçons; vous souvenez-vous de mon premier sweat BOOM?
Alors ce look, il vous plaît? Et la tresse, on en parle ou pas? (c'est que j'en suis fière :)).
—
As a Manhattan resident (and a New York Fashion blogger…), I wanted my final look to be cool and keep a feminine and urban vibe. My Tomboy OOTD was brought out graphically as well by the pretty loose fit of this sweater. Speaking about sweaters, this is not my first try. Do you remember my first BOOM sweater?
What do you think about this result? Oh, and the braid hairstyle, should we talk about that? (I am quite proud of the result… :))
xx. Jennie
TOMBOY Sweater (on sale here) and Jeans (here): Banana Republic, Shirt: Jack Willis, Pumps: Zara (similar), Bag: Michael Kors (very similar),
Sunglasses: Quay at ASOS (similar here, great deal here), Watch: Michael Kors, Bracelet (here) and rings (here and similar here): Tiffany & Co, Cuff: Ted Lapidus, Earrings: Bauble Bar (cheap and similar).
(Visited 1,247 times, 1 visits today)