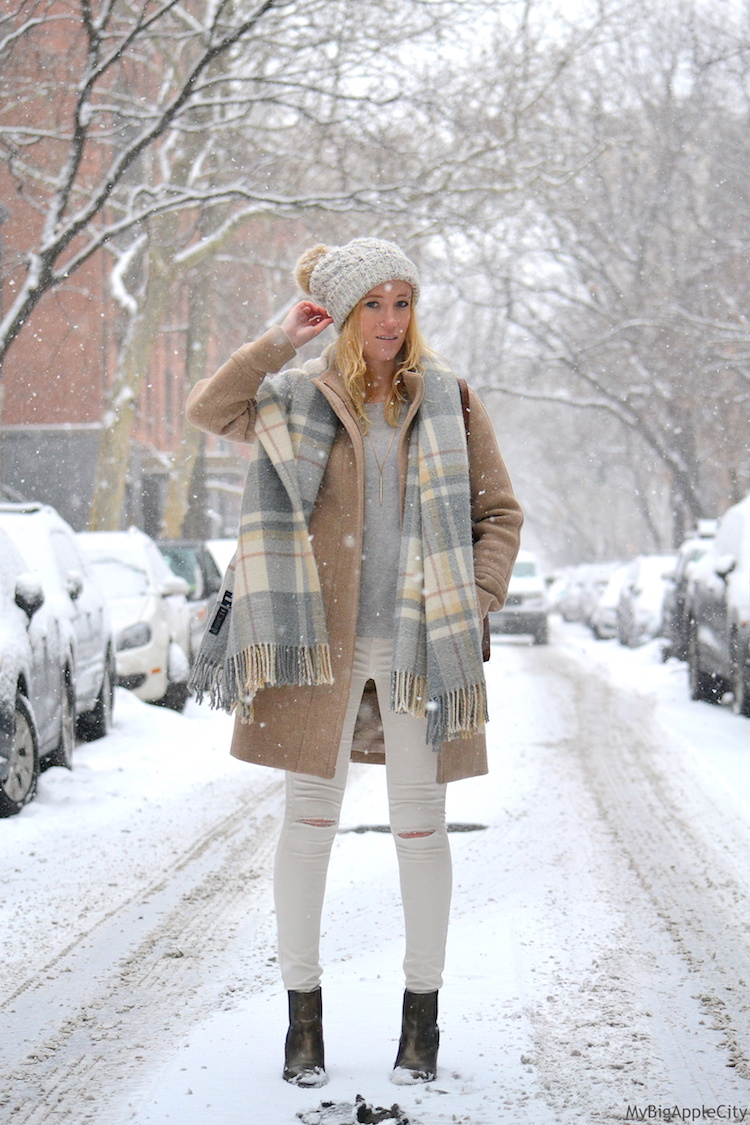 La neige, la neige, la neige. On dirait bien qu'elle ne s'arrêtera jamais de visiter New York cette année.
Il y a bien longtemps depuis le dernier article style perso (l'été dernier pour préciser), alors j'ai eu envie de vous montrer une tenue d'hiver aux couleurs neutres. La neige s'est invitée et a donné à ces photos un effet magique. Cette neige a bien tenté de me voler la vedette. Un moment encore plus spécial car c'est le premier shooting dans ma jolie rue de l'Upper West Side de Manhattan. Pratique pour une petite pose avant d'aller se lover dans un coffee shop tout cozy.
—
Snow, snow, snow. It seems like this Winter is dragging and there is always more snow falling on NYC.
It has been a while since my last outfit post (since last Summer to be precise) so I thought I would share another one of my OOTD or outfit of the day with you. The snow made this photo shoot special and a tiny bit magical. I actually think the snow stole the show here.  It was easy enough as we took these pictures on my little Upper West Side Street in Manhattan before heading to a warm and cozy coffee shop.
J'ai acheté ce jean couleur crème chez Topshop il y a quelques semaines. Je l'ai essayé juste par curiosité pour essayer la coupe (je suis de renommée très très difficile dans l'achat de pantalons), et je l'ai tout de suite adopté. Je porte très rarement des couleurs claires quand il s'agit de jupes ou pantalons (la parano de la tâche). Ce jean m'a donné l'idée d'essayer une tenue totalement neutre en restant dans les tons marrons et gris. Quant à mon manteau J.Crew et mon écharpe – couverture ASOS, je les ai portés tout l'hiver de New York à Paris pour me tenir chaud. Cette saison, je n'ai vécu que dans des pièces douces et comfortables.
I bought this cream pair of Jeans at Topshop the other day. I thought I would just try them on to see how the cut looked like and I ended up falling in love with them. For someone who is always in darker colors when it comes to bottoms, it was a drastic move. What can I say, I have a stain paranoia. These jeans gave me the idea of a total neutral outfit in the shades of brown, cream and grey.  I have been spotted all over Paris and New York all Winter in my camel J.Crew coat and oversized ASOS blanket scarf to keep me warm. This Winter for me has been all about wearing comfortable and soft pieces. 
 Coat: J.Crew, Scarf: ASOS (similar here and here), Hat: Esprit (similar here and here), Sweater: Inhabit, Jeans: Topshop, Bag: Free People, Boots: Zara (similar here), Necklace: Michael Kors, Bangles: Kate Spade New York, Rings: Forever21
 Qu'en pensez-vous? Vous aimez? La tenue neutre, vous la portez aussi?
What do you think? Do you like this outfit? Are you wearing all shades of neutral at once as well?
xx Jennie
(Visited 636 times, 1 visits today)